On Sunday, Nov. 20, Enfusion returned to the Netherlands for Enfusion Live 43: Groningen. The event featured the second round of the Enfusion league tournament which featured six top 72.5-kilogram fighters competing for the 200,000 Euro grand prize.
The second round match-ups featured Enfusion 72.5-kilogram champion Tayfun Ozcan toppling rising prospect Serginio Kanters, Mohammed Jaraya defeating Enfusion 70-kilogram champion Jonay Risco, and Nordin Ben Moh picking up his second win of the tournament with a decision victory over France's Crice Boussoukou.
In the evening's main card action, Enfusion 63-kilogram champion Keng Superpro Samui defended his title for the first time against Dutch prospect Pascal Koster. Enfusion women's 54-kilogram champion Iman Barlow topped Colombia's Ilsury Hendrikse. Former top-10 light heavyweight Michael Duut successfully returned to the ring at heavyweight against Russia's Nicolaj Falin.
---
Advertisement

---
The event aired live at 4 p.m. ET on Enfusionlive.com. The Kickboxing Talents No. 25 undercard aired live at 1:30 p.m. ET on Enfusionlive.com.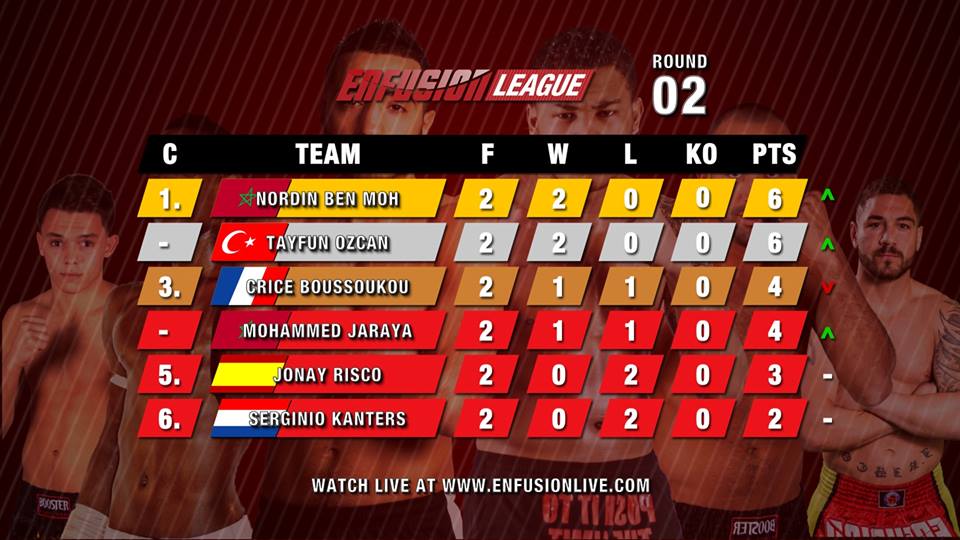 FULL RESULTS
Mohammed Jaraya def. Jonay Risco by decision
Tayfun Ozcan def. Serginio Kanters by decision
Nordin Ben Moh def. Crice Boussoukou by decision
Michael Duut def. Nicolaj Falin by TKO. Round 1
Keng Superpro Samui def. Pascal Koster by decision – for 63-kilogram title
Fikri Ameziane def. Kamran Aminzade by decision
Iman Barlow def. Ilsury Hendrikse by decision – for women's 54-kilogram title
Isaias Ramos def. Ali Zoubai by decision
Chain Superpro Samui def. Mohamed Didouh by decision
Arman Hannisyan def. Ervet Manga by knockout. Round 1
Khalid El Moukadam def. Eduard Domke by knockout. Round 1
Marijn De Lange def. Niels Wilmink by decision
Dimangio Jano def. Zakaria Miri by decision
Ayoub Allach def. Mustapha El Barbari by extra round decision
---
Advertisement

---