Whenever you hear a professional athlete say it's not about the money, you can usually smell the bullshit from a mile away. However, when Josh Sampo says it, you're inclined to believe him.
Perhaps that's because Sampo still holds down a day job as a middle school teacher. Or maybe it's because Sampo has a lifelong love of sport and competition which began in high school and continues into his current side career as a mixed martial artist.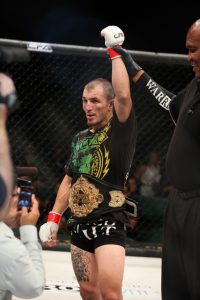 "I wrestled all throughout high school and college," Sampo told Combat Press. "But I missed the senior nationals because of a referee call that didn't go my way, even though I defeated the defending national champion before that. A friend suggested I try jiu-jitsu, and I started banging out submissions and then took a fight."
---
Advertisement

---
Sampo's MMA career began during the early days of the UFC, when wrestlers like Matt Hughes were dominating the landscape. Sampo met his current trainer before his first amateur fight, which he won. After 10 amateur fights, Sampo turned pro in 2009.
Sampo, now 11-5 as a pro, was a staple on the regional circuit during the first four years of his professional career. He won the Championship Fighting Alliance flyweight title in 2013 and has a successful title defense under his belt. He also snagged a victory under the Legacy Fighting Championship banner.
It was recently announced that Legacy FC and the Resurrection Fighting Alliance, an organization for which Sampo will make his debut on Friday, Sept. 30, would officially merge next year to form the newly minted Legacy Fighting Alliance. The merger has its pluses and minuses, according to Sampo.
"It will help a lot with Legacy's name brand," he said. "I enjoyed my time there and they treated me very well. RFA has a more nationwide appeal and it will help fighters, but some of them may have to fight their friends."
Sampo has also been on the national MMA stage through his time in the UFC. After winning his Octagon debut against Ryan Benoit at The Ultimate Fighter 18 Finale in 2013, Sampo struggled through a three-fight skid that led to his UFC release.
"It was amazing. It was everything I expected it to be," Sampo said of his time in the UFC. "But I didn't make the most intelligent decisions. I tore my ACL and strained my MCL before my fight with Paddy [Holohan]. I'm not trying to take anything away from him, but I wonder how I would have done if I was healthy."
A knee injury was only the beginning of Sampo's hardships in the UFC. While he enjoyed training with fighters like those on Team Alpha Male and fellow flyweight Ian McCall, Sampo's father passed away four weeks before Sampo's final fight in the UFC against Justin Scoggins. Sampo also totaled his truck leading up to the fight.
"My dad always told me to keep my word," Sampo said of his decision to press on with fighting Scoggins despite his father's death and other personal troubles. "I don't think my chances to come back to the UFC are gone. I talked to [UFC matchmaker] Sean Shelby recently, and we had a good conversation."
Sampo is open to a return to the UFC, but he will continue to make teaching his full-time job regardless.
"Being a middle school teacher pays my bills. Fighting doesn't," he said. "There's only one Conor McGregor who can make a lump sum. It costs so much to train and my pockets are usually empty after training, but it's not about the money. I fight because I love it."
While he's technically a defending flyweight champion on the regional MMA circuit, Sampo was not one of the 16 regional MMA flyweight champions from all over the world invited to compete on the current season of The Ultimate Fighter, where the winner will receive a title shot against current UFC flyweight champion Demetrious Johnson.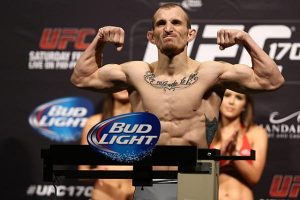 Johnson has virtually cleaned out the UFC flyweight division. While Sampo appreciates what the UFC is trying to do with finding "Mighty Mouse" a viable contender, he's just not sure about the message it might send.
"I think it's a good idea, but it sort of downgrades the legitimacy of those guys' belts," Sampo said. "But I understand why they're doing it. But it sort of says that these guys just aren't as good as 'Mighty Mouse'."
Before Sampo can make his return to the UFC, he has to get past Matt Brown at the next RFA card on Friday, Sept. 30. Sampo notes Brown's ground game and said he's excited about the fight. Sampo will also compete in front of his home crowd at RFA 44.
"I need to see if I still have the hunger to compete," he said. "I haven't thought much about the end game. I've just been helping my friends and teammates prepare, and I have Coach critiquing my skill set. My age is a factor and I'd love to make it back to the UFC, but I can also make more money elsewhere."
Josh would like to thank his parents, coaches and his management team at Iridium Sports Agency. Follow Sampo on Twitter:
@JSampoMMA
---
Advertisement

---