In the early days of mixed martial arts, fans would trade VHS tapes in order to watch their favorite fighters. Thankfully, YouTube was invented. That's how Titan Fighting Championship featherweight champion Andre "The Bull" Harrison had the chance to watch some of his favorites.
"I practiced their striking," said Harrison of fighters like José Aldo, Anderson Silva, Edson Barboza and Frankie Edgar, as well as kickboxer Mike Zambidis. A New York native and resident — not to mention an owner of a Silva action figure — Harrison played football for one year in high school, "but I realized it was too cold," he told Combat Press.
Harrison switched to wrestling. While attending college at Fort Hayes State in Kansas, he had a teammate who was an amateur MMA fighter and champion in Colorado. The teammate didn't have a training partner, so Harrison volunteered his services.
---
Advertisement

---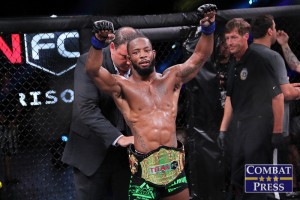 "I would fight my brothers with boxing gloves growing up," Harrison said. "But I didn't realize how much kicks hurt until you get kicked. I wanted to get him back, so when we worked out I would get so wound up, it led to my first fight."
That first amateur fight in 2009 was a victory, as were the 14 fights that followed as Harrison moved up from the amateur to the professional ranks. Harrison joined Titan FC in 2014 after competing in the New Jersey-based Ring of Combat organization. In 2015, Harrison defeated Kurt Holobaugh to win the Titan featherweight title.
A successful title defense followed against Desmond Green in September 2015. Now, Harrison will put his belt on the line again at Titan FC 37 on March 4 against Steven Siler. Siler, whose record sits at 28-14, is a veteran of nine UFC fights and faced the likes of Cole Miller, Darren Elkins, Mike Brown and Dennis Bermudez during his time in the Octagon.
"He's a real tough dude," Harrison said of Siler. "He's rangy and looks to fight anywhere, and it will be a high-paced, interesting fight. There's no animosity or ill will — he's just my next job."
Harrison considers his wrestling to be his greatest strength, but he acknowledges that "each fighter thinks their discipline is the best."
"It makes you have more respect for the other disciplines," Harrison said. "They all have their strong points, and I've evolved in every aspect."
Harrison attributes his success to being surrounded by top-level fighters at Bellmore Kickboxing in New York.
"If you work hard, you have no choice but to do well," Harrison said. "I follow instruction and push through those bad days. I call them 'character-building days.' The harder you work, the harder it is to surrender to anyone."
Despite being unbeaten, the reigning Titan FC featherweight titleholder doesn't consider himself a champion or an undefeated fighter.
"It helps me keep the hunger," Harrison said. "I always say I'm a competitor coming to get the belt. I want to show I'm the best 145-pounder on the planet that people don't know about."
The fight against a UFC veteran like Siler for his second title defense should also serve as a good litmus test for how Harrison would fare in the Octagon.
"As hard as I work, I expect no less than to be the UFC champion," Harrison said. "It means you're the best overall in the world. I need to have that strap around my waist."
Perhaps in the future, up-and-coming fighters will look to Harrison as their inspiration, just as the Titan champ looked to Aldo, Silva and so many others.
---
Advertisement

---