It was like deja vu when the UFC announced that Conor McGregor was without an opponent for UFC 196 after Rafael dos Anjos withdrew due to injury.
As you can imagine, there was plenty of speculation about the choice for the replacement. However, it didn't take long for the UFC to throw its promotional weight behind Nate Diaz. Not before the other obvious options were explored, though.
Frankie Edgar has been chomping at the bit for a crack at the featherweight belt since McGregor became the undisputed 145-pound king. While Edgar was an obvious front runner, he was unable to compete due to a torn groin. Edgar must be ready to tear his hair out. There is a level of uncertainty about whether or not McGregor will venture back down to featherweight any time soon. With this knowledge front and center in "The Answer's" mind, it would have been the perfect opportunity for him to throw his hat in the ring as a contender. Unfortunately for the fan-favorite, it wasn't meant to be.
---
Advertisement

---
Then we have José Aldo. Aldo's 10-year reign at the top of the featherweight division and the UFC's pound-for-pound list came to a screeching halt when McGregor did the unthinkable and knocked the Brazilian out in just 13 seconds at UFC 194 in December. Many questioned whether a rematch was warranted under the circumstances, but Aldo has remained adamant that he will not take another fight unless it's against the Irishman.
"For everything I have done, everything I have accepted and mostly how the fight ended, I will not accept any other fight other than a title shot," Aldo wrote on his instagram. "My only exception would be fighting [McGregor], at any time, anywhere, and once that he is afraid and knows that I'm gonna win… Doesn't have to be title fight against him. Keep my belt, but I wanna whoop [your] ass anywhere."
So, why did "Scarface" turn down the prospect of redemption?
You could argue short notice. In fact, that's exactly what his coach, Nova União's Andre Pederneiras, did. Pederneiras told Combate that when he spoke to UFC President Dana White about the prospect of Aldo fighting on March 5, he relayed that Aldo was not in shape and that there wasn't enough time to get ready. Interestingly enough, Aldo's teammate Guilherme Cruz confirmed the former champion was, at the very least, training in some capacity and Aldo himself had also said at a media scrum earlier in the year that he had returned to training. No one is denying the fact that it takes longer than two weeks to get fight-fit ready, but if Nate Diaz can take the fight with only general fitness behind him, why can't Aldo?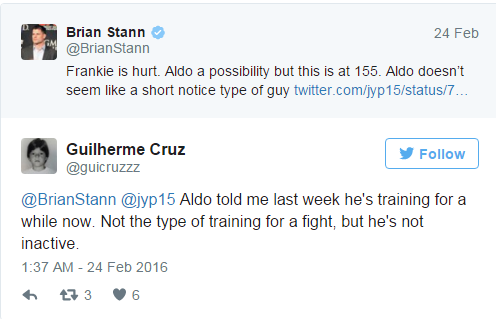 It could be more to do with the risk factor. Aldo had a full camp for UFC 194 and got beaten in record time. What would McGregor do to the guy if he had less than two weeks to prepare for a rematch? I can understand this logic somewhat, but at the same time you've got to wonder if Aldo realizes that this may be his only chance to right this wrong. Now, I'm not saying that the opportunity to fight McGregor will never arise again, but let's look at this pragmatically for a second: If McGregor beats Diaz at welterweight, it opens up so many possibilities for "Mystic Mac" that a rematch with Aldo is going to pale in comparison, both from an interest standpoint and financially. In McGregor's mind, that ship has sailed — and, with him making waves in other weight classes, it will have for the fans as well. That's not to mention the fact that we were all just utterly exhausted by the build-up to the first showdown.
For Aldo to swing a rematch off the back of an injury to dos Anjos would have been the best-case scenario for the Brazilian, but he isn't capitalizing. Any way you look at this situation, Aldo is missing out on a big opportunity. It may be crazy to insinuate that taking a short-notice fight against McGregor brings with it some respect and admiration, but it does, especially in this case.
It all comes back to perspective. On the one hand, you can look at everything that can go wrong and what you stand to lose. On the other hand, you can look at what there is to gain.
What if Aldo did lose? Would it really change his legacy at this point? Maybe. But what if he won? Now, that changes the whole game.
It's too bad we'll never know.
---
Advertisement

---