In 2003, a lot was going on in the world of mixed martial arts. Randy Couture became the first person to win a title in two separate weight classes. Matt Hughes was dominating each and every opponent that was standing across from him during his time as the UFC welterweight champion. Pride held its Final Conflict event and showcased fighters in their prime, including Quinton "Rampage" Jackson, Wanderlei Silva, Kazushi Sakuraba, Mirko "Cro Cop" Filipovic, Dan Henderson and Antonio "Minotauro" Nogueira. Meanwhile, in England, a man that no one had ever heard of was making his debut.
Fast-forward 12 years and James "The Colossus" Thompson is fighting on the Bellator 145 main card against Bobby Lashley, a man Thompson knows all too well. It's been a long road for the Brit, but he shows no signs of stopping or losing his motivation to compete.
"There's been times when I absolutely loved the sport — well, I do love the sport — and there's times where I absolutely hate [it] and I think, 'What am I doing and why am I putting myself through this?''' Thompson admitted to Combat Press. "I mean, there's been a lot of times where I've gone off track and I've lost the motivation, and that shows in my win-loss record. I hit a terrible streak. It's like life, in you have a lot of ups and downs and you just gotta keep on keeping on.
---
Advertisement

---
"What I've kinda done now is… I do feel with being a bit older, I've learned from a lot of mistakes. I've kind of got my family. I've got a little boy now. I'm still healthy. I haven't fought for well over a year coming into this fight, and I was a little bit worried because I was off of weight. I had time for a good training camp and everything, but I was off of weight. I always get in shape quick, and I wondered, 'I'm 36 now. Will I still get in shape? Will it still come as naturally as it did?' I kind of got my head down and it did.
"I'm in great shape and I feel great, so I kind of got off on a tangent there, but yeah, so what keeps me motivated now is, 'Why am I doing this?' I love the sport and I don't want to do anything [else]. I can't sing and dance, [so that] leaves not much else. But I'm fit and healthy and [there's] nothing I would rather do. It's a case of just getting on with it and not throwing yourself into the fire, which is what I've done. I'm feeling good. I'm feeling very good and that's all you can ask for."
It's very unusual in today's MMA world that a fighter at 36 years old is still competing and still carrying a winning streak. While some may argue about the caliber of fighters that Thompson has faced, it can't be ignored that he is currently riding a four-fight winning streak, including a controversial decision win over the aforementioned Lashley back at Super Fight League 3 in May 2012. The two have been paired to clear the controversy on two separate occasions, but injuries plagued both fighters and a later date was scheduled.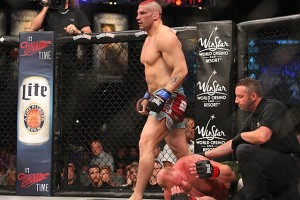 "It has been a long time coming, this rematch. I do think we need a rematch," Thompson said. "I won the last time by decision, but it was a very close fight and I think I was lucky. You won't hear very many fighters saying that, but I do think I was lucky to get the decision. He did a lot more damage than I did. I controlled the fight, but it was very close. And I was happy to win, but I wasn't happy winning that way. So we need a rematch and we got a lot of things to settle. He injured me and called me out for a long time after the fight, [saying] he wants to get the win back.
"As for how the fight's going to be different? I don't think it's going to be too different in a lot of ways. He's improved as an MMA fighter and I've improved parts of my game as well. I don't think that the kind of template of the match will change that much. I don't think he's going to be worried about standing up with me. I think he will actually try and keep it standing, but as the fight goes on he'll be going for takedowns and I've just got to make him keep working and get tired. Last time we fought, I knee'd him and I caught him in the groin. I caught him in the groin once and I held my hands up, but he fell on the ground twice. I'm going to be really careful with my knees and I'm not going to give him any opportunity to get a break, and I'm really going to be pushing him.
"He was beating me on the feet. He was landing some nice overhand rights. He caught me a few times, but I didn't feel massively in trouble. Well, I did in a way, but not in trouble as in getting knocked out. But he was landing a lot more cleaner shots on me. So I worked a lot on my stand-up and not taking that damage and blocking those. I'm making him work. I've gotta make him work. No lazy knees. No excuses.
"Bobby Lashley is too big for his frame. He does the pro wrestling. He's that massive, big, muscular guy. I've got a big advantage with Bobby because I've got to cut weight to make 120 kilos. I've got to be in excellent shape if I'm going to make 120 kilos. I've got to cut weight to get down to 120 kilos. He's coming up to what 110? 115? So that's already too big for him. What you have is someone who's coming down who's in excellent shape at 120 kilos against someone who is 110 kilos and he's too big for his frame. Like I keep saying, he's very explosive and his punches are quick, but this fight's about not taking too much damage in the first, which is always the hardest round, and then making him work — making him work throughout it. I'm ready for a long night."
The personality of a fighter is usually only showcased when the fighter has an animosity toward his opponent or an interesting upbringing showcases where that fighter has come from and how they got to where they are today. Some fighters, such as Chael Sonnen and Conor McGregor, have used their brash microphone skills to skyrocket to the top of the food chain. Fighters like Thompson are different. They just fight.
"I don't take fighting personally," Thompson explained. "I don't have to be angry at the person to fight. I'll be talking to the guy at the weigh-in and bleeding the next day. I'll flip the switch. I'll be ready. I'm able to do that, and I can do that with a lot of different things.
"There is something I noticed it when I fight. When I started fighting, I'd never done much at all of anything, but there's definitely… you get to know people a lot better when you roll with someone. I don't know what it is. It's just easier to build a bond with that person. You do kind of find a mutual respect and you see it all the time [with] guys trash-talking each other. And, again, that just might be for the show of it, but there's elements in that which you really kind of become invested in. But they'll have a three-round war and I think both really have that respect for each other, which is something that goes far beyond words."
While Thompson doesn't take fighting personally, his feelings on getting back fights that he lost are entirely different. If Thompson is able to pick up a victory against Lashley, he has a chance to not only clear the controversy, but he could also set up a bout with another all-too-familiar foe in Kimbo Slice. Thompson was stopped by Slice at EliteXC in 2008. Slice was recently signed by Bellator and made his debut at Bellator 138, where he defeated Ken Shamrock.
"I've never been much about anything in my life," Thompson admitted. "When I met my missus, when I saw her, I knew she was going to be my missus. When I watched live MMA, I knew I was going to fight in that organization and I was going to win the title, which I did. I knew it. It's very strange. I can't tell you… I know this with Kimbo. I know it's going to happen. It just can't not. That's been kind of the devil on my back for the longest time, the whole thing that happened with Kimbo. Not only what happened with Kimbo, but the way I reacted to what happened, which is all down on me. It's not Kimbo's fault. It's not [former EliteXC President] Gary [Shaw]'s fault. What happened to me and the way I reacted to it was my fault, and I didn't react well to it. I got a terrible run of losses from that and I wasted a lot of time. But I learned a lot from it. So the rematch will happen. No one has told me this. It's not like I have some inside information. I haven't. I just can feel it and I know it will happen."
One disadvantage that most heavyweight fighters run into in this sport is the lack of quality training partners they are able to find. Many gyms have abundant amounts of featherweight, lightweight and welterweight fighters that could be used as training partners for smaller fighters. However, for men like Thompson, who is a true definition of his "Colossus" nickname, it has become more challenging than a fight itself.
"It's murder," Thompson said sternly. "It always has been and I think it always will be. I think the money in MMA, for what you have to put yourself through, they're just not making any money. But that's a lot of pain and anguish you have to go through. And I think big guys are used to just being the big guy. There's not very many big guys around and that's why it is so difficult.
"You've got big guys around, but you need big guys who know what they are doing and that's a hard combination. [You need] ones that can push you and really beat you up, which is what you've gotta go looking for, is people who can beat you up, which is never the most enjoyable thing, but it's gotta be done. You've got to get beat up to then give out a beating."
They say the truth hurts. In Thompson's case, that's not necessarily a bad thing.
"I have to leave my family. My missus is pregnant. I've got a one-year-old boy and I've had to go away because I realized with this fight that I've got to give it everything.
"I want that quick clean 'W' and then on to Kimbo. That's the plan."
James would like to thank Team Takedown and LeanOut. Follow Thompson on Twitter:
@JColossus
---
Advertisement

---