Sometimes in life, a person can do everything right, but for one circumstance or another, at those crucial moments, things don't quite go as planned. And, sometimes in life, a person needs an event to give him or her a kick-start. Those events can be good or bad, but, nonetheless, that one little thing can make all the difference in the world.
Two years ago, L.C. Davis was carrying on with a relatively successful seven-year career as a professional fighter. He was 20-5 and had finished the majority of his opponents by a fairly even split of knockouts and submissions. He was the Victory Fighting Championships bantamweight champion and a veteran of some major promotions, including the WEC, IFL and Titan FC. Things were going his way for the most part.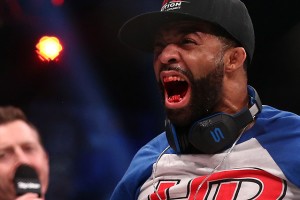 Davis is a family man. In addition to owning a gym that was to become the American Top Team affiliate in the Kansas City area, he has a wife and a young son. His son is a little Davis all the way.
---
Advertisement

---
"He's an MMA fanatic," Davis told Combat Press. "He knows every fighter there is. He's constantly shadow-boxing, punching and grappling. He's growing up in the gym. I've owned a gym since he was born, and he's been in the gym since birth. He's a little gym rat."
The veteran fighter's son is the next generation in his family's history, which has always been tied to Kansas City. The elder Davis grew up in the area with his single mother and his younger brother, Ryan Cobbins, before eventually moving in with his father.
In October 2013, everything was pretty much business as usual. Davis was in between fights and awaiting his next opportunity when he found out his brother was missing. He subsequently found out that he would be facing fellow veteran Ryan Roberts to defend his VFC title. Roberts, coincidentally, lost his sister during a murderous citywide rampage in Omaha, Neb., only a couple months prior. The only difference was that nobody knew what happened to Cobbins.
The December 2013 VFC bantamweight title fight went a little awry. Roberts missed weight, but Davis still accepted the fight and lost his title by a controversial split decision. A month later, an inspector found the body of Cobbins in an abandoned home, where his life was taken by another. This was a dark day for Davis and his family, but, as life loves to throw curveballs, it would eventually become fuel on his fire.
Fast-forward 21 months. Davis is now riding a three-fight winning streak in Bellator. This is by no means the longest streak of his career, but it is certainly the most important. After everything he has been through with fighting, family and the loss of his brother, it is time to break free of the regional rut he has been in the last few years. Davis is back to where he was in his WEC days, when he was climbing the ranks of the best bantamweights in the world. It only stands to reason that his next fight is the biggest one of his career.
On Friday night, at the State Farm Arena in Hidalgo, Texas, Davis will face former Bellator bantamweight champ Joe Warren, who is coming off the loss of his title in March. The contest serves as the main event of Bellator 143.
Warren is a former world champion Greco-Roman wrestler. Not only has he held the Bellator bantamweight title, but he has held the promotion's featherweight title as well. Warren's strategy has always included a heavy emphasis on wrestling.
"I wrestled a little bit more for this camp," Davis said. "I went out to American Top Team in Florida a little bit longer than I normally do. I got some great knowledge and info from Mike Brown. He helps me out a lot. We had Brian Graham come in this last week. He's one of the Olympic hopefuls for 2016 as a Greco-Roman wrestler. I'm just focusing on wrestling a little bit more, since I'm going up against a world-class wrestler."
Graham is currently one of the highest-ranked Greco-Roman competitors in the country, and he is an important part of the veteran's preparations for Warren.
"As soon as I found out about [the fight], I was super excited," Davis admitted. "I feel blessed. It's a great opportunity. I feel blessed that Bellator has faith in me to give me this opportunity. I love the fact that I'm fighting such a highly ranked, well-known opponent like Joe Warren. I'm looking to go out there and capitalize on it."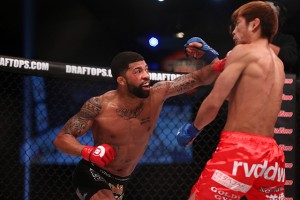 For the average competitor thrust into this position, Warren may seem like a daunting task, especially in the spotlight of a main event that Warren is considering as the next step toward his own redemption. However, Davis has almost twice as many pro fights, has been in the cage with guys like Diego Nunes and Raphael Assuncao, and also has a wrestling pedigree.
"I can wrestle, bro," Davis stated. "I wrestled in high school, I wrestled in college, and I've wrestled through all of my MMA career. I've never fought someone as good of a wrestler as Joe Warren, but this is not a wrestling match. This is a mixed martial arts fight, and I think I'm a better mixed martial artist than him.
"I think his biggest weakness is his stand-up, and striking is one of my strengths. I think that will definitely be my advantage. I think he's a good fighter. He's a Bellator champion, and he gets that job done. I feel like I have more tools in my tool belt than him. I can do anything he can do and more."
Davis has always been confident in his abilities, but something happened back in January 2014. When he found out about the death of his brother, something clicked. Davis is more dangerous than ever, even against a pissed-off Warren. To add even more fuel to the fire, his son turns four the day before his fight, so the father is ready to make his son proud as he moves one step closer to his own Bellator title shot.
"I'm a determined, hard-working fighter, and I never give up. I've been through a lot in my career [and] I've been through a lot in my life, and I never give up. That's the way I want to always be remembered."
Davis would like to thank his coaches and training partners at both ATT HD and the ATT headquarters in Coconut Creek, including Travis Conley, Melvin Wesley, Wes Wasmer, Tom Teter, Doug Ward, Jason High, Brian Graham and Mike Brown. He would also like to thank his wife, son and everybody on Team Davis, including his sponsors: Future Legend, E3 Meat Company, Hayabusa, Italian Delight KCK, Granite Tops KC, Title Boxing and Upgrade MG. Follow L.C. on Twitter:
@LC_Davis
---
Advertisement

---