Kickboxing and mixed martial arts have always been two completely different sports with vastly different fans. All of that is about to change on Sept. 19. Bellator will be hosting a first-of-its-kind event when GLORY Kickboxing and Bellator MMA come together as one in San Jose, Calif. The card is headlined by light heavyweight champion Liam McGeary taking on the experienced Tito Ortiz. As if putting on both sports side by side wasn't enough, Bellator will also showcase a four-man, one-night tournament to determine the next contender for the light heavyweight crown. The lineup also features a man who needs no introduction, but he is a new face to Bellator. That man is Josh "The Punk" Thomson.
Thomson really has been everywhere. With an astonishing 13-year career, he is only surpassed by Ortiz in terms of experience on the Bellator roster. He began his time in the spotlight back in 2003, when he made his UFC debut at UFC 44. Thomson went 2-1 with the promotion before traveling to Japan to compete at Pride: Bushido 8. Thomson eventually made his way to Strikeforce, where he engaged in one of the best trilogies in MMA history with Gilbert Melendez. In 2013, Thomson made his way back to the UFC and knocked out Nate Diaz in devastating fashion. But after going 0-3 in his next three bouts — and arguably winning two of those three fights — Thomson and the promotion split ways. It wasn't without controversy. The UFC said that it released Thomson. According to Thomson, that was not the case.
"It was just a business decision," Thomson told Combat Press. "I mean, I don't know if there was a miscommunication on their part, but I was never released. They threw a couple offers and I turned them down, and I took the Bellator offer. It was just a business decision.
---
Advertisement

---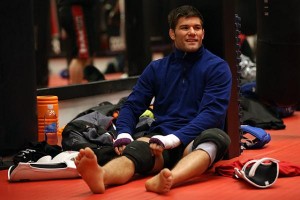 "It's like when someone goes in to buy a house and a couple offers come in on the table. You take the best offer, and that's kind of what happened. That was really what happened and there's no hard feelings [or] animosity. It's a business and they know that. They run the UFC like it's a business and I think everyone from the outside looking in sees that. There's no hard feelings. I'm not bitter about it. I'm not upset about it. To me, I wanted a better offer that they weren't offering, so I went with Bellator and their offer, which to me was significantly better."
It's not unusual for top-level talent to get scooped up immediately after their departure from an organization. Part of the appeal of Bellator was a chance to reunite with a former acquaintance in current Bellator President Scott Coker. Coker and Thomson are familiar with each other from Thomson's 13-fight stint under the Strikeforce banner while Coker was at the helm. Now, with Coker at the reins at Bellator, it seems like a perfect fit.
"It makes a world of difference, man," Thomson said. "I've had countless fighters who have signed with Bellator and just from the turning of the guards from the old promoter [Bjorn Rebney] to Scott [Coker], people are like, 'Man, what a difference.' They feel appreciated. They feel inspired to be a part of Bellator now. They feel motivated to be fighting for him. It's like night and day. He's a nice guy. He's a great person to be around, and I've had nothing but great experiences with Scott, so I can see where these other fighters are coming from when they talk about him.
"All of the things that have been exciting in my career have been [because of] and I have been a part of all this stuff [because of] Scott Coker, so the fact that I made such a push to get this contract done and get it so I could fight on this card, he appreciated it and he admired it, and he said, 'Look, let's get it done. Let's get you on this San Jose card. Let's make it all happen.' This event is going to go down in history as probably being one of the best. I mean, it's something different. It's something that other promotions are going to have to do to try and keep up with us."
It's not very often that a fighter of Thomson's stature gets to experience something new. Many fighters carry the mentality that they have seen it all or done it all after a career that spans as long as Thomson's decade-plus in the sport. The beauty that comes from this Bellator-GLORY co-promotion is that nothing like it has ever happened before. It's also no surprise that Bellator has been slowly gaining more notoriety than ever before.
"Eventually you will see a lot of fighters… they'll start to notice the difference in performances of the promotion," Thomson explained. "They will start to see what is going on and the crowds that Bellator is pulling. I mean, this show coming up — Dynamite [on] Sept. 19 in San Jose — it's a no-comp event. So there's no one being comped tickets. I am getting one, basically [for] a family member, and then I think other fighters are getting the same one or two. But as far as…
"There's always been a big thing of like, 'These people get comped.' It's already sold over 15,000 seats. I mean, it's going to be an amazing event. When you start talking numbers [like] 15-16,000, something great is being built with Bellator. They are going to see it next Saturday, and that's just one event. I mean, think about it. I've never seen kickboxing and MMA in the same arena, kind of going on at the same time, and fans are getting double the action for the price of one ticket! And we're not talking small, little kickboxing. We're talking world-class kickboxing. So when you buy a ticket… people sit down at home and watch kickboxing on their TV wishing they could watch it in person. This is huge, man. This is amazing — GLORY and Bellator in the same arena at the same time with top-level guys in both promotions.
"When I signed with Bellator, this is exactly what I signed up for. I wanted to be with the promoter who thought outside the box, and this is a classic case of it. I wanted to get on the San Jose show because I knew it would draw huge numbers on TV. It's going to be enormous, man. It's going to be huge. I'm thinking that they are going to get between… I would maybe [say] up in the four or five million views. One of the negotiations with the contract was, 'Hey, if I get this contract signed, I want to be on that card. You need to get me on that card. Whatever it takes. I'm going to sign now so we can get me on this card. I'll start my training camp right now. As soon as this contract is signed, I'll start training.' I always had that in my mind. If this was going to happen and the deal was going to go through with Bellator, I want to make sure I can get on that San Jose show. And it's happening."
This obviously is not Bellator's first venture into thinking outside the box. Most recently, the company featured a bout between an aged Ken Shamrock and Kimbo Slice. The backlash was immense, but the reasoning behind it became obvious when the numbers came in.
"People were like, 'Oh, I don't want to watch that stuff. I don't want to watch that garbage.' Guess what happened? More views than any event ever on Spike TV," said Thomson. "How many other promotions have been on there and they have never gotten two million, three million views? They've had countless other fight promotions on there and they had countless events on there. They've never had two million views [or] 3.5 million views. They've never had that. So they must be doing something right. And people will say, 'Oh, I don't want to watch that stuff' [but] they're going to watch.
"When it comes to GLORY and Bellator in the same arena at the same time, people are going to tune in to watch. They will be like, 'Wow, what is that?!' It's already proof in the pudding that 15,000 people have already bought tickets. The arena only holds like 19,000 something, I think. It depends on how they are going to arrange it with the ring in there too now. I was there for the first Strikeforce event that sold 19,800 something [tickets], and that was the biggest sellout ever in MMA history or something along those lines at the time and it was in the same arena. I know what it can hold, and now you're adding a ring and space around the ring, so I don't know how many seats are going to drop off. But with 15,000-16,000 seats sold already, I would figure you're going to have about 2,000 walk-ups. Average is between 1,500-3,000 walk-ups every fight. So I would say you're going to end up with 17-18,000 people in that arena. And we still have another week. Everybody gets tickets the last week."
Bellator's biggest issue in the past was pulling in the hardcore MMA fans and even the mainstream fans who either never gave Bellator a chance or didn't see anything of interest when watching one of the promotion's events. Since the Coker era started, however, Bellator is starting to turn heads.
"I think by pulling me in and pulling Tito [Ortiz] in, you're attracting those hardcore MMA fans that have been around for 15, 16, 17, 18 years," said Thomson. "I mean, you are attracting those type of fans. And then when you have the younger generations that's also on the card as well — the Phil Davises, King Mo's. They're kind of that younger generation that came halfway through my career. And you are attracting the new generation of fighters, not just the old school. You're attracting the new generation.
"As far as with kickboxing, you're attracting a whole different group of people that are sitting at home and they don't really care for MMA. But they are going to tune in to watch their kickboxing guys fight. They're going to watch both fights, because it's going to be a great event. I'm excited for this. The fact that they are doing a four-man tournament with both fights in the same night… Strikeforce had done that before with the 185-pound weight class — that was probably one of the best nights of fights I had ever seen personally. It was exciting to see these guys. They got in the back, and they had already fought good fights in the beginning and they were tired. And I was like, 'Dang, man, this is going to be a great fight.' So when they came out for the finals, the excitement was there. It really depends on the two guys who have a tough fight in the first round and the underdog could win the whole thing because maybe he got lucky and got a quick submission or he got a good knockout in his first fight. You just don't know what's going to happen. And to go out there and actually be sitting ringside to watch all this, it's exciting. It's exciting to be a part of it.
"You have to understand. This is new! Even though I have been around for so long, no other promotion has done this. This is new. This is exciting, like Strikeforce did the tournament and it was exciting then. Now Bellator is doing it. And we're not the old-style Bellator where you fight and you wait three weeks and you gotta follow up, and by then you have lost all interest in the tournament. 'Oh, wait, is this the finals? Is this a semifinal? I don't even know what this is.' See, that's what happened before. This style… they get to see four guys fight and, boom, you're going to fight in the finals all in the same night for the price of one ticket. To me, what makes this exciting is, and like I said when I signed my contract with Bellator, I was excited at the fact that I wanted to be a part of this show.
"I fought on freakin' New Year's Eve. You know how many world-class fighters have just wished to have Lenne Hardt introduce them? That girl is amazing. Watch back in the Pride days when she would do the introductions. The voice of Pride. The voice of MMA. I hear fighters all the time talk about it. I was talking with Rich Franklin recently, and Rich is like, 'The one thing in my whole career I wanted [was] her to introduce me.' And he never got the chance ever in his life. I've had it several times. Not just once, but a couple of times. So I feel blessed, and a lot of that has to do is because Coker is the one who made that happen. He's the one who got me into Pride: Bushido back in the day [and] who got me into Dream to fight on New Year's Eve."
While it has been touched on time and time again, Thomson has been in the game for a long time. However, unlike many veterans, he is taking a different approach to his opponent, Mike Bronzoulis.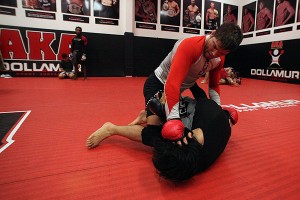 "People are talking to me now about Mike Bronzoulis and talking to me like, 'Oh, he's this or he's that. He's not on your level.' So many interviews, people are talking to me like this," Thomson said. "But you know what is going through my mind? The guy is a gamer, dude. He comes and he brings it. I mean, he fought Gerald Harris. He's fought Joe Riggs. He has fought top guys. He has fought at a higher weight class against bigger guys. I mean, there's nothing I'm going to do to him that he is afraid of. The guy is going to bring it. That's the type of fights that Scott puts together — guys that will go out there and lay it on the line and have a great fight. And I think that's something the fans should appreciate.
"I've watched [Bronzoulis] fight several times and I have a lot of respect for that guy. He's a phenomenal athlete. I watched the fight with Joe Riggs, and Joe Riggs ended up taking him down and was able to control him on the ground, but it wasn't like at any moment had he got away, he could have put Joe in some serious trouble. It never really looked like he was in jeopardy of actually getting submitted or losing the fight that way. So, that being said, he's dangerous. He's dangerous in a lot of situations. From what I understand, he's got punching power. And I've seen a couple of his fights. He's not the easiest guy to take down.
"It's going to be interesting to see what happens. People are underestimating him way more than I am. I'm actually putting him on a pedestal right now. To me, he has fought top guys, he's never backed down [and] he's not afraid to fight a top guy. Those are the guys that you need to be prepared for, otherwise it's going to be a long night in that circle cage. It's going to be a long night if I go in there unprepared."
Thomson will be entering arguably Bellator's most competitive division when he makes his debut as a part of Bellator's lightweight roster on Saturday. In a field with fighters like current champion Will Brooks, Dave "The Caveman" Rickels, Marcin Held, former champion Michael Chandler and Brandon Girtz, Thomson will certainly have his hands full.
"I have fought a lot of top guys, and I can tell you right now. I was in the arena the first night when Chandler beat Eddie Alvarez for the Bellator title. I was in that arena that night and I was watching it live, and I gotta tell you, that kid is phenomenal," Thomson admitted. "I mean, unbelievable. I can't say enough about how good of a fighter that kid is and, to be honest, he's going to be tough to beat no matter what happens. Him, Will Brooks… To me, I look at Will Brooks as a smaller version of [Georges St-Pierre] — super athletic, hard to take down, really flexible, good on top, a good striker. I mean, he is very well rounded and kinda built like GSP — small weight, thick legs, broad shoulders. He's super athletic. He's well rounded in all aspects of the game.
"This lightweight division honestly can carry this whole promotion, and I can tell you right now, I would imagine that that's what we are looking to do. We have the talent. There is no doubt about that. There's no doubt whether we have the talent at Bellator or not. The lightweight division can carry this whole promotion."
It's an ambitious claim to make. However, Bellator might just have a chance, especially with the addition of Thomson to the roster.
Josh would like to thank everyone at his gym, Knox Martial Arts and Fitness. He would also like to thank his sponsors: Oak Grove Technologies, Affliction and American Ethanol. Josh would like everyone to follow him on social media. Follow Thomson on Twitter:
@TheRealPunk
and Instagram:
@TheRealPunk
. Thomson also encourages fans to follow him on Snapchat, where his handle is also @TheRealPunk.
---
Advertisement

---