Everyone's life has chapters. That's a given. However, everyone is also different. Some people can be 80 years old and only had a few chapters to their lives. Childhood, a 50-year career and retirement. Plain and simple. For others, the book is much thicker.
At 30 years old, professional mixed martial artist Michelle Waterson has enough chapters to create a novel. She grew up in Colorado, started martial arts at 10 years old, earned a black belt in karate and went right into pro fighting. That was all by the time she was 21.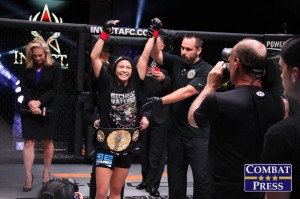 By 25, Waterson had competed on the reality show Fight Girls, done quite a bit of modeling, joined one of the top MMA gyms in the world, got married, had a daughter and racked up an 8-3 record as a pro fighter, finishing seven of those opponents. That's a lot of chapters to cover in a four-year period, but she wasn't about to slow down.
---
Advertisement

---
In the last four years, "The Karate Hottie" managed to become one of the most prolific female MMA fighters in the game. In her four-fight stint for Invicta Fighting Championships, Waterson earned two "Fight of the Night" accolades, won and defended the Invicta atomweight title, and subsequently lost the title to Herica Tiburcio in December.
"I think the biggest takeaway is that every fight is different, and when you're going into a fight, everything has to be right," Waterson told Combat Press. "You have to be mentally ready, physically ready, emotionally ready, and it all has to fell into place. Anything can happen in MMA, which is why people love this sport so much. You have to be ready for anything, and I feel what I took away from that is that my career is a journey. You have to take the wins with the losses, and the losses are a learning experience. You just have to move forward."
The book just keeps getting thicker. To move forward from the loss, Waterson is writing yet another chapter in her story.
On April 28, it was announced that Waterson had joined the ranks of the UFC strawweight division. Even after a lot more life than many people ever get the chance to experience, Waterson, at 29 years old, moved on to one of the biggest chapters yet. She was not sitting around waiting for the UFC brass to come calling, either.
"I approached them," Waterson said. "I wanted it to be something that was a smooth transition, because Invicta has done so much for me and I'm so grateful for everything they have done for me. So I made sure to talk to [Invicta President] Shannon [Knapp] about the situation, and we talked about my career and all those things. I've been fighting for close to 10 years now, and so I told Shannon I just wanted to give it a go. I'm not sure how much longer I'll be fighting."
It's no surprise that Waterson and her husband want to have more children. They're still young and they want to give their daughter a sibling. However, the UFC window can be a narrow one, so she jumped on this opportunity with the support of her family while the fire for fighting is still burning deep.
"Baby plans are definitely on hold for right now," said the young mother. "I went out to the UFC Summit a couple weeks ago, and the things that [UFC President] Dana White was expressing to us really stuck. I think when you are faced with such a huge opportunity, you have to take it and run with it. It's my time to run with it, and my husband is doing everything he can to let me train the hardest, so we're going to do this and take the UFC by storm."
The decision to make the move was an easy one. After Waterson's time with Invicta, she was ready for the next chapter. Climbing the atomweight ladder again would have been a lateral move. No fighter wants to move laterally.
"I've waited a long time to be in the UFC, and I think everything happens for a reason," admitted the former champ. "You know, when I lost my title for Invicta, it kind of created an opening, and I wanted to be there."
Well, now she's there. Her debut is tomorrow night at The Ultimate Fighter 21 Finale. Angela Magana, a former TUF contestant, will welcome Waterson to the biggest MMA promotion in the world.
Magana was a rather polarizing figure on season 20 of the show. She has also created a rather odd Twitter persona. As a fighter, Magana has quite a bit of experience, but she is on a bit of a losing skid. She was 11-4 before her last three fights, but she hasn't picked up a win since August 2011.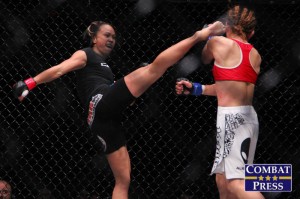 Most of Magana's finishes have come by submission, but Waterson is no slouch on the ground. Waterson has finished seven of her opponents on the mat. Both girls are the same height, so the move up in weight should be a non-factor for Waterson. If anything, fans may see a little more power and stamina.
Magana is originally from Farmington, N.M., and that is where she got her start in the fight game. When Waterson first moved to Albuquerque, N.M., Magana was cross-training at Jackson's, so the two have spent some brief time together.
"She's a good opponent," Waterson said. "We're pretty similar in size, have around the same number of fights, and we've been around about the same amount of time. She has more experience as far as being on the show and stuff, but I'm really excited to get in there and show the world what I've got."
The next chapter of Waterson's career should be an exciting one for fans as well. She is a very talented martial artist who is no stranger to finishing fights. She has stopped 10 opponents. Waterson is very excited to bring her talents to the UFC strawweight pool.
"I feel it's a pretty complete division," stated Waterson. "Most of the girls are really well-rounded and very game and eager to get that championship belt. I think it's going to be a very competitive weight class."
One day, Waterson will try to add to her family. For now, however, it's all about adding a UFC chapter to her book.
Waterson would like to thank the UFC, her coaches at Jackson-Winkeljohn, her husband and her sponsors. Follow Michelle on Twitter:
@KarateHottieMMA
---
Advertisement

---