Over the course of history there have been countless numbers of creative ways that people have engaged in combat. From the skirmishes on the modern battlefield to the gladiators who fought for their lives, literally, inside the walls of the Colosseum in Ancient Rome, combat and survival have been a part of the human race since the beginning of time. It comes down to the instinct that is inside of us. It comes down to our love of the fight, the thrill of the show and the desire to win.
Cedric Doyle may be a professional fighter who is now on the cusp of winning the most prominent bantamweight championship in all of Africa, but it didn't start out that way for the 29-year-old. We're all born to fight to a degree and, in life, it's just a matter of choosing what motivates us go to battle. With sand between his toes and a crowd gathered around, Doyle went to battle. He did not fight because he had to, but because he wanted to.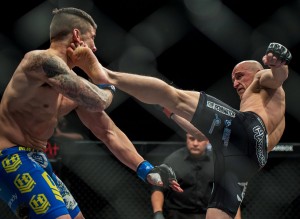 "With no real interest in anything other than fighting and partying in my early 20s, I ended up with some wrong people and started using hardcore drugs for an extended period of my life," Doyle told Combat Press. "Always high and always fighting. By the time my best friend and now wife Ilse intervened, I could've fought at strawweight [laughs]. She really saved my life, got me cleaned up, reconnected me with my spiritual life and faith in God and got me to really pursue my passion for fighting. Today, because of her, I've studied, I have a great job, a beautiful daughter and I'm living my dream of being a professional MMA fighter.
---
Advertisement

---
"Mixed martial arts is a beautiful sport, and I love fighting. People talking about fighting or films about MMA fascinate me, and I can listen to them or watch it for hours. Growing up with my older brother Conan was awesome. When we were young, my dad bought us little boxing gloves. If we had an argument, we use to get the gloves and sort our differences out there and then. We were super competitive.
"In primary school in Hartenbos, we used to have 'beach barnies.' We'd round up about 20 guys, go down to the beach and match up two guys. We would make a circle around them and let them fight — no rules, no time limits, no ref. This continued in high school. I was always looking to fight somebody, and a big crowd got the adrenaline pumping — I love an audience. This love for fighting eventually culminated into a MMA career. I'm living the dream."
That dream eventually led Doyle to the Extreme Fighting Championship Hexagon. After a successful professional debut in his hometown, Doyle was signed to compete with EFC. In his first bout inside the Hex, he met Nkazimulo Zulu, who submitted Doyle in the second round.
"It was a surreal experience," Doyle recalled. "I can truly say the big lights got me that night. I was smashing 'Zuluboy' — two 10-8 rounds — until my body didn't want to posture out of his triangle and I succumbed to the debutant curse. That fight, to me, wasn't a loss by any means. It was a great learning experience."
Earlier in the year it was speculated that top bantamweight contender Irshaad Sayed would be awarded a shot at Demarte Pena's title. Doyle, who had previously been named as the No. 1 contender, let people talk and speculate while he waited patiently for the opportunity to officially become his.
"I knew I was going to get the shot," Doyle said. "When EFC announced Irshaad Sayed was getting the shot before me, something didn't feel right and it wasn't how I envisioned things playing out. But you can't cheat destiny, so everything worked out exactly the way it should have."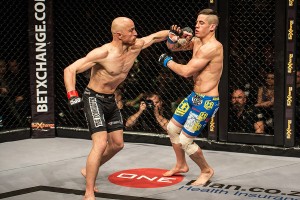 Doyle has a big opportunity in front of him when he steps into the cage on July 11 at EFC 41 opposite an opponent with the credentials of Pena. With a four-fight winning streak intact, Doyle enters his championship bout with a huge amount of momentum. Pena has a host of EFC records to his name, including the longest winning streak in the promotion and the most title defenses of any champion, past or present.
"I can't say anything bad about Pena," Doyle admitted. "He proved over and over that he is a great champion. He's got a good team around him and some absolute killer guys to push him every day. But so do I. Come fight night, I will defeat Demarte Pena. I do what I say."
On July 11, Pena's unblemished record is on the line. Doyle is the man who can take that — and the title — away from Pena. Doyle isn't just trying to reach for the stars. He's jumping at them and clutching them with both hands.
"This fight means everything to me," Doyle explained. "This fight means fighting and beating the best guy in the organization. In life, I have felt the lowest low and on [July 11] I will feel the highest high.
"I want the belt. I want the championship ring. I want to sit cageside at all the EFC events. And I am going to be the new bantamweight champion."
Cedric would like to thank his family for their support. He would also like to thank Jurgen Putter from Rio Grappling, Raymond Phillips and his team from XKT kickboxing, manager James Read from Pro League and his "right-hand man" Jan-Hendrick Booysen. He would also like to thank his sponsors: RSV and Scenic Route Corporate Travel. Follow Doyle on Twitter:
@DominatorDoyle
---
Advertisement

---