Daniel Weichel's Bellator featherweight title fight tonight with Patricio 'Pitbull' Freire is a fight that has been a long time coming.
Weichel started his pro career in 2002 at the ripe young age of 17. However, his martial arts journey started even earlier in his youth.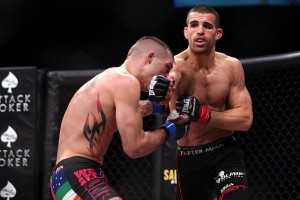 "I was always a big fan of the martial arts movies with Jean-Claude Van Damme and Bruce Lee. I always wanted to [train] martial arts," Weichel tells Combat Press. "One day there was a poster for a beginner jiu-jitsu class, and I asked my parents that I wanted to go there. They said, yeah, OK, if you want to do this. That was my first contact with martial arts, and the moment I stepped foot onto the mat I knew this was going to become my life."
---
Advertisement

---
With so many years of training under his belt, Weichel has watched MMA spread at a global scale.
"I would say it is way more professional and very big in the media right now," Weichel said. "Especially in the U.S. and in South America or even Russia, MMA is growing and now it is one of the major sports, I think."
Tonight's fight is the accumulation of all the training time and the sweat and tears that come with this sport. Weichel is set to meet Patricio "Pitbull" Freire at the the Scottrade Center in St. Louis. The bout, which serves as the co-main event of Bellator 138, is a five-round affair for Pitbull's featherweight title.
"I think we are both very complete fighters and on top of the featherweight [division] in the world," said Weichel. "I feel that my team prepared me perfectly for him as a fighter and with this fight. I go in very confident.
"Patricio is a very complete fighter. He will not have many openings for me to work from. I feel that my game is very tight and I have all the tools to create openings in his game. I think that's what it is all about. I have to put my things together and mix things up and create openings and go for it."
Weichel is one of very few fighters out of his native Germany to earn a title fight in one of the big three organizations in the United States.
"It is an awesome feeling to be representing Germany," he said. "For me, when I say that I represent Germany, I represent my family, my friends, my fans and my team — everyone who has supported me on that journey. I would not be here without all of their support. This title is also for all of them."
For people on the outside looking in, this title shot for Weichel might feel like it came a bit sooner than expected. However, Weichel knew that he was destined for a title fight this summer.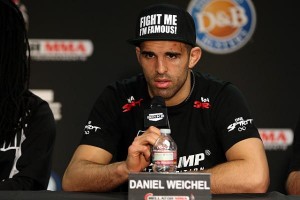 Freire's original opponent for this match-up was expected to be Georgi Karakhanyan. However, Karakhanyan sustained an injury that forced him out of the match with Freire, and Weichel was pegged by Bellator brass to be next in line.
"I knew that I was going to fight for a title, but it was not a big surprise," said Weichel. "I had a feeling that I was going to fight for a title this summer. It just happened. I feel sorry for Georgi, and I hope his rehab is going well and he is ready to go soon. I am just happy to have this opportunity"
Weichel expects the Bellator featherweight title to be on the plane with him when he heads back to Germany. In his mind, there's no way that the Brazilian can prevent this from happening.
"I see me walking, very confident, into the cage and begin more focused than I have ever been," Weichel said. "I put the pressure. I listen to my corner. I am 100 percent focused, and I am going to do my thing. I will see my opening and I will take it and then the belt is mine."
Daniel would like to thank his fans and friends in the United States. He would also like to thank his team at MMA Spirit Team Germany. Follow Weichel on Twitter:
@danielweichel
---
Advertisement

---