Though the UFC is going through some hardship outside the cage these days, what takes place inside the famous Octagon is still relatively unchanged. When you tune in to watch a UFC event, you do so knowing the company has the most talent-rich roster the sport has to offer. Most of the great ones call the UFC home, and it is the reason why the promotion is easily the most successful the sport has ever seen. However, there are still some talented fighters that have not found their way to the UFC and yet still are considered by many to be among the top guys in their respective division. Arguably, the best fighter at the moment outside the UFC is World Series of Fighting bantamweight champion Marlon Moraes.
Moraes defends his title against Canadian prospect Josh Hill at WSOF 18 on Thursday, Feb. 18, in Edmonton, Alberta, Canada. Though Moraes has fought since winning the belt, this will be his first official defense of the title.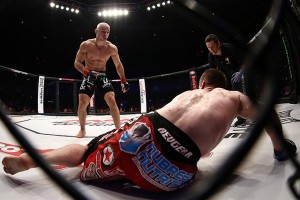 Entering his fight against Hill, Moraes is on an eight-fight winning streak, including wins over Miguel Torres and Tyson Nam. It wasn't always this promising for the champ, who started his career with a mediocre record of 5-4.
---
Advertisement

---
"I've been working hard and built my confidence inside the MMA cage. Now, I feel ready," he declared in an interview with Combat Press. "Now, I feel like I'm a complete fighter. I can fight anywhere. I think the biggest difference is that now I can mix it up well and I am ready to fight anywhere the fight goes. I am really blessed to have people like Mark Henry, Ricardo Almeida and Frankie Edgar. I've been a couple fight training camps with this team, and now I feel great and I feel ready. I started kickboxing when I was nine and started jiu-jitsu when I was 16 or 14. Before, I was a kickboxer with jiu-jitsu. Now, I feel like I am an MMA fighter."
Since the company's first show in 2012, the WSOF has put on some very entertaining events. The company has also been a player in signing big free agents and giving fighters another viable option when they hit the market. Moraes has been with the promotion from the start and credits company head Ray Sefo and his team for getting him to where he is today.
"It's awesome," said the bantamweight champ. "It's like teamwork. I'm building myself as a fighter and they are building themselves as a big show. I believe Ray and all the fighters involved, we all worked on this together."
Moraes has undoubtedly found success since making the move up to New Jersey. Although he does his training camps with the boys from Falls River, he still calls Florida home. The champ admitted that it is tough to juggle the two, especially since he considers himself a family man. But at the end of the day, the sacrifice is well worth the reward he is getting once it's time to perform.
"I've been going back and forth, and it's tough. But now that I am fighting more I'm staying more in New Jersey than Florida," he explained. "It is working good for me, so I'm going to keep doing that during camp. When I'm in Florida, I have a gym that I teach and then I go and get some training in at [American Top Team]. I've been getting good training there and a lot of sparring. It's been great for me.
"It is always great to listen to different coaches and different opinions. I've been working with the best coach in the world in Mark. Frankie Edgar has been training with me every day, helping me as my wrestling coach. Working with a guy like that, a former UFC champ, is a big help. It's hard to waking up in the morning, it being 16 degrees in the morning and in Florida is 72. But it has been working great for me, and it is tough but tough training makes tough guys. This is where I want to be. If I want to be a champion, I want to do all the sacrifice that I need to do to be a champion."
With the record and performances Moraes has displayed since his last lost, he could easily be considered one of the best in the world. Unfortunately, he probably won't get that respect until he steps inside a UFC cage. Just like the Ben Askrens, Gilbert Melendezes and Eddie Alvarezes during all those years fighting outside the UFC, Moraes will endure more scrutiny from many fans and media who will always wonder how good a fighter he really is when he is not fighting for the most influential brand in the world. Whether that is fair or not, Moraes is not too concerned with all the talk. He just wants to live in the moment.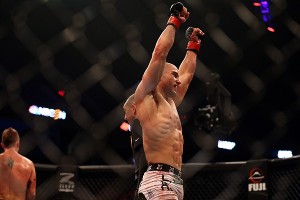 "I'm in a moment now in my life that I am so happy with my family and with the show that I fight for," Moraes admitted. "World Series have been doing good for me and I just want to think about them. I have to be loyal to these guys and keep focus on my next fight that I have with them.
"We have such great relationship. I feel like the relationship I have with these guys — Ray Sefo and Shawn [Lampman] — it has been great for me. I am thankful, and I want to do all that I have left and keep fighting."
Moraes says he wants to focus on the task at hand, but he can't help but to wonder of what could come next.
"I want to do something big," he proclaimed. "I want to do something that is new for the World Series. Maybe I could go up a division, fight at 145 [pounds]. I'm open to a catchweight also. I'm looking forward to fight the best, and I am ready to prove it. I am not even thinking about weight. I think weight doesn't even matter. There are a lot of tough 135, 145 and 155 [fighters]. And people worry so much about weight, and all it matters is if you are ready."
Should Moraes get past Hill, things could get very interesting over at the WSOF offices.
---
Advertisement

---