While most 20-year-olds are anticipating their next semester in college or their first legal drink, Jordan Young is anticipating his pursuit of becoming a world champion.
Hailing from Des Moines, Iowa, the middleweight recently embarked on his journey as a professional athlete and has yet to taste defeat. At 2-0, Young returns to Victory Fighting Championship to take on Cody Sherwood, with every intent to keep his unblemished record intact.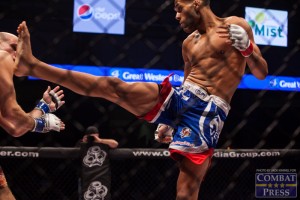 "I've seen a couple of videos, a couple of his fights, and that's about as far as I've looked into him. From his record I can tell he doesn't finish, he's had some decisions," explained Young. "I see myself doing what I want to do. I think I'm the better fighter and I'm going to show it."
---
Advertisement

---
Confident in the match-up, Young doesn't feel he's necessarily superior to Sherwood, but trusts his efforts to prepare.
"I wouldn't say I'm better than other fighters in the region, but I'm different. I really live this lifestyle, I'm not out saying I'm a fighter and training two or three weeks for a fight. I do this year-round," proclaimed the Iowa fighter.
Since 15, Young has been driven to make MMA his career path and has been soaking up everything he can about fighting.
"When I was in high school, I wanted to find something to do in the off season. I was messing around in the gym for the first year. When I hit 16, I took it seriously and wanted to take the opportunity I had in front of me," Young recalled.
That led to Young competing in martial arts, including Muay Thai, boxing and Brazilian Jiu-Jitsu. Young realized MMA was his opportunity to be a professional athlete more viably than football.
"In MMA, success is based on what you do. If you win your fight, you progress. Even before MMA, I was doing BJJ. I was traveling and competing," said Young. "That kept me motivated before I could actually fight, because I wasn't old enough at the time."
Young credits various coaches for his success thus far. However, the young fighter says travel has been critical in his development and preparations to be a professional fighter.
"I touch down a lot of different places [and] train with a lot of different coaches," revealed the unbeaten prospect. "I have learned a lot from Coach Cleber Luciano and Coach Fabiano [Bitencourt] out in Huntington Beach, as well as Coach Jhanex [Alviz] in San Diego. While I am in Des Moines, I work with coaches Ryan Clark, Cliff Harris and Tyler Brandt."
In five years, Young, now a purple belt, has earned over 30 gold medals in grappling while gaining a wealth of experience. Despite having only a handful of amateur MMA fights, Young does not feel experience is a factor in the cage.
"As an amateur, I was training for so many years as a professional. So after those five fights and five camps, I was motivated and young enough to show what I'm capable of among the pros," he said.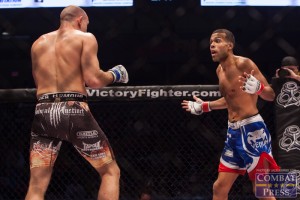 Age never held Young back as he continued to evolve in the sport. While others strayed from the path to success, he was focused on his future of competing in the cage.
"I'm self-motivated," he declared. "My personal hunger drives me. I didn't pursue college or a regular job. I put all my eggs in this basket. I want to show that I can be the best and reach the top 10 in the world."
As a developing pro, Young has a fruitful future in the sport if he plays his cards right. He already has something up his sleeve to pave the way for success.
"I have plans on fighting in the top division of the sport in the next five years," Young said. "Whether Bellator, ONE FC or the UFC, I don't care. I have plans to win this next fight, fight one more time, and next year be a part of different organizations and work my way up."
As far as his bout at the Ralston Arena on Saturday, July 25, the Iowan says he's determined to gain fans in Nebraska.
"There's going to be a lot of action. I'm going to push the pace and do damage. The fans can expect a first-round finish, by the middle of the first round."
[Ed. Note: This interview first appeared on VictoryFighter.com]
---
Advertisement

---