It is said that an item becomes cursed when it is taken from its rightful owner. The item in question then proceeds to bring misfortune to all those who come in contact with it.
On Sept. 1, 2011 Adam Speechly lost something that he had been working toward for over 12 months. Since that day, nobody has been able to keep ahold of it for very long.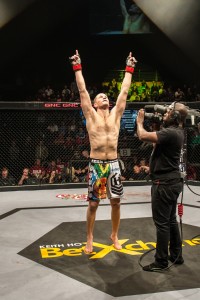 The item is the Extreme Fighting Championship welterweight title, and it is cursed. It's a known fact. Not one single champion has managed to defend the belt, and if history is anything to go by, the curse began as soon as that belt left Speechly's hands at EFC 10.
---
Advertisement

---
Curses can't last forever, though. Once an item returns to its rightful owner, it's supposed to finish the cycle. Things are supposed to go back to normal again. On Feb. 21, at EFC 37, the curse of the EFC welterweight title should be lifted. It's rested on countless shoulders since it left Speechly's hands, traveling from Dallas Jakobi to Jadyson Costa to Michiel Opperman to Dino Bagattin and to Henry Fadipe before returning to Speechly. Now, the belt has gone full circle back to the man who started this whole thing off.
"It has definitely been an interesting sequence of events, but personally I haven't given too much thought to [the curse]," Speechly admitted to Combat Press. "I have made the effort to focus on improving myself and my skill set.
"Since losing it — the title — I have been on a very challenging but rewarding journey that saw me develop not only as a fighter but as a human being. I now not only believe that I have the skills and qualities that are needed to defend the belt, but also the hunger to go out and do so. This is an opportunity for me to prove to myself that I have learnt all the lessons from my journey and that I am ready to succeed where I stumbled all those years ago."
Like most young men, Speechly sought out a sport to stay active. He wasn't an overachiever on the field, though. In fact, he was pretty bad.
"At school, I used to play rugby, but I wasn't the most gifted when it came to all the fancy stuff like running fast, or even catching the ball [laughs], so I decided that the only way I was going to get better was to improve my skills in the contact situation," Speechly recalled. "The best option available for me was to join the local wrestling club. After being involved there for a few months, I started doing boxing classes and haven't looked back since."
Speechly made his EFC debut at EFC 2 in 2010. The fight would mark the first of nine appearances for the two-time welterweight champion. The memory of his first time stepping into the Hex hasn't faded.
"It was a pretty nerve-racking feeling," Speechly remembered. "I had never fought on such a stage before, but it was a great feeling being in there and seeing how far I had come with my team and knowing that I had earned my spot in there."
Prior to his current back-to-back wins, Speechly had suffered back-to-back losses inside the Hex, one of which was his title loss that started the infamous EFC welterweight title curse. It wasn't an ideal situation, losing the belt and then losing again in his next outing. However, Speechly was able to push through.
"It was a very challenging time for me that forced me to do some serious soul searching," Speechly explained. "But looking back I am really grateful for it, as it taught me that when you really put everything into something, you can only gain from it. This helped me overcome my fear of losing by helping me to see that it is never a finality. Since then, I have really been able to not only go out there and give it my all, but to really enjoy myself as well.
"I am really grateful that all the hard work and dedication that my coaches, my teammates and myself have put in over the years has finally come to fruition."
Adam would like to thank his parents, who have supported him since the beginning and allowed him to pursue his dream. He would also like to thank his coaches, Peter Smith and Attila Barna, as well as all his teammates at Team CIT and Smith's Boxing. He would also like to thank his sponsors, NileDutch and Mantis Security, and all the fight fans for all of their ongoing support. Follow Speechly on Twitter:
@AdamSpeechly
---
Advertisement

---