What kind of goals do you set for yourself when you're diagnosed with a rare disease that may ultimately take your life?
Well, if you're Joe Ellenberger, you chase your dream.
The first initial shock of being diagnosed with Paroxysmal Nocturnal Hemoglobinuria, PNH for short, was a little hard for Ellenberger, but with the right people and some research he has taken control of his disease and ultimately his goal of becoming a world mixed martial arts champion.
---
Advertisement

---
"I got diagnosed, and I didn't know anything about it and neither did anybody else around me," Ellenberger explained to Combat Press. "So I basically tracked down the leaders right now in the research. That's my specialist now, Dr. Monica Bessler. She is up in Pennsylvania. She sees quite a few teenage patients.
"It was more of educating myself [and] educating my family. I think that's what gives people a better peace of mind. I think in the beginning there is a lot of unknowns, so everyone is sad and they think you are going to die or whatever. But, once I educated myself and was able to educate my family, it's a lot easier taking the appropriate steps to do everything right."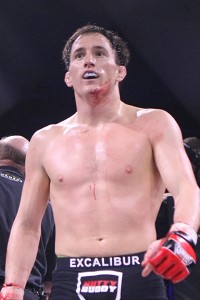 When Ellenberger steps into the cage Saturday at UFC on Fox 13, he will be proving a lot of people wrong.
When Ellenberger was first diagnosed with PNH, doctors told him that he would be lucky to live long after 30. Well, in March, he and his twin brother, Jake, will be turning 30.
"I guess right away it was like, 'You know, I can't wait,'" Ellenberger admitted. "Now it's like, with my awesome luck, I'll live till I am 100, which isn't a horrible thing."
Come Saturday night, Ellenberger will step into the Octagon for the second time. However, he seems to be a man that can not keep an opponent for very long. For Ellenberger's debut fight in the UFC, four of his opponents pulled out for one reason or another. Yes, four opponents. Yet, it is just another day at the office for the lightweight.
"It was tough in the beginning, because I think the first couple were righty's. I think [Bryan] Barberena, he is primarily a southpaw, and then I think [James] Moontasri ended up being kind of a righty, but he switched a lot too. It is always tough," said Ellenberger. "At the end of the day, you got to get a job done."
When fight time finally arrived, Moontasri was Ellenberger's opponent. The pair went the full three rounds, with Ellenberger edging Moontasri via split decision.
Prior to Ellenberger's debut, he went without a fight for 18 months. That was in part due to his illness, but also because he could not find an opponent.
"In the beginning, part of it was I couldn't really get any match-ups that would propel me to the next level, and that's really what I was looking for," reflected Ellenberger. "Then, once I started talking to [UFC matchmaker] Joe Silva a little bit, we just had dialogue and he just wanted to make sure I could get passed by all the commissions for my medicals. Once we got that ball rolling and everybody connected as far as doctors talking to each other and making sure that I was getting cleared, because, of course, that was my ultimate goal."
Saturday night, Ellenberger takes on the aforementioned Barberena. One thing that Ellenberger has not been accustomed to lately is that he has had the same opponent for a full training camp. It's the first time in almost two years that he has enjoyed that luxury.
"I guess it feels pretty good," he admitted. "I guess the more I focus on myself, I think the better I am, regardless. I'll always probably do a lot of the same stuff—sharpening my strengths [and] sharpening my weaknesses. Game-planning, too, is a big part."
Ellenberger has not seen much action these last couple of years, but he hopes to embrace a very busy 2015.
"I am hoping for a busy year and just climbing the ranks, getting better and continu[ing] to grind on. I have a feeling that it's going to bring a lot of good things for both Ellenbergers, not just me. My brother has been working hard and focusing. The last couple outings obviously haven't gone his way, but I think there are a lot of good things to take from each outing. I think you are going to see a brand new fighter in him, and hopefully in me too. I am not trying to reinvent myself at all, just build on what I already have and continue to learn and continue to win."
---
Advertisement

---