Take a moment to think about the gym known as Team Alpha Male. Who are some of the first fighters that come to mind? By now, you're likely thinking about former WEC featherweight champion Urijah Faber, current UFC bantamweight champion T.J. Dillashaw, top flyweight contender Joseph Benavidez or maybe even coach Duane "Bang" Ludwig. But a name that wouldn't necessarily come to mind, though it should, is Lance "Party" Palmer.
Palmer has been gaining steam, seemingly under the radar of the bigger, better-known fighters. Palmer looks for his second title fight in just three contests with the World Series of Fighting on Dec. 13 at WSOF 16 in Sacramento, Calif. He fights against Rick Glenn, a man with whom he is all too familiar. Palmer's debut in the WSOF was to replace Glenn and fight for the WSOF inaugural featherweight championship. To recap, Palmer replaced Glenn against Georgi Karakhanyan. Karakhanyan submitted Palmer, but he was defeated by Glenn in his first title defense.
"I took that [Karakhanyan] fight on three weeks' notice and I went out there and put on a good performance, and I just got caught," Palmer told Combat Press. "I was winning the fight up until that point. When you have a loss like that, you have to look into it and notice the things you are doing wrong and notice the things that you are doing right and move on from it.
---
Advertisement

---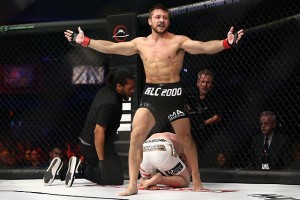 "I just look at it as Georgi made some mistakes in the fight where he fought Glenn and Glenn capitalized. I watched the fight from cageside because I fought on the same card, and it's one of those things where if you don't get the finish or you blow your load and gas out, that's something he made the mistake of doing and also some technical mistakes. I kind of took the positives from there, and I'll be using some of that to my advantage as well. You know, when it comes down to it, it's a fight. Anything can happen in that cage. You can only do your best to prepare and do all the things that's in your power and just hope that your body reacts and does all the right things come fight night."
Anything can happen. That's absolutely right. It is very unusual that a fighter just wins one fight after coming up short in a title bout and then gets another shot at redemption. But with the departure of former featherweight champion Karakhanyan, the choice was simple.
"I never look for the title fight," Palmer admitted. "In my last fight, everybody was like, 'Do you think you will get the next title shot if you win this fight?' I gotta win the fight first before I worried about a title shot. I am worried about the task at hand and that was beating the guy who I was fighting at the time. Once I finally did get the title shot, I was like, 'Yeah, I feel like I deserved it.' But I didn't really want to go into it deserving a title shot before I even fought the fight. Some people kind of do that. I've seen that in the UFC, Bellator and other organizations where they think they deserve the title and they go in and have a bad performance and end up losing or just have a bad performance in general.
"I just want to go in there and have a good performance and show that I am improving with each fight, because I'm definitely to the point in my career where I'm still growing and building every fight. So I want to show that. And for me to get the next title shot after my last fight, it was great, but there's always improvements to be made and you can never be completely happy with a performance, no matter what."
Palmer feels that just simply winning is not enough. In today's MMA scene, he has a valid point. Fighters who just grind out a win don't end up with title shots or the recognition that they may deserve, even if the fans don't agree.
"I have always been hard on myself," he confessed. "That's just the kind of person I am. It's getting more that way for younger fighters because you are expected to do more and you never know if you're going to get cut or what's going to happen with these organizations. I put pressure on myself just to perform and not really worry what the organization is going to say. You have to go out there and do your best and whatever happens, happens obviously. But if you put that pressure on yourself in the gym, you're going to be able to perform when you are in front of people.
"I think the next generation of fighters is only going to get better and better because they aren't happy with mediocrity. They want to go out there and be the best. If you don't do something right in a fight, even if you won the fight, there's things that you could be unhappy with. I've had a couple fights like that where I fought a tough guy and got the win but it wasn't the fight that I wanted. I think it's just the mentality of some people in general. I think the new generation of fighters, the younger generation of fighters, has that just to get their skill sets to the next level."
Palmer's ever-improving style was on showcase during his last fight against Nick LoBosco. It appeared as though Palmer was going to get the TKO, but he opted for the rear-naked choke instead.
"You can't expect the ref to give you the stoppage," Palmer explained. "And Nick was blocking a lot of the punches, because he couldn't go anywhere. He couldn't move. I had complete control of his body and all he could do was block the punches. He was blocking the right shots and I wasn't really landing hard shots. Well, I was landing hard shots, but I was hitting his gloves a lot and I wasn't getting the shots that I wanted to kind of get him dazed and get the TKO. I was throwing good punches down on him, and once I saw the opening for the choke and I knew that he wasn't going anywhere and it was getting later in the round too—I think there was only like a minute left in the fight when I sunk the choke in—so I wanted to finish that fight in the first round and that's when I was kind of like, 'I have to go for the choke here.'
"I kind of softened him up with the punches and some hard shots to the head and to the body a little bit, and then I saw that [referee] Herb [Dean] wasn't going to give me the TKO off of that position, so I just went for the choke. I haven't had a TKO or a knockout yet, but it's one of those things that I have been working on nonstop, you know? It's bound to happen, but you can't force it. Whatever you are given in there, whatever you see the opportunity, you have to take it."
Opportunities are something that Palmer has taken full advantage of over the last few years. He has trained alongside some of the best-known smaller weight-class fighters at Team Alpha Male. In just the past two years, at least three Alpha Male fighters have fought for or won a UFC title. For Palmer, it's not just about what the rest of the gym helps him with, but how he helps the rest of his fellow training partners as well.
"We have some top-level guys, whether they are in the UFC or the WSOF or the regional level right before the UFC, but it's just the level of fighters. Everyone makes each other better," he said. "So even though someone is making me better, I'm pushing that person to get better at one other aspect of their game. If I am working with some strikers, they're helping me get better with my striking while I could be helping them with their takedown defense and getting up off the bottom. Urijah always calls it a 'co-op' because everybody is helping each other, one way or the other. You have so many different aspects of fighters who are stand-up guys and some guys who are wrestlers and guys that are jiu-jitsu based, so we have everything here. And everyone comes together during practices. And that's why we have one of the best teams in the world. And that's why a lot of our guys are exciting fighters. [It's] because we work on every aspect of it—not just our strengths, not just our weaknesses. We build on our strengths and we work on our weaknesses at the same time.
"It's one of those things where being at this gym for the last three and a half years… When I was here for the first six months to a year, yeah, they were showing me the ropes. Urijah took me under his wing and came in here when it was just us two in the gym on the weekends. Now it's more of us helping each other. Now that I know the game and I've cornered guys at the highest level, UFC title fights and stuff like that, I know the coaching aspect of it and the fighter aspect of it. It's just putting those two concepts together and to build each individual athlete in the gym, and that's what has helped our gym become one of the top gyms. Our gym attracts like-minded people, and Urijah has said that from day one. The people that want the same things will come together and be around people who want the same thing as them. You have your people who come in and fizzle out here and there, but we have top guys in the gym and even guys that no one has heard of. Those are some of the toughest ones. There's a lot of up-and-comers here too that have yet to shine."
Take a moment to reflect on that term, up-and-comers. Sometimes it's a term that is thrown around when a fighter wins a few fights and flies under the radar. Other times it could be used to describe a champion who is not as "outgoing" as the general public would like them to be. But sometimes an up-and-comer is someone truly special. Palmer feels that he knows exactly who that is in the gym.
"Cody Garbrandt," he said. "He's one of my buddies from back home. He just moved out here about seven months ago, and he's been out here training for his previous fights before that. He's 5-0 with five KO/TKOs and he is a monster. He's right there at that level, and I wouldn't be surprised if he gets called up in the next couple weeks for a fight. He's a beast, and I know people are looking at him. He's definitely one to look out for. He's a 135-pounder, and he is a beast.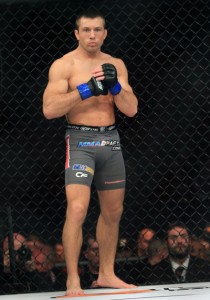 "Cody's just one of those guys. He's got a great boxing background. His uncle was an Olympic alternate boxer. He's from Ohio originally, so he's got a great wrestling background and he was a state champion in high school wrestling. So he's got boxing and wrestling, and since he has moved out here, his jiu-jitsu is so much better. He's definitely the next guy out of our gym to get the call up to the bigger show."
As much as Palmer praises his training partner, he is truly focused on the task at hand against Glenn. Glenn is on a tear of sorts, not tasting defeat since March 2010, a span of 13 fights in which he has gone 12-0-1. Glenn has finished seven of his last 13 opponents with either a TKO or a knockout.
"I know Glenn's best asset is his striking and I know that he has a decent ground game," said Palmer. "Anyone can be dangerous on the ground, especially if they are a striker. I've just been working on my striking and working on the angles and everything I need to do for this fight, but not getting away from my wrestling, which is my best aspect, and my submission game and submission defense.
"I feel like a lot of people say, 'Yeah, I'm fighting a striker, so all I have been doing is working with my boxing coach or my Muay Thai coach.' And they get away from what got them there. I'm not going to go away from what got me to this point, and that's my wrestling and submission game. I have been working on everything equally and I've taken more notice on my striking practices and on my mitt sessions with my coach. When it comes to that, you don't just focus on one thing. You focus on improving all around and be aware of the one thing that person may be better at than others.
"People always say, 'Fighting's simple. Make fighting simple.' And it really is. But when you break it down, you want to be cerebral with each aspect of it and you want to be smart with it, but at the same time you don't want to overthink everything. That's kind of where the happy medium comes in. That's what Urijah is really good at, being aware of every situation and going out there knowing, 'Hey, it's a fight. Keep it simple and do what you are good at.' Get to where you are comfortable and take your time. That's something that our team has been really good at.
"That's when you get to show all the hard work you have put in for the last 8-12 weeks or however long since your last fight. That's the payday in more ways than one. It's exciting to go out there and show your skills, especially being in Sacramento. That's my adopted home for the last three and a half years. I have a lot of people who haven't been able to see me fight live yet, so that's what I am excited for also.
"I look forward to putting on a good show and making everyone happy. It's going to be a good night."
If all goes according to Palmer's plan, it might not be long before his name is one of the first to come to mind when fans think about Team Alpha Male.
Lance would like to thank his sponsors: Pinnedmovie.com, Barley House Cleveland, Peoplefinders.com, Memory Tag and Cage Fighter Athletics. He would also like to thank Team Alpha Male, his friends and family, and everyone that he forgot for their support. Follow Palmer on Twitter:
@LancePalmer
---
Advertisement

---