As the year draws to an end, we begin to reflect on the year that was. We look back at our successes. We try to forget our failures. We work toward what the next year is going to hold.
Jordan Lucas has spent 2014 competing under the BRACE banner. He has fought twice this year already, with a third time to come on Nov. 22 at BRACE's end of year "grand final" event in Canberra, Australia. BRACE is poised to crown its 2014 tournament winners at the show. It's the first time Lucas has eyed gold in mixed martial arts, and success on Nov. 22 could translate into a breakout year in 2015.
There's a lot at stake for the undefeated bantamweight. The top priority is to head into the new year with his current winning streak alive.
---
Advertisement

---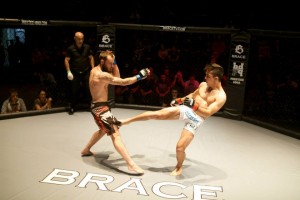 "This fight is massive for me," Lucas confessed to Combat Press. "This whole year, all I have thought about is winning that title. I train really hard, and I have proved in both of my fights in the lead-up to this that I am worthy of having that belt around my waist. This last fight honestly means everything to me.
"I think this is one of the biggest cards Australia has put on. Six Australian title fights, and everyone has earned their shots at the title. I think the fans are the winners in this one. I'm looking forward especially to the Corey Nelson fight and also Jamie Mullarkey's fight. They are exciting to watch."
In order to help support his goal of being a full-time professional fighter, Lucas has undertaken a teaching role with his gym, Team Nemesis. It has been a good opportunity for him to help out other up-and-coming fighters.
"It feels good. I'm only running one class a week, which is a fundamental MMA class, so it doesn't take any time out of my training," Lucas explained. "My coaches at Team Nemesis offered it to me. They do a lot for me, and them asking me to coach one class a week is nothing compared to what they have done for me. For me, it shows that they have trust in me, and hopefully one day I will be able to run a successful gym like they have."
At the tender age of 20, Lucas is still in the very early stages of his career. When a fighter is still so young and their body still has years of developing left, it can be difficult to determine what weight class best suits them. The weight cuts to the bantamweight limit are only going to get harder for Lucas. The undefeated fighter could have a move up to the featherweight division in the cards for 2015.
"It honestly depends," Lucas revealed. "I have been fighting at bantamweight since I was 16, so naturally my body is growing and obviously [it] gets harder each time to get to the weight. But now that I don't work and [I am] training 4-5 hour days, I can manage it. But if I'm to get a job sometime next year, then I might consider making my featherweight debut just so the diet and weight cut isn't as harsh. It would be hard to leave this division, though, as I think our division is one of the most talented and I've made a pretty good run in it."
That run includes a unanimous decision victory over Ritchie Ivory in May and a first-round submission finish of Edwin Arana in August. Those wins paved the road to the final for Lucas, putting him in position to fight for the title on Nov. 22.
This year has seen BRACE expand its reach with a partnership with The Fight Network, as well as a partnership with Australian free-to-air television company Channel Ten. With more eyes set to be on the BRACE brand throughout 2015, Lucas's career could skyrocket if he wins his upcoming fight.
"I'm 7-0 now and I have a lot of credentials that others don't," Lucas said. "If I can win this fight and manage to get a contract with a big promotion, that would be amazing. BRACE is one of the best shows I've fought on, and it would be a massive achievement for me to have this title under my name. As long as I'm working hard and staying focused, good things will eventually come. I believe it's my destiny to be successful in this sport."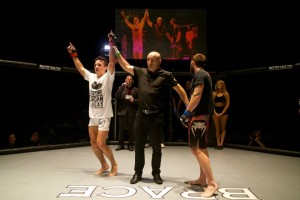 For his Nov. 22 bout for the 2014 BRACE bantamweight crown, Lucas was meant to face veteran fighter Giancarlo Embradora. Due to a severe eye injury forcing Embradora into retirement, Lucas now faces former Canberra native Steve Reeks in the town that Reeks once called home.
"I'm pretty upset that the fight with Giancarlo is off now, because we both went through the eight-man tournament and got our shot at the title the hard way. But it isn't his fault, as his injury is serious, and I wish him all the best for the future in whatever he does," Lucas said. "Steve Reeks is a game opponent, and if he had of been in the tournament, I believe there would've been a big chance of us being matched up anyway. It doesn't matter really that it's his home town; I have a lot of people coming to support me and I hope he has a lot of people too. The more people making noise, the better for both of us. Maybe he can show me a good place to eat after our fight [laughs]."
Lucas had prepared himself to face Embradora, whose record sat at the .500 mark. Instead, he now faces a man who is riding a three-fight winning streak and reigns as the Storm Damage featherweight champion.
"It doesn't change anything for me. I train in all aspects every day, and I'm confident anywhere the fight goes, no matter who the opponent is," Lucas exclaimed. "The way I train with my team at Nemesis is perfect for when situations like this happen. I have the best of both worlds with my experienced Muay Thai coach, Philip Lai, and my Brazilian Jiu-Jitsu coach, Denis Kelly, a black belt under Carlson Gracie Jr. Both opponents are dangerous in their own ways. And no matter who it is, I just want to go in there and put on an exciting fight."
Jordan would like to thank his sponsors: MVNT, Reversal/Rvddw, Multiplayer Distribution, Monier Roofing, Luke Troiani M.S.T, Panned Pizza, Bellfield Brewery, Duke Landscapes and G.T.E. He would also like to thank Phil, Denis and Tom and everyone from Nemesis for being there with him and improving him as a martial artist every day. And most of all he would like to thank his family, girlfriend and all the people who support him. Follow Lucas on Twitter:
@jordyshowtime
---
Advertisement

---