One loss. That's all it took.
MMA is a very fast-paced sport with many more variables at play than almost any sport in the world. In the sport, a loss is a very subjective notion. It's not like a loss in a team sport or even tennis or golf. There are almost no fighters at the top of the sport without at least one ding on their record. A loss in MMA could be due to a flash knockout or a quick submission, even if the winner was getting it handed to him only a few seconds prior. With so much talent in the upper echelon, it's extremely difficult to go far in MMA without dropping at least one. However, a loss is a good thing.
Only 21 months ago, "Ill" Will Brooks was riding a nine-fight unbeaten streak and was halfway through the Bellator season-eight lightweight tournament. He was two years into his professional career and had big dreams of winning the finals to advance on to a shot at then-champion Michael Chandler. However, in the semifinals at Bellator 91, he suffered his first defeat when he was knocked out by Saad Awad. It was a tough one, losing by knockout at only 43 seconds of the first round. Brooks got immediately back in business, though, and was ready to use that defeat as fuel to get back to the top. He returned to his winning ways with a TKO of Cris Leyva only five months later.
---
Advertisement

---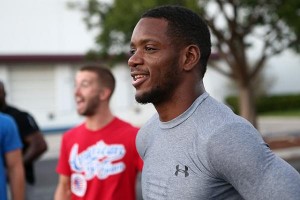 In September 2013, Brooks was in the next tournament. He kicked it off with a dominant win over John Alessio and then, less than a month later, he got his second shot at Awad. This time, Brooks handled his opponent for three full rounds. He was learning and evolving at a very fast pace. That was the semifinals, and Brooks put himself one step closer to a title shot. Next up was his toughest opponent yet.
In his sixth fight of 2013, Brooks put on yet another dominant performance, taking a three-round decision over Alexander "Tiger" Sarnavskiy to win the tournament and earn his shot at the lightweight belt. That belt was now in the possession of Eddie Alvarez, who had taken it from Chandler in a very controversial split decision. Unfortunately, Alvarez and Chandler were set for a rematch in May and Brooks's momentum went from 60 to zero in the blink of an eye.
After fighting six times in 12 months, it was probably a good thing to get a break, but Brooks was chomping at the bit and ready to get a shot at the title. Depending on how the Alvarez-Chandler rematch would go down, he was potentially looking at a long layoff. Then, the injury bug intervened and Brooks's shot came sooner than he thought.
Brooks and Chandler faced off at Bellator 120 on May 17, and the up-and-comer handed the former undefeated champ his second split decision loss in a row to capture the Bellator interim lightweight title and a shot at Alvarez for the undisputed title. However, Alvarez was picked up by the UFC, and a Brooks-Chandler rematch quickly developed for the vacant title. That fight takes place this Saturday night at Bellator 131 at the Valley View Casino Center in San Diego.
"I was definitely looking forward to fighting Alvarez," Brooks admitted to Combat Press. "Not just because of the title and stuff like that, but he's one of those guys at the top of this sport and I want to fight the best guys. Unfortunately, he stepped down to go to the UFC, and more power to him. Fighting Chandler is going to be a fun fight. I enjoy this type of fight, and I know I have the skills to finish him this time around. I would have preferred to beat Alvarez first and then fight Michael Chandler, but it is what it is."
In their first bout, Chandler came to bang, but Brooks wanted to show the world that he is not just a wrestling-based fighter. He wanted to show everyone that he is becoming a well-rounded mixed martial artist.
"It was confirmation for me that I'm evolving as a fighter and getting better every day," Brooks explained. "I'm taking advantage of my time in the gym every day. I was focused on being a wrestler and everybody had me pegged as a wrestler. To be able to go out there and put on a clean game plan and evolve as the fight went on, was a big deal to me. To go out there and perform like that against a guy that is considered one of the best lightweights outside of the UFC, I take a lot of pride in that."
Brooks went from being a finisher to a fighter who won multiple decisions in a row, but he understands that this comes with the territory. It's nearly impossible to continue to dominate every opponent when the opponents keep getting better and better.
"As you move up the ranks and move up the competition, it gets a lot harder to finish guys," Brooks explained. "You have to be more in control with what you do, as far as these fights go, because any mistake you make can be your last. You can't get too greedy. These last few fights, I've been taking my time and trying to focus on training better, taking my time with the whole process, and not forcing anything.
"This time, I'm going to be a little greedier. I'm going to be pushing the pace to the finish. Last time, I got too comfortable with being willing to go all five rounds, all three rounds, and whatnot. I got to step outside of that mindset a little bit, especially for this fight."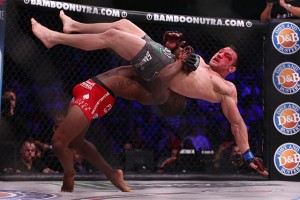 Brooks knows Chandler and knows him well. He knows what his opponent brings to the table, and he's preparing more than ever for that unique Chandler style. Chandler pushes his opponents to their limits, and while that took Brooks by surprise in their last fight, he's ready for whatever the former champ brings in the rematch.
"I think the biggest challenge he brings is his pressure," indicated Brooks. "That's the one thing he brings to the table, and he does a good job with that. He frustrates people and catches them off guard with that one big right hand or that one left. With his speed, he's able to jump right on that and bring pressure and push you up against the cage and look for a takedown. I think he does a great job with that.
"The last fight we were in, he took advantage of that, and I wasn't prepared—I was prepared, but I wasn't that prepared to have him come out and be on me that quickly. This time around, I don't see that as an advantage. I see that as something that I'm going to be prepared for. I don't see too many advantages that he has. There is a lot more depth to what I do than what he does."
Brooks is more determined than ever to keep that strap he fought so hard to earn, and also to keep that loss to Awad as the only blemish on his record. When he enters the cage on Satruday night, he's ready to show the world that he is the rightful owner of the undisputed Bellator lightweight crown.
"I think people should expect to see a cleaner, more athletic guy—a guy who is comfortable with his skills. I think, last fight, people saw a guy who had the skills but wasn't ready to bring them and was working on some things, trying to test the waters. I think people can definitely expect to see me bring it all and look cleaner in this fight. I'm really looking for the finish, man. I want to get back to finishing people. I think that I have everything it takes to put Chandler down and make sure he doesn't get back up in this fight."
Brooks would like to thank all of his training partners, his coaches, his girlfriend, all his family and friends, his fans and his sponsors: Garden of Life, Dynamic Fastener, and Attack Poker. Follow Will on Twitter:
@illwillbrooks86
---
Advertisement

---