"I was born to fight."
Fighters across all varieties of combat sports will say it all the time. As history would tell it, we are led to believe that there is an instinct in us all. We are all conditioned to fight, to compete and to survive.
Francois Groenewald is on the cusp of making history in EFC Africa. All he has to do is defeat the company's most dominant champion. But he was never conditioned to fight. That idea of putting his fists up didn't really make sense. Not everybody is truly born to fight, but, hey, at least Groenewald has shown that he is damn good at it.
---
Advertisement

---
"When I first started fighting, it was quite difficult for me," Groenewald confessed to Combat Press. "I don't see myself as a natural fighter, or even a natural athlete or someone who likes to hurt people, so it was a big challenge to get to a point where I could actually get aggressive and try to physically inflict damage. But now I realize that it's just a competition and I'm never angry with someone I fight, and it's really just about measuring up my skill versus theirs and what I can do in the cage.
"[I started] for self defense. One of my friends brought me there and I enjoyed the technical side of it and I enjoyed being able to defeat someone without using force and without drawing blood, without using punches. Also, the ability for a smaller guy to defeat a larger opponent, you can't do that in other martial arts like boxing and kickboxing."
Making the transition from Brazilian Jiu-Jitsu to MMA isn't always a straightforward procedure. That was especially true for Groenewald.
"I started MMA to advertise the BJJ club that I started with my business partner at the time, Jurgen Putter," Groenewald recalled. "Showcasing what BJJ could do for an MMA fighter was a good way to try and get students and people familiar with the sport, which was relatively unknown at that time."
Seven of Groenewald's eight professional wins have come by way of submission, which is no surprise with his strong base in jiu-jitsu. Although his record may say otherwise, Groenewald knows all too well that being a well-rounded fighter is vital in being successful in mixed martial arts.
"It's very important for me to show my level of BJJ, just so that everyone can see what BJJ is all about," he explained. "Although I focus a lot on BJJ, a lot of my time is spent on my other skills as well. I do believe you have to have an all-around game in MMA, but BJJ is a very solid base to have as well."
The next chapter of Groenewald's career inside the EFC Africa Hex comes on Oct. 2 at EFC Africa 34, where he faces Demarte Pena for the EFC Africa bantamweight title. Groenewald is currently riding a four-fight winning streak and has won six of his last seven contests. The 29-year-old is very proud of all of the hard work he has endured on his path towards a title shot.
"The title fight shows me that I'm definitely on the right path. I'm improving all the time and working on increasing my level," Groenewald said. "It's important because it's evidence that what I'm doing is working. I want to be up there with the top guys in the country."
Pena is one of those top guys. He is undefeated as a professional, with the vast majority of his wins coming by way of decision. Some opponents would go on to say that Pena fights a safe fight, or that he does only what he needs to get by. However, Groenewald can identify with the skills that Pena possesses. Those skills are what he has watched closely in preparation for their Oct. 2 bout.
"Pena has a very effective style," Groenwald admitted. "He likes to wear his opponents out. He's very fit, and he grinds out the rounds with ground-and-pound and holding his opponents in place. It's something I'm aware of, and I've been working on countering it. I don't like to grind out three or five rounds. My aim is to go in and finish fights."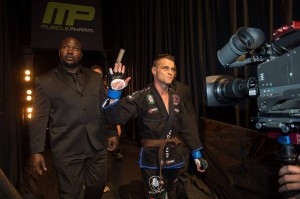 Pena stands as the most dominant champion in EFC Africa history, with a total of seven title defenses. He is seen as one of the best fighters, pound-for-pound, fighting out of Africa. It would be a dream come true for Groenewald, whose EFC Africa career started off with two straight losses, to hand Pena his first loss.
"It will be awesome to be able to beat Demarte. I think a lot of people think he is unbeatable, but I don't believe that is the case," Groenewald said. "I want to show everyone that anyone can be beaten on the right day against the right opponent. A lot of guys are scared of what he has accomplished instead of focusing on the fight at hand. It will be awesome for other athletes to see and inspire them to be confident in their abilities and go out and fight the fight, to not worry about what people say or what he has previously accomplished and just go for it.
With just two of his 11 bouts going the distance and only two of his eight victories going beyond the first round, Groenewald knows what it takes to finish a fight. His impressive finish rate has now seen him secure his shot at a title, and he plans to add another stoppage victory when he steps into the Hex on Oct. 2.
"I definitely think I have the capability of being the first person to finish Pena," Groenewald exclaimed. "I'm going to go for the finish. I don't fight for points or to drag the fight out. Some people came close to finishing him—they didn't in the end—but I'm going to go in for the finish, whether by sub, KO or TKO, whatever.
"I always look for a finish, not necessarily the submission, but always a finish. I don't see a decision fight as a win, even if it was in my favor. I just believe to make the sport exciting and in order to show your true skill, you have to look for the finish and get it."
Francois would like to thank his team at XKT, RADD Wrestling, Richard Addinall and Rio Grappling. He would also like to thank his sponsors: Kia East Rand, SRT, A Breed Apart Pictures, RSV, Alias Sports, Scarab, Furniture Inc, Maxis Carnival Mall and Hunter MMA. He would also like to thank his lovely girlfriend and his family. Follow Groenewald on Twitter:
@Franamma
---
Advertisement

---