A beautiful sunrise marks the beginning of another day. The rays beam down and bounce off clusters of grass. A rooster crows somewhere close by and the sounds of various animals float from paddock to paddock. It's almost as if the soft breeze is their vessel to communicate with one another.
Dricus du Plessis has already started his day, for when the sun begins to rise, there is work to be done. And working the land, that's just second nature.
"I believe being raised in the 'boer' way which I was raised in—early mornings of hard work and a lot of physical work from a young age—has a huge contribution to my career today," du Plessis explained to Combat Press. "That is my roots, and the farm will always be my end destination.
---
Advertisement

---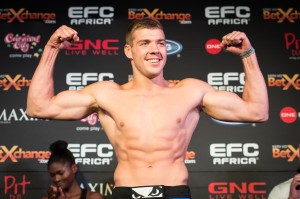 "It will start at about 6-7 in the morning with routine activities like checking water, checking the pumps, getting the animals to the field, and then some days we will plant or harvest. Other days, we will put up or fix broken fences. Then making sure the food for all the animals are ready. Sometimes we will mix the food and then, when harvest and planting weeks come, it's a day from morning to late night, and then its time for a nice, cooked farm meal [laughs]."
Besides his dedication to working hard on the farm, du Plessis has another passion: competing professionally. Before he found mixed martial arts, du Plessis compiled a very impressive undefeated record in kickboxing.
"I won the K-1 South African title and the South African professional/amateur title," du Plessis said. "I also won the K-1 world title in Slovakia in 2012. I have never lost a fight in my kickboxing career.
"I love any kind of fighting. I did wrestling and judo for five years and then started kickboxing, and I always knew that MMA is gonna be where I test myself and my skills to the ultimate by combining all these aspects. The fact that I can test every part of my body and every aspect of my skill set against someone else who also works hard and to be able to adapt to different fight styles."
On Aug. 30 at EFC Africa 33, du Plessis meets Garreth McLellan for the EFC Africa middleweight title. McLellan comes into the fight with a five-fight winning streak, and he has three times as many fights as du Plessis.
"He is a great fighter," du Plessis admitted. "I'm very exited to test myself against him, and I think we can bring the best out of each other, but I believe that in the end I will push through longer and harder to take the W."
With just four fights to his name, du Plessis's shot at the most prestigious title in Africa may come as a shock to some. However, in his mind things have gone exactly to plan, and du Plessis plans to keep the victories coming. Although his mixed martial arts debut only occurred just over 12 months ago, du Plessis is certainly ready to undertake the biggest opportunity of his career.
"I have a few amateur MMA fights, but four pro fights is just unbelievable for me. It's what I've been planning from the start. It's been my goal to have the title in five fights, and it just shows that hard work and dedication will lead to success," du Plessis explained. "I'm feeling very blessed with this opportunity, and I definitely feel ready to be the youngest titleholder in the history of the organization.
"It means absolutely everything to me. It's what I trained for every day, four to six hours, these last four years to be the best, and I'm willing to give everything I have and more to win that title, because nothing in this world scares me like the thought of losing."
An impressive statistic from du Plessis's combat-sport career is his finish rate. He hasn't seen the judges' scorecards in his MMA career, with four straight finishes. During his kickboxing career, he notched stoppages in 27 of his 30 victories. The 20-year-old takes a great deal of pride in his history of finishes. He wants to continue the trend when he steps into the Hex on Aug. 30.
"I firmly believe that this is a sport where you go out and fight, you don't defend," du Plessis confessed. "You fight and you use the opportunities that you get in the fight to finish. And if you don't get the stoppage, it obviously means that the other guy was also giving it his all, and that means it is one hell of a fight, and that's what it's all about. I don't chase the finish. I just use all my opportunities to potentially stop the fight."
Dricus would like to thank God for everything in his life, and his family and friends for supporting him always. He would also like to thank TEAMCIT MMA, coach Morne Visser, Attila and his mentors, Leon Mynhardt and Michiel Opperman. He would also like to thank what he calls "the best sponsor ever," GNC Supplements, as well as Badboy, GST, Kotze Gearbox and Diff. He would also like to thank his dad, who he says is his "biggest sponsor of all." Follow du Plessis on Twitter:
@dricusduplessis
---
Advertisement

---