Jul. 2 will see RISE World Series kickoff the first round of the 2023 kickboxing grand prix. This will be an eight-man tournament in which the winner will walk away with ¥10 Million, approximately $70,000 USD. Let's break down the entire card including the tournament brackets.
This is a RISE tournament featuring 8 kickboxers at 54 kg. It kicks off on 2 July, with the semi-finals in late August, and the finals planned for the fall of 2023. Fans can watch RISE Kickboxing for free online on Abema TV.
RISE World Series 2023 Osaka
Main Event: Kento Haraguchi vs Anvar Boynazarov
Japan's Kento Haraguchi will face off against the dangerous Anvar Boynazarov, of Uzbekistan. This is a non-title and non-tournament bout. Haraguchi will be no stranger to kickboxing fans as he has competed in GLORY RIVALS, RISE Kickboxing, THE MATCH, Rizin, and many more organizations. Overall, this karate-based fighter has earned 15 of his 24 victories by way of KO/TKO.
---
Advertisement

---
The 34-year-old Anvar Boynazarov will be looking to put his name into the top level of the kickboxing world with a win against Haraguchi on 2 July. Boynazarov is a kickboxing veteran with fights in GLORY Kickboxing, Dana White's Contender Series, LFA, Muay Thai, and many more.
Tournament Bout: Shiro vs Ruben Seoane
The 30-year-old Shiro Matsumoto is one of the most exciting fighters in modern Kickboxing. He is the current RISE Bantamweight World Champion with former gold in ISKA Muay Thai as well as Rangsit Stadium Muay Thai. The Japanese-born athlete is on an impressive three-fight win streak over Koki Osaki, Masahiko Suzuki, and Diesellek Wor Wanchai.
Shiro will meet Spain's Ruben Seoane in the 54 KG tournament. Seoane is only 21 years old with ten career victories.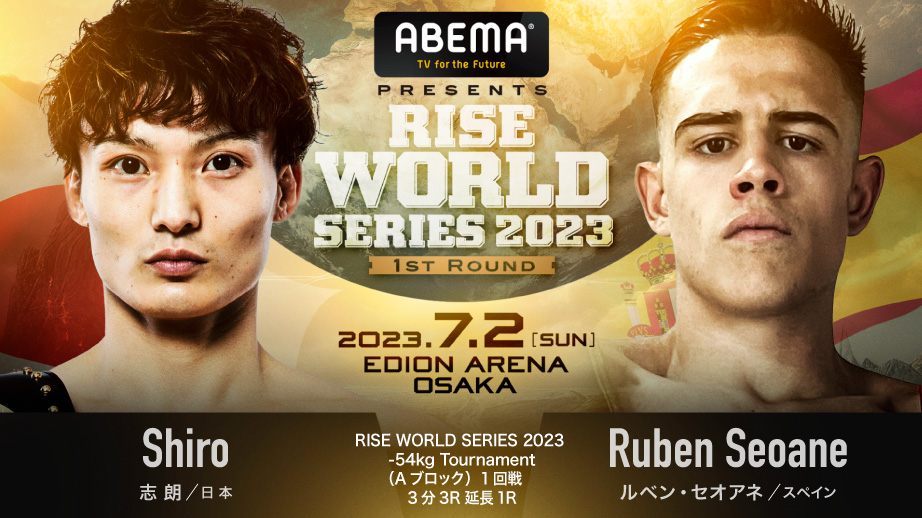 Tournament Bout: Kazuki Osaki vs Aiman Lahmar
The Japanese-born striker Kazuki Osaki is on a stunning 18-fight win streak which he will look to extend against France's Aiman Lahmar. Along the way, the 26-year-old Osaki earned the RISE Super Flyweight World Title in addition to the ISKA Oriental Rules World Championship.
The French Ayman Lamar stands to earn a major career victory on 2 July. This kickboxer has earned the WFC and XFC French Bantamweight Titles. Originally this bout was booked against Frederico Cordeiro however Fred was forced to pull out due to injury.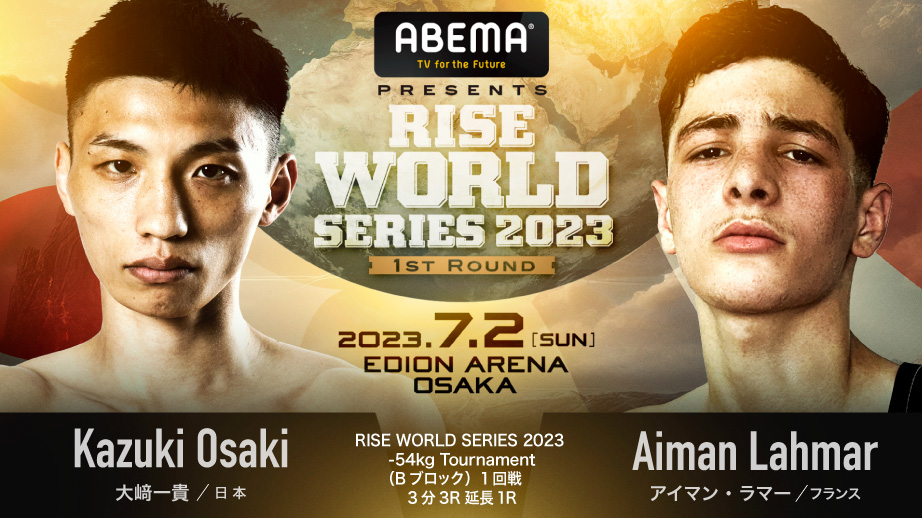 Tournament Bout: Toki Tamaru vs Petchsila Wor Auracha
The 21-year-old Toki Tamaru is just coming off the biggest win of his professional career as he defeated Kazane in March of this year. Toki is the current RISE Flyweight World Champion who will look to take another step further in this tournament against his Thai-born opponent.
At just the age of 19, Petchsila Wor Auracha is a veteran of Muay Thai with 100 professional bouts to his name. Along the way, he has earned gold in True4U Muay Thai, WMO World Muay Thai among others. This will be his debut in RISE Kickboxing.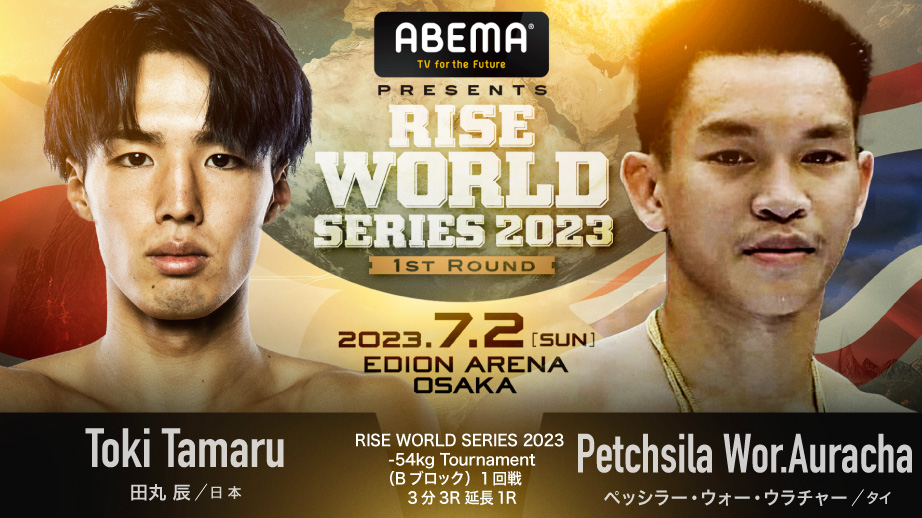 Tournament Bout: Kumandoi Petchyindee Academy vs Mohamed Kloua
Kumandoi Petchyindee Academy has earned impressive acclaim in his storied career collecting stadium Muay Thai world titles in Rajadamnern and Omnoi. Now, he brings his dangerous Muay Thai skills to Osaka. Meeting Kumandoi is the Belgian Mohamed Kloua. 'Black Panther' Kloua has experience in Enfusion and ISKA.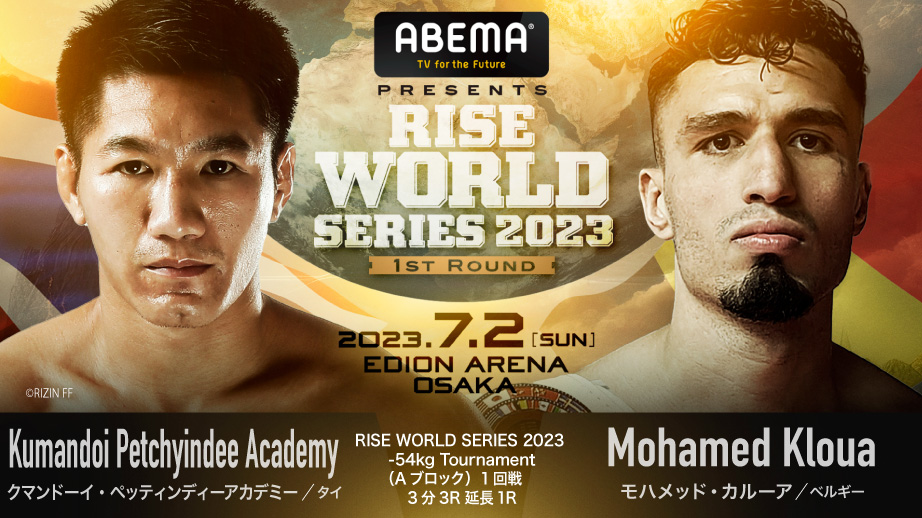 The rest of the RISE World Series 2023 Osaka fight card will feature a tournament reserve bout between Kazane and Jin Mandokoro. Plus, the RISE Super Featherweight World Champion Chan Hyung Lee, of Korea, will face Yuma Yamaguchi in an open-fingered glove kickboxing match.
This kickboxing event is also set to feature Ryota Nakano against Lee Sung Hyun, Keisuke Monguchi facing Kano Kawakami, plus five more kickboxing bouts.
Fans can enjoy the Jul. 2 kickboxing card live and for free on Abema TV. It will be broadcast from Osaka, Japan from the Eidon Arena Osaka. The broadcast will be at 12 p.m. (GMT+9) local time.
---
Advertisement

---