The world loves sports, plain and simple. Not only are sports entertaining, but the physical feats that the athletes pull off can be quite amazing. In fact, the international love of sports has made athletes some of the richest people on the planet. So, it's no surprise that when there's a lot of money and a lot of passion involved, there will also be a lot of cheaters.
Cheating has been a problem in sports since well before there were billions of dollars involved, which makes it all the more comical when fans lash out against Tom Brady's supposedly deflated balls during a 38-point rout. However, while deflated balls may be a problem in combat sports as well, it is a much more dangerous problem than Brady's underweighted pigskins.
Boxing, kickboxing and mixed martial arts are dangerous sports. In any full-contact combat sport, athletes are at serious risk of not only severe bodily harm, but in worst-case scenarios, death. In baseball, cycling or even tennis, athletes use drugs to enhance performance, but that performance does not consist of trying to punch someone's head or break a limb. In MMA, almost more than in any other sport, drug testing is key. Enter the United States Anti-Doping Agency.
---
Advertisement

---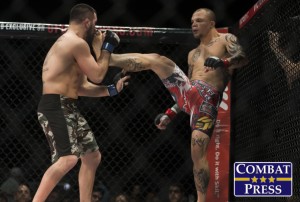 On July 1, 2015, the USADA became the official anti-doping agency for the UFC. While most promotions still find ways around testing their athletes, the UFC took the right step in attempting to add legitimacy to MMA as a mainstream international sport. Not only did it add to the legitimacy, but it also started to weed out additional offenders over the last year. This has really paved the way for some rising stars to start breaking out of what was otherwise a sort of "PED ceiling."
The 27-year-old Anthony "Lionheart" Smith has had a long, exciting career. He is one of the few fighters in history to amass 36 pro fights before his 28th birthday. He is one of a select few fighters in history to go almost 30 fights into his career without a decision. And, most importantly, he doesn't use performance-enhancing drugs. Just ask the USADA.
"I was in the middle of a tattoo appointment, and [the USADA] just walked into the tattoo shop," Smith told Combat Press. "You're sitting there getting a tattoo, and a bunch of scientists show up. It's kind of a weird deal. They came to my house first, and I wasn't there. They had just missed me, because I had just left for my appointment. By the time they got [to the tattoo shop], I was already in the middle of a tattoo. My fiancé knows I don't have anything to hide, so she gave them the address and told them where I was at. She didn't say anything to me, because she knows I don't have anything to hide."
Smith's is a valuable lesson that other UFC athletes had better heed. The USADA does not care where you are or what plans you had that day, when it's time to test, it's time to test. And, as guys like Tim Means and Yoel Romero found out the hard way, it's not always about intentionally illegal actions. The list of banned substances is very extensive.
"I don't take supplements, but it's still scary for me," Smith said. "I went to the doctor, because I had a pretty bad cough a couple months ago, and I was afraid to take medicine. There's a huge list, and you don't know what you can take and what you can't take. It's a lot of unknown, because I don't understand it. If I was a PED user, I would probably know exactly what they're talking about, but I don't. I don't know what the fuck they're talking about."
Smith is one of several fighters who have really embraced the USADA guidelines, because they've seen so many "dominant" fighters get suspended for PED use and come back in subpar condition at best. This opens up the playing field for the legitimate athletes who want to show their passion and dedication for the sport without popping pills or taking the spike.
"I think before USADA, the vast majority of the middleweight division was on something," Smith said. "Whether it's a steroid, whether it's EPO, or healers, or HGH, or any of that shit, the vast majority of the division was probably on something. I think now, you're seeing guys turning into middle-aged women, you know what I mean? I don't know if the fans notice it, but I notice it. It's like, 'That dude's got titties now. He didn't have titties a year ago.' Where are those coming from? There's a huge transformation going on in a lot of people.
"I think Chris Camozzi said it perfect when he said after USADA, 'Now, everyone's going to start looking like me at weigh-ins.' That's how I feel. When I show up at weigh-ins, I'm all sucked up with no muscle definition, and you've got guys popping veins, looking shredded? That's not natural — not with what we put our bodies through. Now, there's not as many users, because of the regulation."
Smith and Camozzi are two of the current UFC middleweights who are somewhat outspoken against PED use, along with current champ Michael Bisping. In early May, Smith, who trains out of Mick Doyle's Kickboxing in Omaha, Neb., made the trip out to Camozzi's gym at Factory X Muay Thai in Englewood, Colo., to help the Coloradan prepare for a fight, while getting in some of his own early camp as well.
"I've built a relationship with Chris over the last couple years through [Bellator veteran] Brian Rogers," Smith said. "Me and Brian Rogers are pretty good friends, and Brian moved from Ohio to train with Chris in Colorado, so Brian's been trying to get me to come out there. I run into Brian a lot, and Brian's with Chris, so me and Chris connected. One Thursday, I asked him how training was going, and he said, 'It's going good. You should come out.' So I put the wheels in motion with my fiancé, making sure it worked with her schedule and mine, and I came out that Sunday."
Camozzi went on to a decisive victory over Vitor Miranda. Smith, who was coming off a short-notice victory over Leonardo Guimarães under his new UFC contract, was originally scheduled to fight England's Scott Askham on Friday night at The Ultimate Fighter 23 Finale, but suspected visa issues prevented the Englishman from fighting in Las Vegas. Smith's opponent was then changed to TUF Brazil winner Cezar "Mutante" Ferreira.
"All the media kept reporting that Askham had to pull out due to an injury, and I knew the whole time that it's not an injury," Smith explained. "If anybody did any research, they would see that he's on another card right now. He has another fight. What people aren't noticing is that it's not in the United States. So, there's something prohibiting him from fighting in the United States, and that's what we were told from the jump — that he wasn't able to get his visa. He keeps playing up that whole injury thing, but that's not it at all.
"To be honest, I think Ferreira's an easier fight. Askham is a tall, lengthy southpaw striker that's really technical, is hard to take down, and has a real dangerous guard. Ferreira's really predictable. He's going to throw big, heavy punches — they're going to be wild — and he's going to throw some crazy spin kicks. He's going to rush in, he's going to push you against the cage, and try to get it to the ground. He doesn't have a great chin, he doesn't have good wrestling, he doesn't have good striking, and his jiu-jitsu's mediocre. I just think it's a bigger fight with a bigger name."
In the lead-up to the potential fight with Askham, an unusual bombardment of trash talk hit Smith over social media from Askham and his supporters. This sort of thing has become rampant since the rise of the Conor McGregor era. However, Smith has spent time training at McGregor's gym, SBG Ireland, and his experience was much different than what the bandwagon like to portray.
"It's so forced and it's so fake," Smith said. "The thing that makes Conor such an anomaly is that it's so natural for him to promote himself. The things he says come out so natural. He is made for what he's doing, and that's why he's so good at it, and that's why he's getting paid the way he's getting paid. It's a natural thing for him. They didn't promote someone who was forcing it. People say that I talk shit and I'm an asshole, but I'm not. I'm just being honest with you, and it's straight from my heart.
"From my experience in Ireland — obviously, the culture is a lot different — but I didn't meet one person who was an asshole. I didn't meet one person who was a shit-talker, who was loud, who was full of himself, and I met Conor McGregor. Conor McGregor was extremely welcoming. He was extremely enjoyable to talk to. If he walked into a room and you didn't know who he was, you wouldn't even know he was there. He keeps to himself. He's respectable. He comes into the gym to do his job, he works his balls off and he leaves. I've never been somewhere where there were so many hardworking people."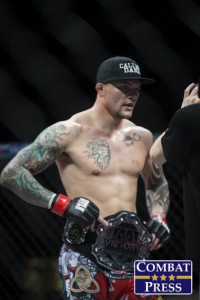 Someday, the Askham fight might actually go down, but for now Ferreira is getting the business — and probably the bad end of it. Smith is on an eight-fight winning streak with only two decisions in that time. In his career, Smith has 22 stoppage wins, which are evenly split between knockouts and submissions. Ferreira may have won his season of TUF, but he is 5-3 in the UFC and has only stopped one opponent. All three of Ferreira's losses came by knockout.
"It's going to be fucking disgusting," said Smith. "Cezar Ferreira is tailor-made for me. They couldn't have given me a better opponent to showcase myself, especially after coming off of a grinding, gritty decision with hardly any preparation. He's going to come hard, and it's going to be disgusting. His style is made for me to knock out. He's made for me to destroy. The confidence he's going to carry in is going to bite him in the ass.
"It's not a secret: he doesn't have a chin. He's got a problem with his chin, and everyone knows it. If C.B. Dollaway fucking faceplants you, you have a fucking problem with your chin. He ain't got no chin, and I've got 15 minutes to touch it. That's plenty of time for me."
This weekend, there are three UFC events. The TUF 23 Finale falls right in the middle. With much of the focus on the women's strawweight title fight of Joanna Jędrzejczyk and Claudia Gadelha, as well as the TUF finals, the Smith-Ferreira fight may not be the most heavily publicized, but Smith knows it could also turn out to be one of the most lopsided contests of the night. Then, he wants a big jump up. Some guys need to be coddled on their way up the ladder, but this will be Smith's 37th pro fight. The promotion doesn't need to baby him.
"I want a big name, man," Smith said. "I want a big name. As long as I go in there and do exactly what I see myself doing, and exactly what I just told you I'm going to do, I don't see how I cannot get a name. I need a top-15 dude, you know? I want a [Robert] Whittaker or a Uriah Hall. I don't even care. I'll fight Anderson Silva. I don't care. I want someone who's really going to up my stock. I want people to know who I am.
"I'm the most underrated guy in the middleweight division. Nobody's talking about me. Nobody's worried about me. They all know who I am, but as far as the critics and the media, the only guys who are interviewing me are the guys like you, who have been with me throughout my career. It's the guys who know about me and know that I have a bright future, and I'm about to do some really big things in the UFC. As far as where I think I'm at, other than being the most underrated guy in the division, I'm one of the most dangerous. As of right now, I think that I'm top 10."
"Lionheart" is a guy who has been patiently preying on opponents in the regional promotions while waiting to get his shot back in the UFC. After beating Guimarães on six days' notice with little cardio, he staked his claim in the UFC middleweight division. It couldn't have come at a better time. With the USADA weeding out the UFC's cheaters, it's guys like Smith that have a whole new potential in the promotion. Friday night is his chance to show the world how the real athletes do it.
"It's a level playing field now, and that's what I love about it. All these other dudes who've been taking PEDs are trying to figure out how to fight when they're not on it anymore. Guys like me, Camozzi, Bisping and Neil Magny, we've been doing this shit. We've been doing it natural and clean, and all on our own on heart, determination and hard work. These dudes now are trying to figure out how to do that, so it's not surprising at all. The dudes who have been doing right the whole time are starting to come through now, and it's our time to shine."
Smith would like to thank his coaches and training partners at Mick Doyle's Kickboxing, Axios BJJ and Factory X Muay Thai. He would also like to thank his fiancé and two daughters, as well as all of his other family, friends, fans and his sponsors: Greg Hart, Jason Jones from Nissan of Omaha, Candlelight Lounge, Heavy Hands Fight Co., and DC Management, his longtime management team. Follow Anthony on Twitter:
@LionheartSmith
---
Advertisement

---