A ten-way tie? Sounds crazy, right?
Well, in Carrington "Jetsetter" Banks' family, that's pretty much the way it is. The former contestant of season 21 of The Ultimate Fighter reality show and newly contracted Bellator competitor is the seventh of 10 children, a balanced mix of both boys and girls. Their parents truly do love them all equally.
General theories on birth order usually say that within the middle batch of children in a large family, it gets difficult at times for a child to find his or her identity. It is almost like a limbo in terms of self-identification, and it is truly up to the child to stake his or her claim in the mix. At 27 years old, Banks, an accomplished amateur wrestler, has an idea of where his persona lies.
---
Advertisement

---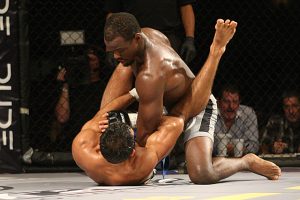 "I'm the fighter in the family," Banks told Combat Press. "I have three other brothers who are also wrestlers as well, so it kind of ran in the family after a while. After my oldest brother became a wrestler, we followed his lead. I'm the middle child, so I'm the guy who sees everything from every point of view. It gives me a great perspective at all times.
"To some of my brothers and sisters, I'm the little brother. I'm the same little brother they knew when I was three years old. To the three younger ones, they always see me as the big brother."
Banks may be in the middle of his family, but at Iowa Central Community College and Wartburg College, he was at the top of the wrestling game, earning NCAA Division III All-American honors. This success, and a 3-0 start in professional MMA, landed him at the famed Blackzilians camp in Boca Raton, Fla. It also led to his entry in TUF 21 last year.
TUF 21 was an interesting season of The Ultimate Fighter. It was the first time the show hosted one camp against a rival camp. It was the Blackzilians against American Top Team. Banks successfully represented his team with a win over Sabah Homasi, but that was his only fight on the show.
"I think it helped me grow mentally, and it gave me some experience," said the All-American. "Mentally, just because being surrounded by all those fighters from opposite teams and knowing that you're going to have to fight them at some point. There's that animosity and energy around you, and you need to be able to handle that situation. It helped me grow a lot. The pressure of actually fighting in that type of environment and being able to perform, it's just an experience that you can't have without going through that. It made me grow a lot, mentally."
After TUF 21 came to a close, Banks took his next fight in August under the Legacy FC banner. He faced Justin Reiswerg and came away victorious with his third unanimous decision in a row.
"To be honest, I wasn't that happy with my performance," Banks admitted. "I went in and got the win, but I wanted to be a lot more dominant, and I wanted to showcase a lot more of my skills. In the second round, when I got hurt a little bit, I just wanted to fight a smart fight, and with my lack of experience at the time, that's what my go-to was. My strength and my wrestling helped me get through that fight. I was disappointed, because I wanted to be more dominant."
Like any middle child, he really wanted to stand out. Getting another win is nice, but he knows he has a lot more to offer both his opponents and his fans. That's what made the next offer, the Bellator contract, pretty sweet.
"I was excited to get the call from Bellator, because that's an organization I can see myself growing with — being able to have a successful career with this organization and becoming a champion in this organization," Banks said. "When I got the call, I was excited."
On Friday night at Bellator 156, live from the Save Mart Center in Fresno, Calif., Banks will be back in action against 29-year-old C.J. Keith, who has a bit more pro experience than the Blackzilian. Keith began his pro career at 8-0 with five stoppages and three decisions before entering the UFC, where he got finished twice in a row. He lost another fight, this time on the regional circuit, in October 2014. He hasn't fought since.
"He was signed with the UFC? I didn't know that," Banks said. "I heard he has a wrestling background, but he's a little bit of a wild fighter, in my opinion. He can catch a lot of guys off-guard with his attacks, because it's hard to read somebody who's very wild and spontaneous."
Banks, on the other hand, is a grinding wrestler. While his hands are constantly improving, he is able to corral wild punchers, so this is definitely an interesting match-up for both guys. While Keith is directly in front of him, Banks is ready to build some momentum, keep up his winning ways and begin his journey towards title contention.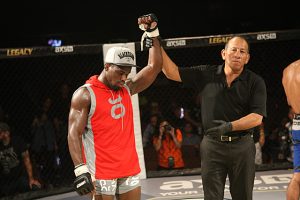 "I plan on having a few fights before this year is up, and, hopefully, as dominant as possible," Banks said. "I feel I am a much better fight than people think I am. I think this is the perfect opportunity to show how good I am. In my last fight, I didn't really show how good I am, but that's OK, because now it counts. With Bellator, I can go in and be who I am and be as dominant as I can be.
"They should be able to see who the real 'Jetsetter' is. The beginning of the 'Jetsetter,' in my opinion. I believe this is a fight that's going to show who I really am as a fighter and a person. They should expect to see me. I feel like that's going to be a dominant performance in every position. I'll be well prepared, violent and strong — a winner, man. That's all I can say."
As the fourth youngest child in the Banks family, there has likely been an internal unconscious quest for Banks to stake a claim for himself, and Bellator is one hell of a place to get that accomplished. A win over Keith will put Banks on a path to success in one of the biggest promotions in the game. For now, the family will most certainly have his back the entire way to the top.
"They all give me so much support. They all give me so much love. They're always so excited when I'm fighting. It's the simple fact that my dream inspires all of them. That's part of my motivation and my inspiration to chase my dreams and do so to the best of my abilities. I want to let them know that we can do anything that we put our minds and our hearts to."
Banks would like to thank Glenn Robinson, God, and his family and friends. Follow Carrington on Twitter:
@CB_Jetsetter
---
Advertisement

---