Back to the Future. The Godfather. The Matrix. Each of these movies, along with being cinematic masterpieces, have one factor in common: They are all part of a trilogy. A trilogy can be defined as a "set of three works of art that are connected, and that can be seen either as a single work or as three individual works." Translate that same concept into the world of mixed martial arts and a masterpiece can be created not by a painter, but by an artist inside the cage. Some of the most well-known trilogies occurred when fighters each had a victory over their respective opponents and a rubber match was needed to determine who the superior athlete was. Some of the more famous trilogies include Wanderlei Silva vs. Quinton "Rampage" Jackson, Matt Hughes vs. Georges St-Pierre, B.J. Penn vs. Matt Hughes, Randy Couture vs. Chuck Liddell and, more recently, Cain Velasquez vs. Junior dos Santos. In those trilogies, a clear victor emerged when the dust settled.
Sometimes in the MMA world, however, a trilogy fight occurs when one fighter already holds two wins over his opponent. Notable examples include Ken Shamrock vs. Tito Ortiz and B.J. Penn vs. Frankie Edgar. In both cases, one man completed his MMA "hat trick," so to speak. This second scenario will see another instance when Daniel Straus challenges Patricio "Pitbull" Freire on Nov. 6 at Bellator 145. Pitbull has already defeated Straus twice and Straus has earned his chance at a third meeting, a historical event for Bellator, as no two fighters have ever fought each other three times inside the Bellator cage. This is Straus's chance to recapture the championship belt that was taken from him.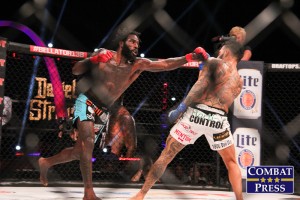 "What's been going on in my head is just 'smash, smash, smash.' I have to beat this guy," Straus told Combat Press. "I've been preparing very well. I've been working with my coaches. I've changed up a little bit… not so much a game plan that we've changed, but just how I train. I've had probably one of the best camps that I've ever had in the four or five years that I've been fighting. I'm very excited about this fight.
---
Advertisement

---
"Every time that I fight him, it's a new him. I could fight him a million times and each time it's going to be something different, because I bring something different to the table. He's afraid of what I bring to the table, and anybody I fight is going to be afraid of what I bring to the table. I'm not an easy match for anybody. Therefore, when I switch my style, they have to switch their style. They're not just going to be able to come and beat me the same way that they beat me last time. They're not going to be able to come and fight me the same way that they fought me last time. So, for this camp, like I said, it's been going well. Just minor things we've tweaked — working with different coaches, working different styles — and it's going very well."
Bellator's featherweight division is arguably one of the most talent-rich divisions inside the organization. With that comes extra time in the spotlight, extra fame and more eyes on the fighters. It's safe to say that a lot more fans know who Pitbull is because of the placement of his last fight as the co-main event underneath the headlining battle between Kimbo Slice and Ken Shamrock. It's estimated that more fans tuned in to watch Pitbull's fight than had ever before. Straus, too, has seen increased attention, specifically from his title fights with Pitbull and former featherweight champion Pat Curran.
"It's a blessing. I gotta say, it's definitely a blessing," said Straus. "I'll tell you like this. Three or four years ago, I used to walk around talking to myself as if a camera crew was following me. What would I do? What would I say? To finally get to that point where that's actually happening to me, like I said, it's a blessing. I'm not used to it. I'm not used to the notoriety. I'm not used to the publicity. I can't say I didn't ask for it, because this is my job, but again it's a blessing. I'm pleased to be one of Bellator's best fighters. We have a champ on the card, but yet they made me the main event. That says a lot to me. That says a lot to the fighting world. My fight style is ferocious. It's aggressive. That's what I want people to see from me."
Behind every fighter, there is always another side. The persona that is viewed by the fans tends to be the only one that they will ever see. Most die-hard fans could tell you everything about their favorite fighter, such as their records, notable wins and fighter history. Unfortunately, most fans cannot speak to who a fighter really is when he or she is outside of the cage.
"I want the fans to understand that we are not just fighters. We're human beings," Straus stressed. "This is the entertainment business. The only reason why the fans know me is because of who I work for. They put me on the scene, they broadcast me, they plaster my face on TV, and that's how people know me. But they don't know me outside of that. They don't know the troubles that I have been through. They don't know the ups [and] the downs. They don't know my leisure time. They don't know who I spend my time with or what I spend my time doing. I like to ride my bike. I like to paddleboard. I like to play with my dog. I like to spend a lot of time with my daughter. I travel a lot.
"Being in the spotlight, as far as a fighter, is only one percent of me, of who I am. It's a big part of me, but it's only one percent of me. If I was to relate to people who I am, it would take days for them to try and understand me. I'm more a lover than a fighter. I would rather not being doing this. I would rather be doing something else. But this is what I'm good at, and this is what I want people to understand. This is what I'm good at and this is why I'm good at it. I'm good at it because I don't really have many other options. I don't have many other talents. I don't have a degree in anything. My degree is in whooping somebody's ass. So that's what the fans learn from you. With that being said, fighting is just one part of me.
"There's more than just this to me. Outside of the camps, when I'm done with my fighting, I'm spending a lot of time with my family. I'm a solo type of guy. I like to get out on my bike and I like to cruise up and down. I like to be in the ocean. I love scuba diving [and] snorkeling. Those are things that make me who I am. I'm a big traveler. I love to travel. A lot of the fans only get to see one percent of what I do. They see the fight pictures and the workout pictures and the videos. I don't post a lot of my personal life because, again, it's my personal life. If fans want to know about my personal life, then eventually they will meet me and end up being a part of my life. I don't consider fans [to be] fans. You can be a fan, but once you meet me, you're now family because you get to learn who I am. You get to meet who I am. You get involved with the people that are around me, with the guys that are here at the gym [and] with the people that have been backing me for years and years and years. Outside of my fight camp, there is a lot more to me.
"I can tell you this. A lot of my fans do turn into family members. I don't need someone to just root me on when I'm winning. I need someone that's going to root me on when I'm winning inside the cage and winning outside in life. I need fans when I'm losing in the cage and when I'm losing out in life. I don't consider those people fans. I consider those people family.
"One of the first fans I ever had — shout out to Junior and Tracy — walked up to me after my second pro fight and told me, like, 'Hey! We're a big fan of yours. We would love to continue to watch you and whatnot.' And, long story short, they're actually family now. And it took a short time. I go to their house after fights. I spend time with them [and] every time I go to Cincinnati they come and spend time with me. They have met my mother, my daughter [and] numerous people around me. And people will tell you that [when] they walk up to them, they don't know them as fans. They know them as Daniel Straus's family — 'Oh, who's that? That's Daniel's best friends' — not knowing that where they came from was just watching me fight. That's what I want."
When it is time to fight, though, Straus has one of the most rigorous schedules that a working individual can have. While many people sit at a desk from nine to five staring at a computer, Straus's desk is the gym and his computer is his brain, which is processing every sensory perception possible in order to allow him to improve as a fighter and a man.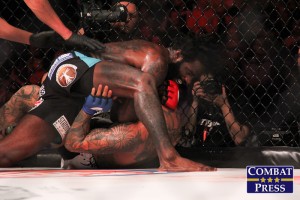 "Wow… A normal week is hectic," Straus explained. "Again, a lot of people ask and a lot of people tell me, 'You have the perfect job. You just fight and go home and that's it.' And that's not it. My workday is a lot longer than most people's nine-to-five. There's times where I'm up at four o'clock in the morning, working out by five o'clock in the morning, home by almost seven o'clock [and] back in the gym by nine o'clock. I'm there till about one o'clock, then home, if not to a chiropractor or a doctor or another appointment for another few hours. Then I'm back in the gym for another session and then I'm [going] to another gym for another session, and before I get home it's probably about nine o'clock at night, ten o'clock at night, and that's what my days consist of — not Monday through Friday, but Monday through Saturday. My rest day is Sunday, and half the time on Sunday, I'm still working on something that involves my job — running, swimming [or] just some type of exercise. My life is not just fighting. There's a lot going on."
One thing that is important to fighters both inside and outside of the cage is the company with which they surround themselves. In Straus's case, that includes a professional fighter who is actually fighting on the same card as Straus: Garrett Gross.
"What I can say about Garrett is, he's one of those guys who hasn't got his opportunity yet to shine," Straus said. "But he's one of those guys that you can't not have on your team. He pushes me in the gym. He pushes me out of the gym. And when we're out of the gym, we are family. His son and his wife are good friends of mine [and] good friends of my family. We go out, we eat, we don't talk fighting [and] we don't talk any MMA. We have a good time as friends and family. His son means the world to me. I would do anything for him, his wife and Garrett, at that. With that being said, he brings a lot to the table for me.
"It's not just battling. When I say we battle next to each other, battling next to your brother, Garrett is truly my brother. That's somebody who I can lay down my arms and say this guy has my back no matter what — no matter if we're inside these doors [at American Top Team] or if we're outside these doors. That's what I look for and that's what I love."
Bellator 145 takes place Friday, Nov. 6, and airs live on Spike TV. Straus will step into the cage for the headliner opposite Pitbull. The card also features current Bellator lightweight champion "Ill" Will Brooks taking on Marcin Held and a rematch between resurgent lightweight David "The Caveman" Rickels and former lightweight champion Michael Chandler. Other notable fights include a heavyweight rematch between Bobby Lashley and James Thompson and former featherweight champion Pat Curran taking on The Ultimate Fighter: Live contestant Justin Lawrence.
"November 6th, you guys must tune in," urged Straus. "Yes, I've lost to Pitbull twice, but you know what they say — third time's the charm. And it's not to be missed. You're going to see me get a belt around my waist. You're going to see me get a victory."
Daniel would like to thank his sponsors: Black Rebel Beard Company, Virus, Perfecting Athletes and University Health Center. He would also like to thank any and everyone that has supported him, including his girlfriend Rachel. He adds that "one thing I always tell people [is] my fans, my family [and] my friends are the biggest supporters. I've had people when I was up and down knock on my door, give me a call, and just give me the utmost love that I could ever ask for. They're not looking for an autograph. They're not looking for 'let's talk fighting.' They're not looking for any of that. What they are looking for is to make sure that I'm OK as a person. They're helping me become a man and the man that I want to be. To help me turn a corner in my life. Those are the people that I want to thank." Daniel would like to thank Master Ricardo Liborio and all his coaches at American Top Team, including Pete Thomas, Conan Silveira, Mike Brown, Makaron, Junior, Pahumpa and Roger Krahl. Follow Straus on Twitter:
@DanielStraus
and Instagram:
@DanielStraus
---
Advertisement

---