It is a big feat for any fighter to step out onto the big stage that is Asia's ONE Championship for the first time. It can be overwhelming to make the transition from regional mixed martial arts to an international spectacle. Angela Lee knows.
On May 22, Lee made that transition. She walked out for her first fight under the ONE Championship banner. The fight also served as her very first professional bout. Lee had competed three times in 2014. Those were amateur fights, and she won all three contests by way of first-round stoppage. Her May 22 appearance was different, though. This was Lee's opportunity to make a statement. And she did, with yet another first-round victory.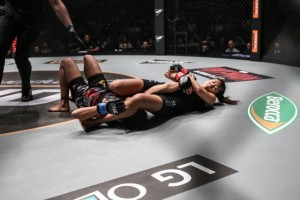 "I was extremely excited and happy to be able to make my first pro MMA fight right here in Singapore back in May earlier this year," Lee told Combat Press. "There were some nerves prior to the fight, but I was just so amazed by the whole experience. I feel that I had a very dominant and memorable performance in my debut and the fans here in Singapore were simply amazing."
---
Advertisement

---
The 19-year-old's road to her debut was paved for her years earlier. Martial arts has been a big part of her life for much of her upbringing, so it was no surprise that she would end up competing eventually.
"My parents were both martial artists and had their own gym, so I was practically born into the world of mixed martial arts," Lee said. "All my young siblings also train in martial arts and my younger brother, Christian, made the Evolve Fight Team on the same day I did."
Not long before she made the leap from amateur competition to the professional ranks, Lee went through an arduous trial to join Evolve in Singapore. The Evolve Fight Team has many of ONE's top stars signed to its roster, as well as current UFC lightweight champion Rafael dos Anjos. Getting through the trials is no easy task.
"It was a really proud moment for me," Lee admitted. "I went through all of the tests, trials and tribulations, and I came out victorious. It's really an honor for me to be a part of the prestigious Evolve Fight Team."
Although Lee put in the hard work to become part of the camp, she hasn't quite picked up her life to move across the world just yet. It may be on the cards in the future, though.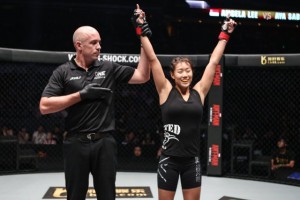 "I haven't fully relocated to Singapore at the moment," Lee explained. "However, I will be staying there for the next couple of months and hopefully be able to fight on the Singapore card in November. I am currently looking at the possibility of moving back to Singapore, but there's just a couple of logistical issues which I will need to sort out first."
The first time that she entered the ONE Championship cage, Lee didn't waste any time. The bout came to an end before the two-minute mark of the very first round when Lee locked in an armbar on her opponent, Aya Saber. Lee's next bout takes place on Sept. 27 at ONE Championship: Odyssey of Champions. Lee faces Russia's Elena Pashnina.
"I'm a fast finisher and have finished all my previous MMA fights in the first round as well," Lee said. "I'm just glad that everything went well according to plan. I am very excited and I'm also really looking forward to it. I am confident that with the help of all my teammates here at Evolve MMA, I am ready to win this fight in any and every situation."
Angela would like to thank her family and her boyfriend for keeping her grounded and for providing her with love, strength and guidance. She would also like to extend a huge thank you to Chatri Sityodtong for giving her the opportunity to be a part of the Evolve Fight Team. She would also like to thank her new teammates for pushing her hard every single day. Finally, she would like to thank United MMA, Asian Pacific Investments and Under Armour for their support.
---
Advertisement

---