In order to secure his future, Kendall Grove looked to his past.
The 12-year mixed martial arts veteran, who has made stops in the UFC and now Bellator, has fought some of the sport's most well-known names. And it was another well-known name that helped Grove get back on track to a title shot at Bellator 137 on May 15 against middleweight champion Brandon Halsey.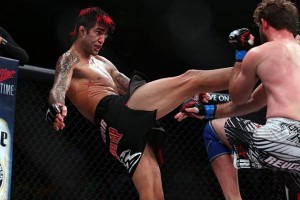 The name of that well-known fighter? Michael Bisping.
---
Advertisement

---
The UFC middleweight competed with Grove on the third season of The Ultimate Fighter and won the season's light heavyweight tournament, while Grove won the season's middleweight tournament. Grove credits "The Count" for helping to get his career back on track.
"He helped me train for a fight about four years ago," Grove told Combat Press. "He took me under his wing and brought me in with his coaches, his training and his routines. He showed me how to compete at a top-10 level, and I really see him as a big brother."
Grove is confident his top-10 level of fighting will propel him to a "beautiful" and "awesome" victory over Halsey, he said. Halsey is undefeated in his MMA career and won the Bellator middleweight title by choking out Alexander Shlemenko in 35 seconds at Bellator 126.
"I'm not looking past Brandon at all," Grove said. "As much as I dislike the guy, I respect the fact he's 8-0 and I respect the fact he's the champion. But he's a one-trick pony and I see holes in his game, and I'm motivated to give him his first loss."
Grove believes Halsey uses his wrestling to set up his grappling. However, Grove is confident that he has the superior striking and footwork. Grove also notes his evolution as a fighter and as a person.
"I just got more experience as a fighter," he said. "I'm not a kid anymore. I'm a man. This is a good opportunity and I'm not going to waste it."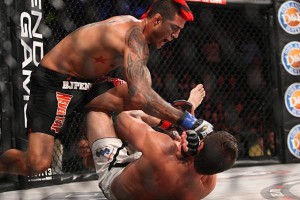 During his younger days, Grove only wanted to "fight, get paid and party," he said. "But now I'm married with five beautiful children. That's why I fight — to provide for my family."
Grove trained with Bisping and others in southern California for his title fight, but he still considers Hawaii to be home. The state has a burgeoning MMA scene highlighted in recent performances by UFC featherweight Max Holloway and Invicta FC bantamweight Raquel Pa'aluhi, and the looming presence of future UFC Hall of Famer B.J. Penn. Grove brings the fighting spirit of his fellow Hawaiians with him every time he steps in the cage.
"We grew up fighting. It's in our DNA," he said. "We didn't use guns or knives. We settled things with our hands."
Grove will continue fighting "until I can't do it anymore," he said, and he envisions finishing his career with Bellator. Before Grove can accomplish that goal, he still has an important step to take on May 15.
"This fight will end with me winning and taking the belt home to Hawaii."
---
Advertisement

---