World Series of Fighting makes its debut in Phoenix next week, and fans need to pay attention to the fight in the main event slot. Current lightweight titleholder Justin "The Highlight" Gaethje, fresh off his decision victory over MMA veteran Melvin Guillard, takes on another highly touted fighter in Luis "Baboon" Palomino. Gaethje will be looking to keep his undefeated streak intact and is only interested in fighting the best fighters in the world. Guillard was easily his toughest test to date, and Gaethje passed the test with flying colors.
"I definitely always go for the finish," Gaethje told Combat Press. "If it would have gone five rounds, I know for sure I would have finished the fight. There's nothing bad from that fight to take away. I was a little wild, but he was running from me and the only way I was going to hit him was to go after him. We've trained together, so he knew how not to get hit by me. It was a good experience."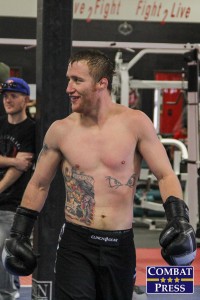 Gaethje's fight with Guillard should have marked the second title defense for the current champion, but Guillard was unable to make weight and the title was taken off the line as the fight was downgraded to a three-rounder instead of the five-round championship fight. Gaethje was beyond disappointed.
---
Advertisement

---
"I definitely was," the champion admitted. "I was going to get the finish, but I thought I was going to get it in the first or second. I chopped those legs down and I didn't kick as much as I usually do in the first or second. I had a point to prove to myself and I really wanted to put him to sleep. Maybe I tried a little bit too hard, but that's okay."
Now, Gaethje moves on to a title defense against Palomino, another well-traveled veteran. The pair meet on March 28 at WSOF 19. Palomino is the owner of a 32-fight resume, and the Peruvian is a man looking to extend his streak of knockout victories to three. This won't be the first time that Gaethje is taking on someone with more experience than him.
"I'm excited," Gaethje said. "I need these big opportunities, and bigger fights are better for me every time.
"I have been wrestling for over 20 years. Eventually I was a Division I All-American, and there's experiences that it brings that you cannot learn in any other sport. And I know Palomino didn't do that, so [for] people to say he has more experience than me is just crazy. You know, I'm younger than him, obviously. It makes sense to say that he has more experience than me because he has more fights than me, but I've had well over 2000 wrestling matches in front of some big crowds and some pressure on my back representing my town. I'm from a small town, and we had big matches against rivals from other small towns. People are never going to be able to understand that I have so much experience when it comes to competition that I am ready for anything. I'm here to perform and I'm ready to throw down, and I'm gonna try and hurt you. I'm ready."
Wrestling played a huge part in Gaethje's upbringing. After starting in the sport at age four, he went on to wrestle in high school and college.
"Wrestling has defined me in every aspect," Gaethje explained. "In high school, I saw an MMA fight on TV when I was a kid and I was very interested then, but I was from a really small town. You might be able to find a jiu-jitsu gym, but there was nothing like that where I am from. There was wrestling, and only wrestling. I had never been in a street fight through high school and into college, so I had no idea if I could fight. I had seen it and I knew that I could do that, so I asked my coach to get me an MMA fight while I was in college and he ended up giving me seven amateur fights and I won them all.
"I almost got knocked out once, so I had to go get a gym and start training. And that's when I really fell in love with the sport. It's a whole different sport from wrestling. It's something that I really enjoy, and my athleticism helped me from football to soccer to every sport I ever played, just all coming together to help me in this sport right here.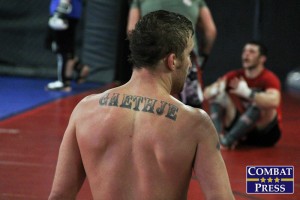 "MMA is a lot more nerve-racking [than wrestling]. Even wrestling to be an All-American was a round of 12's, which was a crazy round to wrestle in the national championships.
"The round of 12, which has the quarterfinals, semifinals and finals. It's a crazy tournament. I'm telling you, you have to dig deep. You have to be mentally strong to do that and just to get there, it's crazy the amount of work you have to put in."
Gaethje will have to use all of the experience he has when it comes to his fight with Palomino, who has had his hand raised in victory over such notable names as Jorge Masvidal and Jorge Patino.
"He's unbelievably tough," Gaethje said of Palomino. "It's going to take some work to break this guy. A couple kicks here [and] a couple big punches there to try and put him to sleep, and he's not going to be fazed by those. And he's going to be coming and throwing just as hard. I don't see him cowarding out of this fight. He's going to come and he's gonna brawl, and it's a perfect match-up for me because he's someone who is going to want to fight me. I don't know how long it's been since someone came out who actually wanted to fight me. It's going to be great and I'm going to be ready for that. I've been training hard, and we're going to my hometown and I'm going to be the best I've ever been. He could land a lucky punch, but, if not, I'll beat the shit out of him."
Every fighter who can identify his opponent's strengths usually has a pretty good idea of what weaknesses that opponent carries into the fight as well. Gaethje, on the other hand, doesn't really see an opening in his opponent's physical game.
"Oh, man, I don't see a big… When it comes to fighters, the only weakness you can have is being able to mentally break someone and physically break someone," Gaethje admitted. "I don't see me being able to do that. I'm going to have to turn his lights out. I'm just ready for a freaking war because I think and I know that he's not going to back down and he thinks I'm going to back down. But if he's going to beat me, then he better come ready to lay it down."
Carrying an undefeated record tends to create added pressure on a fighter, especially when that fighter is a world champion. Current champs such as Ronda Rousey, Jon Jones (not counting his disqualification loss) and Gaethje are among those who have not had to experience defeat.
"I will never be disappointed with a loss," Gaethje confessed. "I will be upset if I get caught in the first 10 seconds and get my ass knocked out — that's going to suck. But that shit happens. If it goes past two rounds, I don't care if you beat me or not — you are hurting."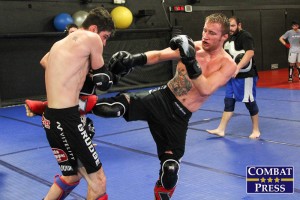 Recent criticism has been thrown Gaethje's way after some comments he made regarding his place in the world lightweight rankings and how he feels he is the best lightweight in the world. It seems that he is his biggest critic as well.
"I'd be calling me a dumbass and an idiot too right now, because I haven't proved shit," Gaethje admitted. "You watched the [UFC 185] fights last night. [Khabib] Nurmagomedov is a badass. [Rafael] dos Anjos is a badass. And these guys are pressure fighters. They are good wrestlers, they're athletic, and they come to scrap. That's what you have to be to make money and to get to the top of this sport. I have every single bit of that. It was bred into me and I've known only that. My athleticism will set me apart from a lot of people. Like I said, I will lose one day and I'm not scared to lose. I know it's going to happen, but I will prove that I am the best in the world. You can call me an idiot, but when I do it you'd better kiss my feet."
To be the best, fighters have to fight the best. Arguably, right now, the best fighters in the world are competing in the UFC. So, does Gaethje feel that he has to fight inside the Octagon to truly cement his self-appointed No. 1 lightweight status?
"I do!" he proclaimed. "I have a lot of years in front of me right now, and I'm here to make money right now. I have to take the best option for me. I'm getting paid more right now in the World Series of Fighting than I feel I would get paid in the UFC. I am a bonus fighter. World Series doesn't have bonuses, and that hurts me because I am a bonus fighter. Every single fight I've had, I would have got a bonus. Win or lose, I'd get a bonus. That's what I'm here for: to get paid. If I'm in the UFC, I'm going to get bonuses. But until I'm going to get paid what I really feel like I deserve, I'm going to be going in there and fighting the best in the world. I want to get paid what I feel like I need to get paid to put my life on the line every time."
In a good year, a UFC champion will fight maybe twice, barring any injuries to themselves or their opponents. Gaethje has maintained a schedule of at least three fights a year since becoming a professional, a feat that is hard to continue for most.
"I'm unbelievably satisfied with World Series and how active [I am] and how much they are paying me," Gaethje admitted. "I just think, as fighters, we need representation because there's no set structure on how any of us get paid. If I get hurt right now in training camp, I have to rely on my own insurance to get medical attention. I mean, I'm sure that World Series would take care of me. But, for right now, I have to buy my own insurance, and things like that should not be happening at the professional level under a big organization.
"We should have a retirement plan just like any other career. To be the best, you have to put your whole life into it. It's like all the great entrepreneurs. They took many, many great risks to get where they are at, and that's what you have to do as a fighter. I have been doing wrestling since I was four, and I have put my life into this. So, to beat me, you are going to have to take everything from me. I'm ready to put everything on the line every single time from here until I am done. It's what's good for the sport. I'm not even going to have to say it in a couple years, because that will be the only way to go. You better be here to make money and make money by putting on shows and entertaining people."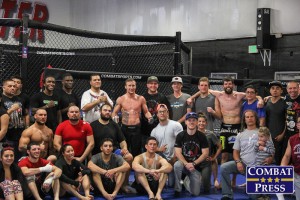 In Gaethje's opinion, representation is not the only thing that needs to be addressed.
"Healthcare is the biggest thing that I think fighters need right now," he said. "If you have a fighter under contract, then you have to have a healthcare plan for him/her. It should be a rule by the commission. I don't know what it costs and I don't care what it costs. We are putting our lives on the line every single time. Every training camp that I make it through healthy is a godsend, if I make it through healthy. I have a fighter who is fighting in a week, and we bumped heads and he has a two-inch gash across his head. And he has to pay out of pocket for that. Luckily, he has insurance. I am very fortunate where I am at and with what World Series is doing for me. I have progressed through the payroll more than most, and that's because I put it on the line and I am exciting. That's what you have to do."
Training is always an integral part of a fighter's camp. Gaethje's gym, Grudge Training Center, operates a little unconventionally in that it allows anyone to come in and train. It may seem unusual, but it never leaves them short on training partners.
"Everyone is welcome to come train at the Grudge Gym with us," said Gaethje. "There's guys that come train with us and do their whole training camp with us. But when you do come here, we go hard. We all go very, very hard and we kick each other's ass. I never have a very good day at the gym, and that's the thing I love most about being here.
"We have guys — a lot of kickboxers, a lot of really good boxers, and then we got a couple Division I All-Americans — so every aspect that I need to get is there. You know LT Nelson — he's a young up-and-comer kind of guy and you'll be seeing more from him soon — he just fought for GLORY. Justin Salas who's now, he's in the UFC. Tyler Stinson. We're just a team of killers over here. You come here, you're not going to have a good day. There's not a lot of new guys that come in. We don't treat them bad, but they think we treat them bad because we go so hard. With me and LT, I don't know how we haven't knocked each other out numerous times, because we literally try to kill each other. We train hard and we are ready to fight.
"I've never made money in my life, and now I'm making some money and it's damn hard not to stay in bed a little longer or miss a workout here and there. But my teammates will not let me do that, and I'm in a position right now where I haven't proved enough to anybody — and certainly not to myself and my family — that I am the best in the world. And there is a lot of work that needs to be done."
Justin would like to give a big thanks to his coaches and teammates at Grudge Training Center. He would also like to thank his mom, dad, twin brother and two sisters in Arizona. He would also like to thank his sponsors: Fuzion Vapor, BANA Nutrition, Western Precision Rifles, Elko Wire & Rope and SPEC. Follow Gaethje on Twitter:
@Justin_Gaethje
---
Advertisement

---