It was Oct. 30, 2011. Inside the City of Dreams Grand Hyatt Ballroom in Macau, a bond was forming. Within the confines of the roped ring, Adrian Pang and Jadamba Narantungalag were about to embark on what both men would later call the toughest fight of their respective careers.
Neither man gave up an inch throughout the entertaining bout. Scrambles, exchanges and attempted submissions kept the crowd on the edge of their seats as both men spilled blood on that warm October night. It wasn't until round three, when Narantungalag landed punch after punch after punch on a forward-marching Pang, that these men would realize exactly what they had signed up for. In the end, a title changed hands and a mutual respect was born.
Only one man could win the fight, but both were rewarded with a friendship. It would become a bond between two warriors, and it's a bond that will never be broken. A little over three years later, the two would meet again. However, this time, no blood would be spilled.
---
Advertisement

---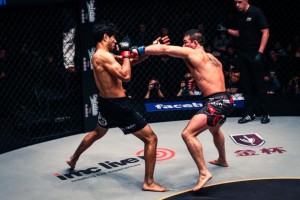 "Jadamba was there [in Beijing], and he came up to me in the locker room after the fight," Pang recalled to Combat Press. "We got a photo together, and he had this massive bodyguard with him and they were all wearing suits and stuff. The bodyguard was like, 'Jadamba tell you he come from Mongolia just to watch you fight.' I said thank you and said how good Jadamba was, then he said, 'Jadamba want you to be ONE FC lightweight champion,' and I was kinda like, 'Yeah, thanks mate' [laughs].
"He's awesome, though. I've never really formed a friendship with anybody that I've fought and lost to, but him and I have a mutual respect. He said I was the toughest fight he's ever had, and he was mine too — that's what made me go and do strength training. After I recovered from the fight, I knew I had to do something. It was like trying to hold down a baby bull; I couldn't keep him down. Even [Yui Chul] Nam wasn't that strong, and he was like 10 times bigger. Seeing Jadamba there was a nice little highlight. It's nice to get that respect from him."
After almost 18 months out of action, Pang made his return to the cage on Dec. 19, 2014. He faced Vincent Latoel at ONE FC 24: Dynasty of Warriors. The fight marked the first time Pang had fought internationally since losing his Legend FC lightweight title to Narantungalag. While he won his much-anticipated ONE FC debut bout, it wasn't all smooth sailing for the 37-year-old.
"I'm not waiting another 18 months, man. That was a killer," Pang confessed. "That weight cut killed me. I made 70.8 [kilos] with my usual struggle — that's the usual allowance, 70.3 with a 500-gram allowance — but in ONE FC there's no allowance at all. I think I had four goes at it. In the end, I made it and I just looked massive [laughs], I'm definitely gonna be leaner next time I cut that weight. I felt a bit tired, but after 18 months off, I fuckin went all right [laughs]."
Throughout the ONE FC broadcast, commentators Josh Thomson and Steve Dawson alluded to the fact that Pang had struggled to make weight for his bout. Pang, a veteran of 31 fights, has always been proud of his gas tank when it came time to enter battle, but this time around it was a little different.
"It'd been 18 months and I was just empty," Pang admitted. "I made the weight in the end, but it was just hard. It took me an extra couple of hours and took so much out of me. I've never been so big, though. I was 79.6 [kilos] before I went to bed that night, and I only ate once. I've never been that big, ever. When I was fighting [Bernardo] Trekko and guys like that, and when I fought Jadamba, I was 75 kilos. We worked out that for three years after I fought Jadamba just before my injury and doing a proper weight program, I've put on one kilo a year of proper muscle. I'm lean as hell now. There's no fat to come off me."
As Pang pushed forward throughout the entertaining bout with Latoel, his body felt completely different to what it had in any fight before. As he reared back and landed one of his notorious right hands in the second round to send Latoel to the mat, he tried his hardest to finish the deed in front of him. However, he couldn't quite get over the line.
"I felt like I was a hundred kilos," Pang recalled. "I couldn't smash his head in. I jumped on him and I cracked him, but I can't remember if I tried to soccer kick him or I missed. I remember going for that guillotine and thinking, 'I don't have it.' And I swept him into the anaconda d'arce choke, but my hands couldn't even grip my bicep properly.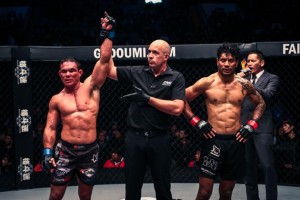 "It was a cracker of a fight, and Vincent, he was hungry. He was just coming off that loss to Caros Fodor and he was hungry to win. I think they were a bit concerned about my size, even though he was heaps taller than me. He just seemed to really want that win. I could see it in his eyes. He thought he was gonna win that fight, but I was never gonna let him have it."
On the back of his successful ONE FC debut, the question has been raised: What is next for the veteran Australian lightweight? A fight that has been suggested by many, including Combat Press, is a showdown with Koji Ando, who is also a former Legend FC lightweight champion.
"I think Koji has done enough to earn himself a shot at the title," Pang said. "I'd like to have another fight before I get thrown up there again. With the layoff — even though I won every round, I out-struck him and took him down and whatever — I felt that it wasn't my best. I don't feel good yet. In my career, I've never gassed. That's my enemy. My mortal enemy. I don't really care who they put me in with, I'll be ready no matter what."
Adrian would like to thank Fairtex, Australian Sports Nutrition and Instinct Sports Nutrition. He would also like to thank everybody at Integrated MMA. Follow Pang on Twitter:
@adrianpangmma
---
Advertisement

---