You would never think someone would travel across the globe just to take up the painstakingly difficult job of laying bricks. As a young adult, Richie Ivory saw an opportunity to make the move abroad and came to Australia. It was only supposed to be a holiday, but it turned out to be a place where he could make some good coin and enjoy the best years of his life.
The best years became even better when he stuck around. Eventually, he put down his tools, and his time and energy were put into something that he loves. He hasn't laid a brick in a while. Now, after a couple of years out of the loop, he's managing to punch a few faces again.
"I'm a qualified bricklayer," Ivory told Combat Press. "I was workin' on the buildings, and that's what I did at home—I was a bricklayer. In Ireland, there's the recession, and it's pretty hard over there and we didn't have much work on. At the time, it didn't bother me. I lived at home with my parents and I had no problem not working. I got to train two to three times a day, and that's when I got my jiu-jitsu up to the next level. I used to train at East Coast Jiu-Jitsu.
---
Advertisement

---
"I didn't mind not workin'. When I came out here, I had my qualifications as a bricklayer and there was pretty good money in it. I worked up in the city, but you're always tired at night and you don't wanna train. So when the opportunity came, I knew that if I wanted to fight or get to the level I know I can get to, I needed to be trainin' full-time. So it was just a blessing that Ben [Hall] and also Barry [Johnston], who owns the gym that I work at now, were looking for an MMA academy. Everything worked out for me beautifully. I wasn't sure if I was gonna stay in Australia. I wasn't sure what I wanted to do, and they put it together and now everything's perfect. I can't complain at all.
"I came out about two and a half years ago, just on a holiday. I wanted to see it before I got too old. At the end of my first year, I did some regional work and decided to stay for a second year holiday. I was likin' it in Melbourne, and my coach up there—Ben, who is a Carlson Gracie black belt, he asked me if I was wantin' to stay in Australia or go home and I was like, 'Yeah, I wouldn't mind stayin' around for a while.'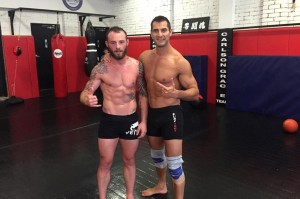 "He wanted to open an affiliate school in a city called Bendigo. He had contacts down there who were looking to start jiu-jitsu, so he asked if I would come down to teach. Because I wasn't a qualified coach for visa purposes, I went and did a course and got a diploma in sports coaching to work in a gym and to coach with proper, with qualifications, and have stayed out here."
Although Ivory, when he made his way in from Ireland, was intent on traveling around the country, it hasn't exactly eventuated for the 27-year-old. Although he may have found a great way to settle into life in a new country, there is still so much that is left for him to see.
"I've mostly stayed in Melbourne," Ivory admitted. "The only time I've traveled is [when] I went to Adelaide to corner a guy on MMA Down Under and I went to Sydney for the New South Wales state championships in jiu-jitsu. They're the only times I've even traveled until I went to Canberra for the BRACE fight. I've never been outside of Melbourne for a holiday or a break. It's always been for jiu-jitsu or MMA."
When he made the trip from Ireland to Australia, Ivory was coming off back-to-back wins in his home country. Like most 20-somethings, the question came up of what he would do with his life.
"I took some time off and did a little bit of training and focused purely on jiu-jitsu for a while and went and trained full-time in jiu-jitsu and competed quite a lot in Ireland and had some good results," Ivory recalled. "With the stress of MMA, I really wanted to improve before I took another fight. I fought some good guys; I fought Paddy [Patrick] Holohan, who is in the UFC, and another guy I fought was Damien Rooney. They were my two losses before I came out here. I think I won a couple after that, but I stepped back and thought, 'I really wanna get good at jiu-jitsu before anything else.' I kinda gravitated towards that for a while. Even when I came out here, I traveled and I didn't train, and then when I met Ben [Hall] in Melbourne, we started to get back into the MMA and went from there."
Ivory found out firsthand just how hard it was going to be to get on a fight show in a foreign country. Events rely on fighters being able to sell tickets to friends, family and just about anybody that is willing to buy them. Without that large network behind him, Ivory took to social media to try and get his chance to get back into competition. That's when the Australian-based XFC took notice. Ivory signed on to fight for the XFC bantamweight title on Nov. 1 in Brisbane, Australia, against Jacob Mahony.
"I was looking for a fight in Australia, maybe six or eight months after I got here. I was kinda keen to get back into it, but, being that all the big shows are in Brisbane, I literally couldn't get on a show," Ivory revealed. "Nobody wanted to fly me up and put me up there. They were all like, 'Nah, mate, all the good fighters are in Brisbane,' kinda thing. They're all local, and I found it really hard to get my foot in the door until BRACE called and had that tournament. The layoff did affect me in my last fight. I was rusty, but I'm taking nothin' away from Jordan Lucas. He was a good fighter. He's top level, but definitely the layoff affected me in the third round for sure.
"I'd been talking to [XFC promoter] Justin [Lawrence] for a long time. When first I came out here, I put a bit of a post on Facebook about how all these promoters kept saying no to me and that they didn't wanna fly me and they didn't have guys, like some of the South Australian shows would tell me they didn't have bantamweights at that level and stuff like that. I was just like, 'Someone just fight me,' [because] in Ireland you could fight every weekend if ya wanted—it's a tiny country and you could fight every weekend. There's a good show with good guys and the talent pool is huge over there. And when I came out here, I couldn't believe it, and I know it's a bigger country and you've gotta fly a couple of hours, but I found it hard.
"I put the post on Facebook and a couple of MMA websites in Ireland tagged some people in it and I kinda put out a bit of a callout saying, 'Geez, all these promotions are trying to keep their own guys on their shows. They don't want other fighters coming up,' just to kinda start a part of it and then someone tagged Justin in it and he was one of the first to reply. And we got talking, and we talked for months back and forth and he'd check in to see how training was going, and he was really helpful that way. And as soon as I fought on BRACE, he got back to me [and] offered me the fight with—what's his name? Jacob? I was putting up there that I'd fight any bantamweight and I woulda tried to drop down and make 57 [kilos]. I didn't care, I just wanted a fight. I didn't know the name [and] I just said yes to the fight. And it turns out it's his champion, so I was pretty happy with that."
After fighting for the first time in over three years, Ivory wants to ensure that he continues with his trend leading into the new year. No matter what the outcome this Saturday night, he plans to make sure that 2015 is his most active year yet.
"I was looking for a very quick turnaround, which has been my problem for years—having a fight and then taking six to 12 months off and not fighting again, and getting forgotten about," Ivory admitted. "I think at my age now, these guys are fighting pretty regularly. I need to be fighting just so I'm not getting rusty so that I'm always getting better. I wanna keep busy. Now is the time. I definitely wanna fight again in January or February, whenever I can get in."
The Nov. 1 bout marks the second defense of Mahony's XFC bantamweight title. The champion enters the bout with two straight victories under the XFC banner. Naturally, Ivory is confident that he is going to be taking a belt back down across the state border, but he knows all too well what Mahony has to offer inside the cage.
"He's pretty experienced and he has a lot of fights under his belt," Ivory said. "Literally, it doesn't matter to me who the fight is with, I'm just gonna do my thing. I think I can beat any of these guys. I expect in myself to beat any of these guys. I thought it was a close decision with Jordan Lucas. I think he is one of the best guys in Australia. He's super talented on his feet. He was strong. He's a tough wrestler, and with a two- or three-year layoff, he beat me 29-28. It was a close fight. If I had of been able to push a little bit harder, I coulda took it. And if that's the top level of guys in the country, then I'm up there. None of these guys worry me, but again, every fight is different. I'm not taking them lightly.
"[Mahony] has had a lot of fights. He's had a lot of wins and he has had a lot of experience, but I just intend on being on a different level come Saturday night. It'll be smooth and I'll try to make it look easy, that's for sure."
Richie would like to thank Ben Hall of Carlson Gracie Jiu-Jitsu, Barry Johnston at Fit Republic and Pure Blood Gi's. Follow Ivory on Twitter:
@richieivory
---
Advertisement

---