A major talking point amongst combat sports fans in 2022 was the hierarchy of martial arts promotions. The debate waged on and on, month after month, but the numbers released this week tell a clear story of a global duopoly between the UFC and ONE Championship.
Social media has played a significant role in growth over the last few years, and the two leaders are the only organizations with over 10 million followers across all major platforms. The UFC has 115 million followers while ONE checks in with 54 million. Bellator, PFL, Rizin, KSW, and Glory, on the other hand, have a combined 26 million followers.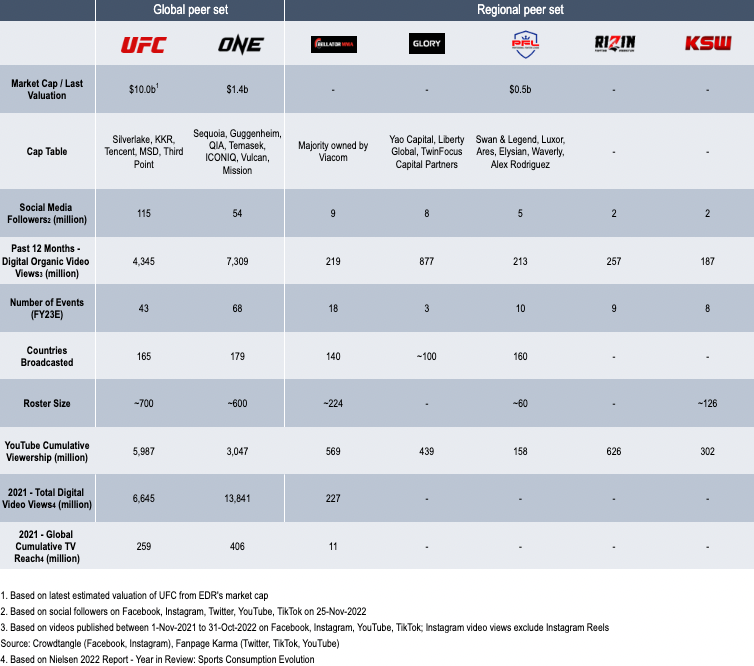 ---
Advertisement

---
ONE and the UFC have dominated the social game. The UFC has a cumulative YouTube viewership of 5.99 billion with ONE not far behind at just over 3 billion. The ranking flips when talking about digital organic video views, however. ONE leads the way with over 7.3 billion views, and the UFC comes in second with 4.3 billion. No other organization cracks a billion in that category.
The 2022 Nielsen report for sports consumption showed that ONE has a cumulative television reach of 406 million, with the UFC boasting 259 million. The only other martial arts promotion listed on the report was Bellator with 11 million.
The global duopoly is also reflected in the market cap for the sport. The PFL has a market cap of $500 million. However, the two leaders who dominate the eastern and western hemispheres dwarf that number. ONE, with investors such as Sequoia Capital and Guggenheim, has a growing $1.4 billion cap. The UFC's current cap is $10 billion.
The sport's overall growth is continuing, with more interest than ever across the board. But there are clearly two promotions who have set themselves apart from the field and have control of their respective regions. Their massive rosters of over 500 athletes each allow them to stage dozens of events per year, and those numbers will grow in 2023.
ONE will be breaking into the U.S. market in May and are a clear global rival to the UFC. There is little debate as to the current hierarchy of martial arts promotions. But for fans, all that really means is that the sport is healthy and growing at a rapid pace. More opportunities for athletes to shine on a global platform are upon us with the sport's increased interest – and that is a good thing for us all.
---
Advertisement

---