Sunday. For the religious, it's the day of the Sabbath — for those people, it's the day that church is attended and prayers are somewhat answered. For others who are not so religious, Sunday is the day of the hangover, where a couch or a greasy bag of fries is the cure to all the problems in the world that no God could ever solve.
For The Ultimate Fighter 19 hopeful Josh Stansbury, Sunday was about losing himself in what would later become a life-long love affair. Sunday was about taking those first steps towards one day possibly competing in the UFC.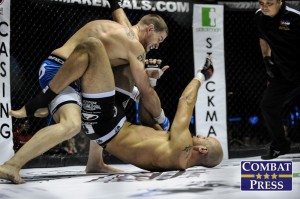 "I graduated high school and I never went to college to wrestle, and I felt that I had a bit of a void in my life for like a year and that I [was] missing something. And I went on living the life where I worked full-time, but like I said, I always felt like I was missing something, so I went to an MMA gym and just started wrestlin' on Sundays and then started training MMA, and I just fell in love with the sport," Stansbury told Combat Press. "I took my first fight about two and a half months later, and I won my first amateur fight and there was that feeling of going out and winning and competing in front of everybody. And it was just an addictive feeling — there's no feeling like that when you get your hand raised in the cage."
---
Advertisement

---
That's where the journey began. A lot of fighters will take their first win as an amateur and then look to turn professional right away in a bid to make it in a sport that has a seemingly endless talent pool. Stansbury, though, took the patient approach. Even though he is knocking on the UFC's door, he isn't willing to sacrifice his integrity to get there.
"In Ohio, we have an amateur system where a lot of fighters stay amateur for a longer period of time. So, I have a lot of amateur experience going into my pro experience," Stansbury explained. "I've been fightin' since 2005, so in a way I kinda feel that I've paid my dues and I've always fought the toughest opponents and I've never really tried to pad my record or nothin' like that. I feel like I've earned my spot, and I can't wait to prove that.
"I don't wanna pad my record and lead people on that I am some kind of fighter that I'm not and then get a chance in the UFC and I'm not prepared and I lose. My goal is to go to the UFC and win and continue to keep winning. Fighting guys like Jeremy Osheim and other guys that are trying to get into the UFC, I think that kinda proves that I'm willing to take a risk and I'm willing to fight the toughest guys. I'm looking to keep on winning there, not just get there."
Taking those tough fights — and winning them — landed Stansbury with the opportunity of a lifetime when he was selected to appear as part of The Ultimate Fighter. While Stansbury didn't quite make it into the TUF house, he felt he made an impression. And that's what he now plans to build on.
"I think that being part of The Ultimate Fighter season 19 and then gettin' hurt and being talked up as the top light heavyweight, I think they kinda got a taste of who I was. And I'm just kinda lookin' for a chance to fight in front of them again and kinda prove myself again that I belong there. It was definitely disappointing not getting signed and not getting another opportunity," Stansbury admitted. "Especially being that I felt that I was controlling the fight I was in to get into the house. I kinda feel like I got to show them a little bit but didn't get to show them a lot of who I was. Yeah, I was definitely disappointed not getting signed after the show, but, myself and Team Guardian, we talked it out and we wanted to take a tough opponent that kinda proved that we felt like we belonged in the UFC. And that was the fight we were looking for with Jeremy Osheim."
Osheim, then undefeated, was the fighter standing across the cage from Stansbury on Nov. 21. The victory that night gave Stansbury an impressive winning streak of six in a row. When he started out as a professional in 2009, though, it wasn't all about having his hand raised.
"I actually lost three fights in a row," Stansbury recalled. "I lost my last amateur fight to Stipe Miocic and then turned pro right away at heavyweight, and then I lost a fight to John Hawk, and then I finally cut the weight down to light heavyweight and I lost to Dan Spohn. It was definitely the part of my career where things started to change. I started to look at the diet aspect of the game and getting my body down into better shape. Coming off those three losses, I think for a lot of people it woulda broken them, but for someone like me, it motivated me to get into the gym and to do the things to get better, and that's what I did. I ended up coming back to avenge both my first pro losses, and everything has been working out and I'm just keeping the ball rolling."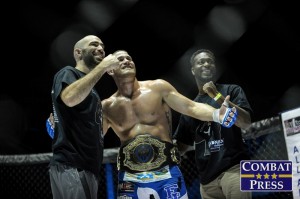 With just two losses on his professional record, Stansbury has had the unlikely opportunity that so many fighters wish for: he has been able to redeem himself against both opponents.
"I came back and fought Dan Spohn again on the Bellator undercard. It was on Bellator 71, so I not only got to come back and avenge my loss, but I got to do it on a bigger stage," Stansbury said. "It was actually a co-promotion thing, and I won the NAAFS title when I beat Spohn. And then John Hawk cut to light heavyweight and he challenged me for the belt, and I got to beat him and keep the belt. They were both big hyped-up fights, so it was nice to get the win on both of those guys."
On the back of his big Nov. 21 win over Osheim, Stansbury now looks toward what the new year will hold. With a fight already slated for January against a yet-to-be-named opponent, he is certainly making sure that he stays at the front of everybody's minds. In 2015, his goal is to make it to the big show.
"I'm really looking forward to trying to keep the ball rollin'," Stansbury exclaimed. "I wanna keep chasin' that dream and following my goals to get back to the UFC.
"I'm looking forward to going into the new year and making 2015 my year. That's the way I'm kinda looking at it. I think the stars are all lining up, and I'm willing to put the work in and take the fights that are gonna get me recognized and noticed."
Josh would like to thank everybody from his hometown in East Liverpool, Ohio, adding, "I have such a tight-knit group of people here that support me." He would also like to thank Charles and Ed from Team Guardian. Follow Stansbury on Twitter:
@SandmanStans
---
Advertisement

---