At GLORY 24 this Friday night, there will be no surprises for Shannon Sinn and Maureen Riordon as they stand opposite each other.
The two former training partners have not only spent countless hours in the gym together, they've also competed against each other under the Invicta FC banner. Sinn took the victory in a stand-up battle of attrition, yet she still finds herself facing off against a familiar foe.
"I didn't feel like she deserved a rematch," Sinn told Combat Press. "I kind of felt like I was backed into fighting her again. I wanted to fight for GLORY and that was my opportunity."
---
Advertisement

---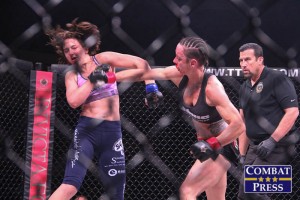 Sinn was particularly interested in competing for GLORY due to the fact that GLORY 24 takes place in Denver. She lives in a nearby suburb and couldn't miss the opportunity to compete in front of her hometown fans.
"I got a text from the matchmaker asking if I was interested in fighting in GLORY when they came to Denver," Sinn said. "It's something I've wanted to do since GLORY came here for GLORY 16. I went to that event and thought it was a cool promotion."
Although Sinn was presented the opportunity to compete on the GLORY 24 card, the full details remained absent from the initial offer.
"When they first came to me, there was no name that was brought up," Sinn said. "But I knew it would be her for the simple fact that I know she works for GLORY and she's been talking a lot since our last fight."
In their first meeting, Riordon and Sinn fought on the feet for nearly all 15 minutes of the bout. Although Riordon came into the fight billed as the kickboxer, it was Sinn's striking that ended up sealing the deal, allowing her to take a unanimous decision victory.
The two ladies did not embrace in any post-fight showings of respect. It was clear that while they'd left everything in the cage that night, the bad blood between the two was still prevalent.
"After the fight, I thought we could just shut it all up and not be friends, but just let everything go," Sinn said. "But immediately after the fight there were posts flying all over Facebook talking a lot of crap."
While Riordon is the source of the trash talk according to Sinn, it's Riordon who seems to be having a problem staying focused during training camp.
"There was an incident four weeks ago where they say they needed to change the weight to a higher weight class because she was struggling to cut the weight," said Sinn. "I knew if I didn't accept the weight change, then they would've given that fight to someone else. But knowing Maureen, that's just way things go with her.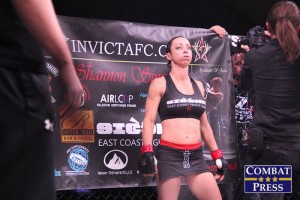 Sinn comes into GLORY 24 with virtually no experience in the kickboxing world, a stark contrast to Riordon, who has competed under GLORY rules prior to GLORY 24.
"There's been a huge difference for this entire fight camp," Sinn said. "I've been doing stand-up only, every single day, whether it's boxing or kickboxing. It's good in the sense that I'm improving in that area, but I love grappling and I miss rolling."
Post-GLORY 24, Sinn figures to maintain her active schedule, whether it's in GLORY or Invicta FC. We've seen a couple of competitors go back and forth between MMA and kickboxing promotions with mixed results. And while Sinn will be looking to stay active, she's confident she will be able to close this chapter of her career.
"I'm done with her after I win this fight," Sinn proclaimed. "I'm so done with her. I want a new opponent — a higher-ranked girl."
Sinn promised to unveil a new bag of tricks for her kickboxing contest, hoping to keep Riordon off her game. With the jitters of facing a rival out of the way from their first contest, both ladies can be expected to open up more in the GLORY ring.
---
Advertisement

---