In the modern landscape of mixed martial arts, it's not that often that a fighter is able to make history. Every now and again something new happens, like when women began fighting at the highest level or when the men's flyweight division was founded in the UFC. However, it's not too often that a fighter will be able to stake their claim as the world's first at anything.
On May 22, at ONE Championship 27 in Kallang, Singapore, Dejdamrong Sor Amnuaysirichoke has that exact opportunity before him. He can make history when he steps into the ONE Championship cage opposite Roy Doliguez. He will make history.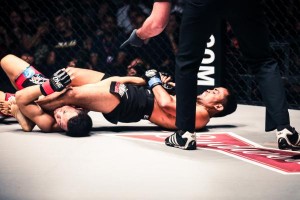 Sor Amnuaysirichoke will be featured as one half of the first ONE Championship men's strawweight title fight. It's the first time that a fight has taken place in the men's 115-pound division in a major mixed martial arts promotion. The division has been featured elsewhere around the world, but as far as world championships go, this will be the first.
---
Advertisement

---
This is the chance for a humble Muay Thai fighter to put his mark on the world of MMA.
"It's truly an honor for me," Sor Amnuaysirichoke told Combat Press. "I'm really excited to be the first-ever Muay Thai world champion to be competing for a MMA title. I have competed at 115 pounds before, but that was back when I was competing in Muay Thai. I [am] definitely looking forward to returning to that weight again, this time with MMA."
After competing in over 300 Muay Thai fights and winning multiple championships, Sor Amnuaysirichoke made the move to mixed martial arts. It was never going to be easy, especially with the added factor of learning the ground game, but Sor Amnuaysirichoke is a quick learner.
"I knew that I would be a threat inside the cage based on my credentials in Muay Thai, but I never imagined that it would be this successful," he said. "However, I do believe that there is always room for improvement. I have been training really hard to working to improve on all my strengths and weakness. I train with world champions in Muay Thai, boxing, Brazilian Jiu-Jitsu, MMA, wrestling and no-gi grappling every single day, and everyone brings something to the mats that I can learn from."
After growing up in Thailand, Sor Amnuaysirichoke now also calls Singapore — and Evolve MMA — his home away from home. Over the course of his first four MMA bouts, Sor Amnuaysirichoke was fortunate to travel to different parts of Asia, as well as Dubai, to compete. Now, on May 22, he finally gets the opportunity he has been waiting for, as he gets to grace the cage in the Singapore Indoor Stadium.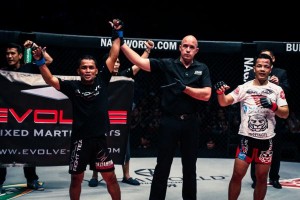 "This is my first time fighting in Singapore, so it really means a lot to me to be fighting here in my second home," he admitted. "I have walked out [as] a cornerman for my other teammates who have previously fought in Singapore, and I have to admit that I was blown away by the fans and crowd here in Singapore. It's truly a magical feeling and it means even more to me because this has become my second home."
Sor Amnuaysirichoke made his MMA debut a little under 12 months ago. Since his first fight, which didn't even make it out of the first round, he has gone 4-0, with all four bouts ending by way of stoppage. For an elite-level Muay Thai practitioner, winning bouts by way of TKO and knockout inside the cage was always inevitable, but he has added a pair of submission victories, too. It's clear that Sor Amnuaysirichoke is becoming a well-rounded mixed martial artist. He loves to impress inside the cage.
"Well, I'm definitely looking for the finish once again [on May 22]," he said. "It doesn't really matter if it's on the ground or standing up. I have been training really hard for this, and I want to do my family, Thailand, my teammates and everyone else proud with this win."
Dejdamrong would like to thank Chatri Sityodtong, adding, "If he never gave me a chance to be a part of the amazing Evolve family and the Evolve Fight Team, I would have never dreamt of ever competing in MMA or even competing for a MMA world championship title." Dejdamrong would also like to thank his family back home in Thailand for being so supportive of him, the Evolve Fight Team for pushing him every single day during training, the staff and all his friends.
---
Advertisement

---