If you have an older sibling, it's only natural to want to emulate them. They play a significant role in molding the type of people we become. Next to our parents, they tend to be the most constant presence in our lives.
When Brian Camozzi was looking for something to do growing up, he turned to his big brother for guidance. His brother, current UFC middleweight Chris Camozzi, introduced Brian to mixed martial arts and facilitated the younger Camozzi's love of the sport.
"I played everything growing up," Brian told Combat Press. "Football, wrestling, rugby. I was not real good at any of them, and my brother told me about MMA and said I should join up. I tried it and just fell in love with it. He paid for my training, and once I graduated high school, I devoted myself full-time to it."
---
Advertisement

---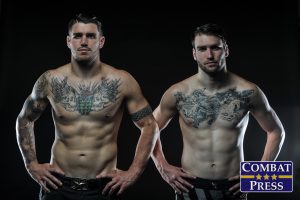 The brothers Camozzi train together at Factory X Muay Thai in Colorado. While 29-year-old Chris has enjoyed being a part of the UFC for the better part of six years, 25-year-old Brian is building his career as a welterweight and brings his 6-2 record to the Resurrection Fighting Alliance's next card on Friday, Sept. 9. He'll face Nick Barnes, an 11-1 up-and-comer, in the main event for the RFA welterweight title.
While some older siblings might resent their younger brother or sister trying to "butt in" on what they're doing, Chris has been a tremendous help as Brian continues to gain experience as a fighter.
"It's awesome! I love it," Brian said. "It helps to have someone there who knows what it's like. I talk to him, and we bounce ideas off each other. We train together constantly, depending on who he's fighting. We may get a little heated here and there, but he doesn't treat anyone differently."
Brian doesn't only take cues from his brother inside the cage, but outside as well. He remembers when he was getting his brother ready for a rematch with Ronaldo "Jacare" Souza in 2015.
"I remember asking him, 'Aren't you scared at all?'" Brian said. "He said no, that he just takes it one day at a time. It's just seeing how he handles everything, and I handle it the same way. It's a job, and I take it one day at a time."
Brian's current job is fighting for RFA, where he's enjoyed back-to-back wins via a finish en route to a title fight with Barnes. He's enjoying his time with the RFA.
"They're running everything smoothly and they do a great job promoting it," he said. "They're putting on shows constantly. I always see it on Facebook. They're very consistent."
Camozzi knows Barnes will try to take their fight to the ground.
"But I'll do what I know," he said. "I prefer to be on my feet, and I always look for the finish anywhere I can."
Camozzi also knows that with only one career loss, Barnes will be a tough fighter to defeat. But as one of Camozzi's coaches said, "We don't get paid by the hour. We get paid to win the fight."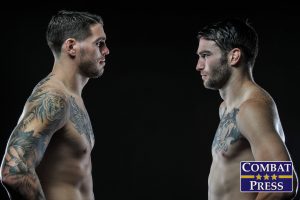 "I still feel like I need to improve everything and need to work on everything," Camozzi added. "This is a huge opportunity — RFA sends people to the UFC all the time."
A spot on the UFC roster is Camozzi's primary goal, but he still holds down a full-time day job in addition to his training.
"It's pretty rough — a lot of 12-14 hour days," Camozzi said. "But I keep things in perspective."
The idea of brothers fighting each other in MMA is pretty rare. However, the World Series of Fighting had adopted brothers Ben "Phoenix Jones" Fodor and Caros Fodor fight on a card in July. Though Brian fights at welterweight and his brother fights at middleweight, if the younger Camozzi brother were signed by the UFC, would he be open to stepping into the Octagon against his big brother?
"I don't see the scenario where we would fight each other," he said. "I would be worse for the wear if I did."
Camozzi would like to thank his coaches, training partners and his sponsors: Intensity Nutrition, LivWell and Valor Bridge. Follow Brian on Twitter:
@BrianCamozzi
---
Advertisement

---