On Tuesday, June 7, Dominique Robinson and James Chaney touched down in Tokyo. They were eager to jump into the cage in Japan after months of hard training at Mayweather Boxing Club and Syndicate MMA in Las Vegas in preparation for their scheduled bouts at Pancrase 278. What would happen in the following days, however, would take both fighters by surprise.
"They were already doing things wrong before we even got there," Robinson told Combat Press.
First, we need to look back to Robinson's first fight with the promotion at Pancrase 270 on Oct. 4, 2015. "The Fallen Angel" was matched against Eiji Ishikawa, a veteran of 51 fights over the course of a 15-year career, much of which was spent under the Pancrase banner. Ishikawa was able to grind out a split decision victory while displaying nothing much in the way of offense.
---
Advertisement

---
"They ripped me off the first time I was there. I got punched one time the entire fight and lost," said Robinson. "Per my contract, if anyone is stalling, you lose a percentage of your purse and points in the fight, and all the guy did was hold the cage.
"They brought me there about 35 hours before the actual fight [with Ishikawa].They had a million excuses about why that occurred in the first place. So, this time, for months leading up to the fight — months and months, over seven months of conversation leading up to this fight — that was a sticking point that Bas [Rutten] was adamant about."
Former UFC heavyweight champion and King of Pancrase Rutten is a friend and mentor to Robinson. He helped the experienced veteran find his way to signing with the illustrious Pancrase promotion, an organization that has hosted many of the world's top fighters for 23 years.
"The only reason I wanted to be in Pancrase anyway was because Josh Barnett is a friend and he's always been my favorite heavyweight fighter," said Robinson. "I trained under Frank Shamrock a long time ago, who was a King of Pancrase, and Bas Rutten is a mentor to me and a figure I look up to, and he was a King of Pancrase. This was more as a symbolic thing."
Pancrase 270 was the promotion's first event to be broadcast on UFC Fight Pass, the UFC's digital streaming service. Robinson signed a multi-fight contract while the deal to broadcast on Fight Pass was still being negotiated, but Robinson had other motivating factors for signing with the promotion.
"This transcended UFC for me," he said. "It's something I always wanted, that Pancrase belt, because Bas had it. It was more about that than anything else."
Before his fight against Ishikawa at Pancrase 270, Robinson says he landed in Tokyo at 11:50 p.m. on Thursday night and didn't arrive at the hotel until 2 a.m.. Then he had to go out to eat before finally being brought back to the hotel at 5 a.m. to go to sleep. That wasn't the last of Robinson's struggles before his first fight with the promotion.
"They got us up at 9:30 a.m. to go do media and everything on Friday, and we didn't get back to the hotel until Friday night," said Robinson. "We had to be back up on Saturday at 9:30-10 a.m. for weigh-ins before having to do more media that day and then we didn't get back to the hotel until that night."
The fighters were woken up once again in the morning, this time on fight day, an exhausting process for a fighter who had arrived less than three days before his fight.
"You can see there was no time to acclimate [and] no time to even rest," said Robinson. "So that was the problem with the first trip."
That wasn't the only problem Robinson describes encountering prior to his Pancrase debut. He says he had trouble finding food that was available for the fighters while cutting weight. Pancrase executive Shinji Nishimura was the man in charge of Robinson's stay in Japan.
"He basically shows us this one singular road that has all of the food on it," said Robinson. "He walks us down the whole road and [then] he disappears. That was pretty much my interaction with him during the first fight."
Robinson was shocked by the promotion's lack of effort to accommodate its foreign fighters.
"It's very hard to get foods to get your weight cut right, even when you do have time," Robinson said. "Udon noodles, Soba noodles, sodium-filled things — you can't eat. That's literally every store. Where are the grocery stores? They show you nothing."
Robinson has never been a man to back down from speaking his mind, even if it might land him in the bad graces of a promotion.
"If I sign my name on something, the way I was taught, you do what you say you're going to do as a man," said Robinson. "[Pancrase] said if I won, they said I would be getting a title shot. That was the only reason I accepted another fight with them. I wanted to get, as far as I'm concerned, my second victory [with the promotion] and I still wanted that Pancrase belt."
Nishimura traveled to Las Vegas to attend the fifth annual MMA Combine, which took place on April 9 at the UFC Gym. Nishimura met with Robinson on his visit.
"He tried to hand me a brand new contract while my management wasn't around," Robinson said.
According to Robinson, the revised contract featured an entirely different pay scale than the original contract he had signed in 2015. Robinson had his original contract saved through his management, and he was able to show Nishimura that the new contract was indeed different.
"He got backed into a corner, and he basically had to get rid of that new contract," Robinson said. "Speaking to him is a very frustrating thing to do from a business perspective. I'm sure a lot of fighters who haven't been in the game as long as James [Chaney] and myself, it's easy to just miss details and sign and let yourself get bullied, especially if you're in their country."
After arriving on short notice for his first fight with the promotion, Robinson, his management and his mentor, the aforementioned Rutten, were pushing to get to Japan earlier this time around.
"The way I had the contract set up, we [would] get there five days before weigh-ins, in order to acclimate and figure everything out," said Robinson.
"When we got there on the seventh, that's obviously not five days before the weigh-ins," Robinson said, adding that Nishimura told him it was five days in Japan total and as long as the fight is on the fifth day, Pancrase had fulfilled its end of the contract. This wasn't the first time Robinson had trouble with Nishimura, and it wouldn't be the last.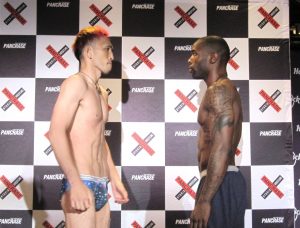 Robinson wasn't the only one who had trouble with his accommodations when he landed for his fight in Japan. The aforementioned James Chaney detailed some of his experience with Nishimura in a long-winded Facebook post. The fighters were put into an apartment that Robinson described as "destitute," but Nishimura told the fighters they were getting special treatment. The other fighters on the card stayed at the Shinjuku Washington hotel, where Robinson stayed on his first trip to fight with the promotion. It took much negotiation on the part of Robinson, Chaney and their liaison, Zaco, one of Nishimura's assistants, to have the promotion move the fighters into the hotel. Even after they were booked in the hotel, the conditions to cut weight were less than ideal.
"We get there late, so we were already starting our weight-cut process late," Robinson said. "He books a one-bedroom hotel, when it's two of us clearly. The one-bedroom hotels at the Washington, the baths are the same size as our apartment was. They're not the size where you can even fit in."
Zaco informed them that Robinson would be in the hotel and Chaney would have to stay in the apartment, leaving neither guy with a proper place to cut weight. They were told that Pancrase didn't have the budget for a two-bedroom hotel room, so they let Zaco know they couldn't make the weight cut properly. Nishimura made arrangements to get the fighters into a two-bedroom hotel room after he was told they weren't able to make the weight with their current accommodations.
While the fighters were negotiating for a safe place to cut weight, they were left without someone to bring them anywhere and without food in the days leading up to the weigh-ins. They were left to fend for themselves. They found a lonely gelatin fruit cup from a shop in the hotel lobby. It served as their only food for the 24-hour period before the weigh-ins. By the time the two fighters get the hotel room they expected to receive on their arrival, it was less than 24 hours before the official weigh-ins.
"Cutting weight is dangerous enough, especially without sleep or food, both of which we didn't get leading up to this cut," said Robinson. "[Nishimura] has this Zaco character just destroying my phone, asking the same questions over and over about how our weight cut is going."
The fighters were trying to rest before they stepped on the scale in a little under 12 hours, but Robinson says the calls continued well into the morning. Pancrase officials contacted the fighters' management and Rutten, telling them to call the fighters in the hours before the weigh-in, telling them what Robinson says was a completely different story than what was happening in that cramped hotel room.
"[Nishimura] didn't have any sort of flight booked home for us," Chaney told Combat Press. "We were trying to get that narrowed down and figuring out how we were going to get home. He kept hounding us about our weight, where are we at — he wanted us on the scale to see where we were at."
As the hours went by, the calls kept coming. They finally stopped at 6:30 a.m., just before Robinson and Chaney were set to wake up and continue cutting weight. They were able to sleep an hour before waking at 7:30 a.m.
"At this point, [this is] where there biggest lies [started] to come in," said Robinson. "They send this Zaco guy to our hotel at about 9:30 a.m., and this is not the time he was supposed to get us. He was supposed to get us between 10:30 a.m. and 11 a.m., and we discussed this the previous day."
"Literally, James is in the bath and I'm on the floor wrapped in towels."
Zaco let them know Nishimura was waiting downstairs. He wanted them to come down immediately. Robinson was a pound and a half over, and Chaney was around two pounds over. The fighters were adamant that they needed to finish cutting weight and that they were supposed to be given more time to finish.
Robinson was emphatic in his questioning Zaco's instructions, but Zaco informed the fighters that their current weight was "good." Robinson had his doubts, asking Zaco to confirm that their current weights were good. Nishimura confirmed, according to Robinson. Robinson, still in doubt, had Nishimura confirm over speakerphone through Zaco that they could weigh in at their current weights and would be fine to fight and get paid.
Robinson and Chaney made their way to the official weigh-ins an hour and change earlier than expected. Robinson weighed in first and faced off with his opponent, Keigo "Chrisman" Hirayama. Robinson stepped on the scale at 157.5 pounds, one and a half pounds over the lightweight limit. There was no word from Pancrase officials as Robinson asked them if everything was good.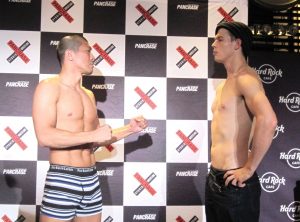 Chaney, who was slated to meet Hiromitsu Miura, stepped on the scale at 173 pounds, two pounds over the welterweight limit, but again, there was no communication from Pancrase staff that their weights were a problem.
"They rushed us so quickly, we actually came [to the weigh-ins] in wet clothes," said Chaney. "Yeah, maybe I weighed in two pounds over, but I was wearing boxers that were completely soaked through. If I took them off, I probably would have made weight.
"They didn't give us the time they said they were going to give us. [If] you add another 45 minutes, we had more than that, 45 minutes or an hour or something, that's enough to get two, two and a half baths in [and] we would have easily made weight, no problem."
After the weigh-ins, the fighters headed back up to the hotel room to rehydrate. Just 15 minutes later, Zaco and Pancrase matchmaker Sakimoto were in their hotel room yelling at the fighters, saying they missed weight and they needed to weigh in again. Robinson and Chaney were well into their rehydration process after starving themselves for nearly three days leading up to the weigh-ins.
"When we weighed in, we never saw our opponents say they didn't take the fight," said Robinson. "Hiromitsu Miura and 'Chrisman' had already left the venue. After we weighed in, they immediately left. There was no chance for those guys to even to say they didn't take the fight."
Even after the promotion's lack of communication with the fighters, they were both willing to weigh in for a second time despite already beginning the rehydration process. The process was quickly halted when Zaco informed Robinson and Chaney that they would not be taken back to the hotel room, but back to the apartment that didn't have adequate accommodations in the first place. Nishimura, meanwhile, suggested that the fighters finish cutting weight by running through the streets of Tokyo.
The fighters were dropped off at the apartment. Robinson was in contact with Zaco throughout the entire process.
After more than 48 hours with virtually no food or water, Robinson and Chaney decide to find the closest place to eat. Zaco finally made his way back to the fighters and informed them that their weight was fine, but they wanted to see what weight they were at now. This immediately sent up red flags in Robinson's mind, so he asked Zaco why. Zaco told him that it was so their opponents can see the weight to see if they want to take the fight. Robinson, Chaney and Zaco made their way to the Pancrase offices in a taxi they had to pay for, while getting lost multiple times on the 30-minute excursion.
"We get there. They literally weigh me in and start acting excited about my weight," said Robinson. "[They] weigh James in and act excited about his, and tell us to leave.
"Something [was] just off here. I don't trust these guys."
Robinson was then informed his opponent, Hirayama, won't take the fight. Chaney's opponent, WEC veteran Miura, was willing to accept his fight. Nishimura contacted Robinson to tell him they would both be fined $2,000 (USD) for missing weight. This didn't stick well with either fighter. They were told multiple times their weight was acceptable. After more negotiation, Zaco informed the fighters there would be no fine, but Chaney had to sign a new contract in order to fight Miura.
The contract never came, though. Robinson and Chaney got in contact with their families and management to determine what they should do next. Robinson's family was well aware of Nishimura's wrongdoings during his first fight with the promotion and in the months following.
"Yeah, my family and [Chaney's] family [are] going to say get out of there at that point, so we left," said Robinson.
Robinson and Chaney made the decision to pack up their belongings and leave Japan. The experience at the airport wasn't much better. Once they arrived at the airport, they found out that Nishimura had booked them on a cheaper flight that didn't include baggage. They would be charged $40 per kilogram for any bag they wanted to bring. With barely any money in hand, Robinson and Chaney had to throw away most of their possessions, paying nearly $2,000 for the little they needed to bring with them.
"We literally had to throw away so much of our stuff that the lady at the counter got sad for us, bless her soul, and she let us sneak a kilogram extra into our bags," said Robinson. "We had to go get shit out of the trash cans like two homeless people in the airport."
After Robinson and Chaney left Japan, the promotion did everything it could to paint them in a negative light.
During the official UFC Fight Pass broadcast, they announced Robinson had missed weight, and his fight with Hirayama was off. Pancrase CEO Masakazu Sakai took to the cage with Hirayama and Miura to apologize to the fans and let everyone know how unprofessional the Robinson and Chaney had been. Pancrase commentator Stewart Fulton translated part of his speech, letting fans know Sakai stated, "This is sports, we have rules."
The promotion banned Robinson and Chaney, a statement that was reflected across Japanese martial arts media outlets. The promotion released a statement that included the fighters' weights from the second weigh-in at the Pancrase offices, but not the initial weigh-in where they stood across from their potential opponents. Many fighters backed the promotion, saying the fighters were afraid and hiding from their Japanese opponents. Robinson was angered by these claims.
"You gotta understand the people I fought," said Robinson. "I fought Anderson Silva's top lightweight student. I fought John Gunderson. I fought Joe Stevenson. I fought Carlo Prater. I fought all of these people [while] training myself, and I beat most of these people. Why would I be afraid of Chrisman? This guy went to fucking decision with guys who have less than three pro fights. I'm at a loss for words, which never even happens. The last thing left of that guy would have been the shades he wears. They would have been on his gravestone. Are you fucking kidding me?
"Do you know the people James fought? I have more respect for James's opponent than mine, because he's done something. The most Chrisman does is wear speedos, and why do you think he does that? If he didn't wear speedos and look like a lady-boy in Thailand, he would get no attention.
"They have a statement written that says Chrisman said that he would not want to fight somebody that's disrespectful towards the promotion, did not make weight and wouldn't try a second attempt to make weight. Does that fucking sound like something a fighter would say? That's almost word for word, verbatim, what [Nishimura] was texting me on WhatsApp, and I still have the message. It's almost word for word what he wrote me on WhatsApp. And, coincidentally, Chrisman, who has the powers of Charles Xavier, read [Nishimura]'s mind and quoted him exactly, and that's what he said? Don't try to play a player
"I have messages, like I said. I save everything. Everybody that knows me knows I get in trouble for [telling] the truth way more than lying. That's how my career has went. Sometimes I've told the truth when I shouldn't have and promoters have gotten mad at me. But I save everything now.
"As we're out here, we're talking to our family, we're talking to our management, we're talking to our friends. So, it was people who were vicariously in Japan with us. People have these messages of us detailing day by day the misery that we are going through. So, it's not like people can say, 'Oh, they just faked these conversations.' They messed up too many times. It's like trying to deal drugs in front of the police and then saying they didn't do it. They did it in the open. It was too big of a fuck-up. Did you forget the messages to me?"
Pancrase has yet to contact either Robinson or Chaney since the event. Combat Press reached out to Pancrase for comment on this story, but we have received no response from the promotion.
"I've wondered for awhile why there was so little Japanese talent coming out," said Chaney. "Since Pride and Dream were gone, there's been nothing happening. There isn't a major show right now. They still have all of these shows like Pancrase, Shooto, Deep and whatever else. The problem is, even with the Japanese local fighters who can get around and don't have to pay for their own taxis and go out of pocket nearly as much, they're paying these guys even less. When you're talking about paying fighters $500 or less, I mean, even people with titles are [making] a thousand dollars and you're paying gym fees in excess of $100 a month. Even at Urijah [Faber]'s gym, the [Team Alpha Male Japan] gym in Japan, they're charging $300 over there. It's not possible to pay gym dues and make any kind of a living. It's a pure hobby at this point. You have to work a second job and everything else. So there might be a lot of guys in Japan that are actually quite good, but you're never going to see them come out because it can never be anything more than a hobby for people. There is just not enough money in it to be anything else."
Chaney was once a fan of Japanese MMA, but he'll likely never return to fight in what he believes is a broken system.
"The early days of Pride, it was incredible. It's something you come up watching and it's something you might aspire towards," said Chaney. "I've been at it long enough that I've experienced a lot of things and I thought it would be great to fight over in Japan. It's not the same as Pride, but [Pancrase] was ]around] even before Pride. Just having that notch on your belt seemed like it would be a cool thing. Believe me, it's not a cool thing. It's not a place where people should desire to go, even with that little bit of sentiment in mind."
Chaney recalled an experience fighting at the fairgrounds in Lewiston, Idaho, many years ago and the difference between how he was treated then, even with a promoter who didn't have much in terms of money to offer, and how he was treated by Pancrase
"I got my tooth broke out of my head, got beat the fuck up, and I ended up submitting the guy in the second round," said Chaney. "I made $250 and, you know, this is just a promoter doing what he can. I knew all of this coming into it, and every step of the way he was completely respectful. He accommodated me the way he could. I was completely happy with the experience, other than my tooth being knocked out of my head — that sucked. It wasn't perfect, but between me and the promotion, everything was totally cool because we spoke [and] we knew what it was going to be.
"I don't need some luxurious setup. Both me and Dominique come from being really poor. It's not like we're some prima donnas trying to get some sort of special shit. You just expect to be taken care of. We have needs as fighters. We [have] to be able to cut our weight. We have to have these circumstances right. We can't be paying our own cabs when we're barely getting paid for the fight.
"My very first fight, I got a thousand dollars. I got less than that for this fight, and after the flight home, I would have less than zero money, not even taking into account the taxes and everything else. It's what they're doing to people."
"[Zaco] said they have a fuckton of money, and they're paying guys this?" Robinson added. "James is getting paid less than his first fight and I'm getting paid a fourth of what I get paid in America. There is some belief that Mr. Sakai, the owner, didn't know what was happening. I'm not going to say who, but they suggested maybe he doesn't know what [Nishimura] is doing. I don't believe he knew nothing about it. I know Sakimoto knew something about it. He was in on the shitty business, so it probably goes all the way to the top."
Robinson and Chaney can only hope their fortunes will turn around in the future. Robinson has been in talks with the UFC for some time and he's hoping to turn his fortune around with a few quick wins. He will be evaluating where his career goes from here following his stay in Thailand. Chaney is looking for the same opportunity.
They've already landed in Phuket, Thailand, where they are training with Robinson's friend and owner of Phuket Top Team, Boyd Clarke. The trip was made possible before they left for Japan. Both fighters believed it would be an opportunity to make money following winning efforts in Pancrase. Instead of starting their summer with money in hand, however, Robinson and Chaney are now thousands of dollars in the hole.
Robinson would like to thank his friends Evan Shoman, Steph Daniels (Crooklyn), Tammy, Thomas Cunningham (Spilled Bag of Ice), Clint Coronel and the many others who "helped get the word out and battle this injustice." He would like to thank the Money Team, his trainers Jerome and Jeff Mayweather, and John Wood and Syndicate MMA. He would also like to thank all his sponsors on
therealfallenangel.com
. He would also like to thank Trent Cotney, Kim Mason and Boyd Clarke. Follow Robinson on Twitter:
@fallenangel510
and follow Chaney on Twitter:
@jameschaneymma
. You can also make a donation to help Robinson and Chaney on their
Go Fund Me
page.
---
Advertisement

---