With the Fourth of July weekend right around the corner, everyone is busy planning a day of cookouts and fireworks. Of course, you don't have to wait to celebrate our nation's independence to see fireworks. All you have to do is watch Bellator MMA's Justin Lawrence when he steps in the cage on June 24 at the second installment of Bellator's annual Dynamite card. That's not hyperbole, either. All you have to do is ask Lawrence himself.
"I've always been a really exciting fighter," Lawrence told Combat Press. "People expect fireworks when I fight, and I always deliver. All of this has happened pretty quick. I've never fought on a big stage like this before — I fought [in the UFC] early in my career just because of my skill set, but I still felt green."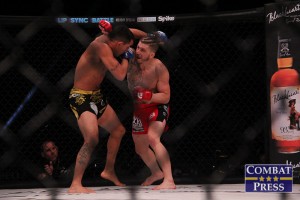 Although Lawrence is only 26 years old and has only 11 professional fights on his resume, he can already boast a career that most fighters can only dream of. He made his professional debut with a win in Strikeforce in 2010 and won the featherweight title in the Resurrection Fighting Alliance in 2014. Lawrence also competed on season 15 of The Ultimate Fighter reality show, where he was coached by UFC bantamweight champion Dominick Cruz.
---
Advertisement

---
"I was the youngest in that house by four years," said Lawrence, whose record now sits at 8-3. "I got to rub elbows with Cruz, and I decided to train with him at Alliance MMA full-time. I'm constantly learning, and the energy in that room is so awesome."
Some of the habits Lawrence is learning from Cruz and others at Alliance MMA sound pretty basic, but they're very important. He's more aware now that he must always be prepared when fight night comes and always be in shape.
"There's no reason not to be in good shape," Lawrence said. "When I'm in shape, I can't be beat. I come in early and I leave late. Dominick has been like a big brother to me. He's always pushing me to be the best."
Lawrence only compiled a 1-2 record in the UFC, but one of his fights came against current featherweight title contender Max Holloway. If you ask Lawrence, the featherweight and lightweight divisions in all of MMA are "stacked everywhere" and have the "better athletes."
"We're good wrestlers and strikers," Lawrence said. "I relish it. I've never had the easy road in my career, and Max is tough. But I have no doubt I can be on top in Bellator."
Lawrence is slated to face Japanese prospect Isao Kobayashi, who holds an 18-2-4 mark, in a preliminary fight at Bellator's Dynamite 2 event. Lawrence is looking to rebound after coming up on the short end of a split decision loss to Emmanuel Sanchez last year.
"You can't win the fight based on one kick," Lawrence said of his bout against Sanchez. "I held him down the whole third round. I was splitting my time in two camps leading up to that fight, but now I'm in the best shape of my life and I've dealt with my weight issues. I put it all behind me, and as long as I'm in shape, no one will beat me."
The second Dynamite card will be followed by the second edition of Bellator Kickboxing. As a former kickboxer, Lawrence is excited to see fights Joe Schilling face Hisaki Kato. He doesn't rule out a return to kickboxing for himself, either.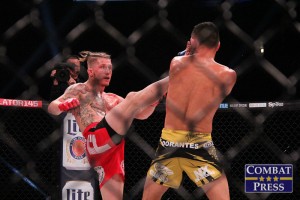 "I'm a fight fan. I like to see fights," Lawrence said. "Kickboxing is different and unique, and I think it's great that [Bellator President] Scott Coker is bringing it back. If they asked me to do it, I would maybe consider it. I'd have to check out those opportunities if they present themselves. I'd love to lace up the gloves and head-kick somebody."
As a fight fan, Lawrence remembers the earliest Strikeforce cards the most fondly. Those cards featured fighters like current UFC welterweight champion Robbie Lawler, Nick Diaz, Dan Henderson, Paul Daley and Renato "Babalu" Sobral.
"I think the new fans may not know about it," Lawrence said of Strikeforce. "These were true, young legends taking each other's heads off. I remember the crazy brawls when Nick Diaz fought Paul Daley, or when Hendo fought Babalu. I heard Hendo drop the 'H-Bomb' on Babalu — it sounded like a baseball bat."
When it comes to Lawrence's fight at Dynamite 2 against the southpaw Kobayashi, there's no secret to what Lawrence's focus will be.
"I'm trying to get it to the ground," Lawrence said. "I train with southpaws, and I've had him in my head the entire time. I'm ready to knock him out and get him out of my head."
---
Advertisement

---