Injury. It's the most feared word in all of MMA. It can put a division on ice for years waiting for a champion's return. It could end a fighter's career for good. It's the cause of a fighter never being the same competitor again. Fighters such as Cain Velasquez, Frank Mir, Dominick Cruz, Daniel Straus, Anderson Silva and Georges St-Pierre have seen the effects of injuries throughout their lengthy and storied careers. Sometimes fighters are able to overcome these injuries and get right back to their successful ways. Other times, they just never look the same. Bellator 155's Georgi Karakhanyan almost fell into the latter category.
Karakhanyan made his Bellator debut at Bellator 13 in 2009. He was successful against Bao Quach, winning in emphatic fashion by way of a flying knee. Karakhanyan met with mixed results in his next three outings, losing fights to former champions Joe Warren and Patricio "Pitbull" Freire and notching a win over Anthony Leone sandwiched in between the losses. That was the last time Bellator fans would see Karakhanyan until he made his triumphant return in 2015 with a win over then-surging featherweight Bubba Jenkins. But it was a short-lived success. Karakhanyan lost out on his shot against then-champion and former foe Pitbull and ultimately dropped a decision to Daniel Weichel. To any fans watching, though, Karakhanyan just didn't look the same. That's because of that treacherous word. Injury.
"I got the [ACL] surgery May 1 [2015] and then, after that surgery, I had a lot of scar tissue," Karakhanyan told Combat Press. "So I went in again [for surgery], and they put me to sleep and they got all the scar tissue. So I had May 1st surgery, June 24th was another surgery and then I fought [in] December, so it was pretty quick for me. I still fought because, well, first of all, of course I thought I was going to win and, second of all, I financially needed help.
---
Advertisement

---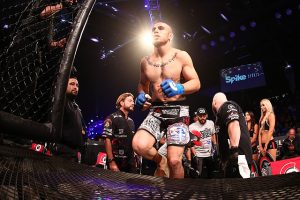 "After my Weichel fight, I had to go back and get a few more surgeries and start rehabbing right away. I rehabbed it for about two months, and as I was rehabbing, I was still training, of course. I've just been training and getting ready for this. I was just waiting for the phone call, and I finally got the phone call. They gave me that name and I signed the contract.
"I think that anytime that you go through any big surgery like that, it's a big test. Compared to a lot, it's nothing. Bouncing off from a loss, it's nothing. But going through a surgery like that — through those dark moments [and] those depressing moments — it's fucking crazy. So coming back and looking at 2016, it's been pretty good, you know? I'm healthy and everything is good."
The name Bellator gave to Karakhanyan wasn't just any name. It's the name of former Bellator featherweight champion Pat Curran, whom Karakhanyan will meet at Bellator 155. Curran made his Bellator debut just one year after Karakhanyan, but he has been a staple of Bellator's roster ever since, picking up wins over such notables as the aforementioned Warren, Patricio Freire and current featherweight champ Daniel Straus. Curran most recently bounced back with a win over Emmanuel Sanchez after suffering back-to-back losses for the first time in his 28-fight career. Karakhanyan feels that his biggest advantage is the very same that hindered him in his last fight.
"I see my advantage being […] knowing that I went through what I went through last year," said Karakhanyan. "I'm glad I went through some moments like that because, to me, when I was fighting Weichel, I knew that I wasn't capable of doing certain things physically. So I told myself after the fight that I just can't wait to be 100 percent physically so I could do all these things, because I feel like as a fighter it made me… it puts a different drive in your mind. I feel like my drive is way crazier than I've had the past few years. The main thing is going to be, in there I'm just going to be very awkward and very intelligent and just be different. Just do different things. At the end of the day, I cannot step inside that cage and fight the same way I fought Weichel [or] that I fought Bubba Jenkins. You have to evolve and you have to do different things, because there's YouTube [and] people fucking record [fights and] they take pictures. So you have to evolve and you have to bring in a lot of different things. So I feel like I'm just going to be way different. I have that pressure on me to be a different fighter every single fight."
Karakhanyan touched on a tool that now is a huge factor in MMA: the internet. Because of the internet, fighters are able to analyze and break down each of their opponents in search for their weaknesses. It's how a lot of fighters gain an advantage. Karakhanyan is not one of those fighters.
"I do watch my opponent's videos, but I try not to focus too much on them because, like I said, we're evolving," said Karakhanyan. "I hope Pat Curran is evolving too, but I cannot look at too much of what he does and just get it in my head, because I'm just creating all this extra stress in my head. To me, it's focus on me and whatever I can do to make myself better. If I plant it in my head that, oh, Pat Curran does this or Pat Curran throws that, I already step in there with a losing mindset. That's how I think.
"But if I go in there being relaxed and just focusing on every single second [and] every single minute on myself, of what I'm going to do to him, it's way harder on you as a fighter. And that's the one thing I think I've learned from my whole career [is] that creating all those pressures and all that stuff, putting it in your head he could do this, he could knock you out, he could this, he could take you down, he could submit you… it's just a waste of fucking time. I just need to focus on myself.
"I could give you a perfect example. When I was fighting Bao Quach for Bellator, they flew us out to Atlanta and every single time that they would record me, Bao would tell me, 'Hey man, do one of your flying knees. Do one of your flying knees,' and I was like, 'Man, this motherfucker has an intent with these flying knees.' And in the fight, you know what happened? He got knocked out with a flying knee. So maybe he was just thinking about that flying knee too much."
To make things even more interesting, it was recently announced that Curran had left his longtime staple gym, aptly named Curran MMA, to go and train in South Florida with the famed Blackzilians camp.
"Anytime that you change gyms and go somewhere else, it tells me that you are mentally quitting because you don't know what to do to get better and you gotta go somewhere else to get help," said Karakhanyan. "I've had a lot of offers in the past to go to a lot of top gyms, but I feel like — man, I don't know how to put this — I've already created a relationship with my coaches. They know me. I know them and [they] tend to be very honest with me when they step inside the cage in between rounds and say, 'Hey, you're losing this round. You gotta pick it up.' So I have that trust in them. They kind of know me, too, so it's just…
"Maybe [Curran] needs a change. Maybe he wasn't getting good training. But then he should look back — that's where he was at when he won the belt. I just hope that he's the best when he steps inside that cage. The best Pat Curran ever. I'm getting ready to face a good quality opponent like him, and I'm going to do anything I can to try and go for a finish. He's fought a lot of good fighters."
With the aforementioned featherweight champ Straus still recovering from a broken hand suffered in his title-winning bid at Bellator 145, the division is busy looking for the next title challenger upon his return.
"I hope [a win] puts me where I'm just standing on top of Pitbull's head and just looking over the whole division," said Karakhanyan. "I feel like not just a win, but I've been saying in previous interviews that no one has finished Pat Curran. I think me as an individual [and] me as a fighter, I always want to do that extra — oh, Pat Curran's never been finished? OK! All right! We'll see then what's going to happen May 20th. So I have that in the back of my head, but of course I want to go for an exciting fight and I'm not going to be there going, 'OK, I gotta finish him. I gotta finish him.'
"So if it's done in a good way, like it's a good fight and I put on a great and exciting show, I want to be on top of the division. And if Straus is healed up [and] if they don't give that kid the title shot, I'll take that. If they want me to fight, I'd like to fight in Bellator Kickboxing. Keep me busy. If they have any shows in England — I know they have one coming up in England — I'd love to jump on that one [and] fight at 155 [pounds]. But the main thing is to just keep me busy."
It's amazing to think that just four fights ago, Karakhanyan had just won and then subsequently lost the World Series of Fighting featherweight title. The move back to Bellator surprised most people, because they figured that Karakhanyan would look to regain the belt that was taken from him. Instead, Karakhanyan went to familiar territory. It wasn't because of the money or lack of challenge, but for an entirely different reason. He wanted recognition.
"I signed with Bellator in 2009, and that was the biggest promotion I had ever signed with," he said. "I lost three fights [and] I went [and] I fought in Dream and beat their champ, and I won [the] Tachi Palace belt [and] World Series of Fighting belt, and it was time for me to settle down. To settle down, you know ,and find a very good organization that has a very good mind behind it. And that mind that I'm talking about is [Bellator President] Scott Coker's mind. His vision is very good and very different from all the other promotions, especially with the Bellator Kickboxing. I feel like I can go in with a few fights and win the belt in kickboxing. I had some unfinished business here, and also it's great to be with an organization that appreciates every single fighter. They don't appreciate just that one fighter that makes all the noise for you. They appreciate every single fighter."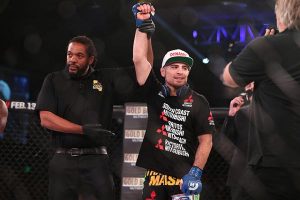 Appreciation goes a long way. That's why Bellator has been able to scoop up some pretty prominent fighters recently, including former UFC lightweight champion Benson Henderson, former Strikeforce champ Josh Thomson and, most recently, former The Ultimate Fighter competitor Matt Mitrione.
"I'm not in this game to fight all the new guys and just build my record," said Karakhanyan. "I'm in this game to really test myself mentally and physically, where I'm at, and fight all these tough fighters with the big names.
"Bubba had a big mouth, and it was a good victory. I know he's doing really good. He's on like a four-fight win streak [and] being that last kid he fought was a pretty tough opponent. I wish the best for all the opponents that I beat. I want them to be really good."
It's a unique perspective to have, but an enlightening one at that. For right now, Karakhanyan has his sights set on being the first man to finish Curran and move one step up the ladder toward a showdown for the featherweight title.
"As far as prediction, I'm not a psychic." Karakhanyan said with a chuckle. "I have a lot of faith in myself, and I just want to go out there and throw a lot of awkward things to throw him off. I'm going to do anything I can to get my hand raised and keep it awkward for him and keep him guessing."
Karakhanyan would like to thank Reebok "just because they pay me a little more than what they pay all of the UFC fighters, and I saved all that money and it got me through my last year." He would also like to thank his sponsors: Venum, Everlast and Original Grappler. He would also like to thank anyone who supported him through the last year when he was going through the lowest moment of his life. Follow Georgi on Twitter:
@georgimma
---
Advertisement

---