Life is either a daring adventure or nothing at all. — Helen Keller
It's often said that with no risk comes no reward. There are entire books devoted to motivating people to take risks, to live up to their potential. People make careers — hell, millions of dollars even — by encouraging people to find their success.
And every MMA fighter knows this, deep down in their soul. You can't get in a cage without understanding that the risk also brings opportunity. That the more dangerous the opponent, the bigger the "W."
---
Advertisement

---
"Why sit on a couch and do nothing?" James Terry asked in an interview with Combat Press. "I'd rather go out and take a risk. The highs of fighting way surpass everything else. Anything worth doing is hard and challenging. It's not easy to prepare, but there is nothing like that adrenaline before the fight or after the win. I've been wrestling my whole life. But I had unfinished business and it's manifested, it's motivating my MMA career.
"I think I am the best guy not on the UFC roster, and I think I can beat anyone in the world. I know all fighters say that, but I mean it."
Let's back up a little and catch up on the James Terry biography. Terry was born in Alaska. He started wrestling at the ripe old age of five years old. At 10, he and his mom moved from Alaska to Arizona.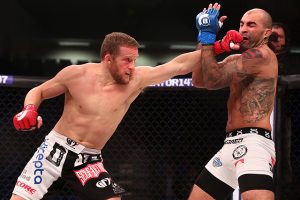 "My parents divorced and there just wasn't enough opportunity at that time for a single mom," said Terry. "She needed a climate change — the weather in Alaska just wasn't any good for her asthma — so we picked a city that would be good for [her] health and my wrestling. We ended up in Tucson."
Terry had a decorated high school career and made All-State three times. He went to Pima College, where he was a two-time All-American and placed third at Nationals. He moved on to Arizona State, which has served as home to many champions of wrestling and MMA. He was there for one and half years before he tore his hamstring.
"It was pretty debilitating, but I was young and I healed OK. It just took time," he explained.
There was just one problem with a future in wrestling.
"It's hard to make any money wrestling unless you coach," said Terry. "Fighting has more potential. Plus, I had been wrestling since I was five, but now I've got new tools to use. In 2010, I only had two knockouts, and since then all my fights have been won by knockout. I've evolved into a dominant striker. I feel like a kid with a new toy — he wants to play with it all the time.
"I think it was inevitable. My coach is Cung Le, who is… well, he is a super high-level striker, and it's natural to adopt your coach's style. The adrenaline of knocking someone out, it's what I am always going to go for. I hate to lose a fight by decision when I thought I've won when it goes to a decision. I feel like I am the poster boy for bad decisions, but part of that is my fault. I am just addicted to knocking people out. In some of those fights, maybe I should've wrestled more. Not many of the guys I face can wrestle with me. Power and striking can be a double-edged sword, I guess.
"Going for the win — it's hard to judge a fight when you're in it. And, sometimes, judges just aren't as educated as they should be. Judging can be very subjective, and it's seemed that every time I was in front of boxing judges when I wrestle more and vice versa. But since 2010, all the fights I've won I have won by knockout."
Terry has a respectable record of 16-9. Three of his losses were split decisions. He has never been knocked out and 10 of his wins come from knockout. He has fought in Strikeforce and Bellator. He is fresh off a loss at Bellator 147 in December. He fell to Nick Barnes via rear-naked choke and has something to prove.
His next bout comes on Saturday. Terry will face the 11-5 Randall "Buddy" Wallace in Richmond, Calif., as the co-main event for Conquer Fighting Championships 2. It's time for the 35-year-old Terry to make his run to greatness.
"Buddy is a tough guy," said Terry. "He is a strong striker, and somebody is going to get knocked out. I say, 'Good luck knocking me out.' I've been lucky not to get caught. I know that Buddy could do it — he's got knockout power and knocked out tough guys. He is a dangerous opponent, but, Iike I said earlier, I believe I am the best. I have more experience and I am the better fighter."
Fighting a dangerous fighter is a risk. It can keep a guy from championship gold. A loss can set a guy back a few fights. At Terry's age, that's unacceptable. He wants to stay on track.
The dangerous fighter can also put the winner on the fast track to his goals. With no risk comes no reward. You won't find Terry sitting on a couch watching the world go by. He's the guy putting in all the work in the gym so that he can grab life by the horns and wrestle it to the ground. Maybe he'll even give it a little ground-and-pound while he's at it.
James would like to thank his sponsors: GFY Gear, Xicepta, Score Clinic, CGR, ATR, Morning Crane, Lana's Egg Whites, Mind Fit, SCS. He would also like to thank Guerrilla Jiu-Jitsu, Combat Sports Academy and Smash Gyms.
---
Advertisement

---