As the world presses into the second quarter of 2016, a lot of exciting things are happening in MMA. In addition to the many potential title changes in most of the large promotions, the return of Jon "Bones" Jones from his legal hiatus, and the up-for-grabs state of most women's divisions, Bellator will finally be making the push into international markets. The company's first overseas event takes place this Saturday night when Bellator 152 lands in Italy.
Bellator has experienced many changes and additions in the last year, and a big one comes to a head this weekend in a co-main event that pits Bellator vet Brian Rogers against Italy's most famous fighter, UFC veteran Alessio "Legionarius" Sakara. The most interesting thing about this match-up is that both men are former middleweights who are finding great success in the light heavyweight division.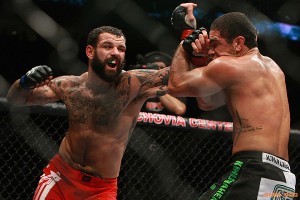 The 34-year-old Sakara is definitely the more storied fighter of the two. From 2003 to 2005, he went on a 10-3 run, spanning three continents, before entering the UFC in October 2005. Over the course of the next eight years, he fought the who's who of the UFC middleweight division, but was released from the promotion after losing four fights in a row. The interesting thing about his latter years is that he was fighting quite depleted at 185 pounds after six years of fighting 20 pounds heavier.
---
Advertisement

---
The shift to heavier weight divisions is nothing new to MMA, especially in recent years. Guys are tired, both figuratively and literally, of making huge weight cuts, and the sport has seen a shift. Anthony "Rumble" Johnson is killing it at 205 pounds, and he used to fight at 170. Former lightweights Donald Cerrone and Benson Henderson have found success fighting 15 pounds heavier. It just makes sense for guys like Rogers and Sakara to follow suit.
After getting cut from the UFC, Sakara, who trains at American Top Team in Coconut Creek, Fla., took a couple fights under the Final Fight Championship banner in Austria to get re-acclimated to the light heavyweight division. However, in December 2014, he suffered an injury halfway through the first round. He came back in September to score a TKO only a minute and a half into the fight.
"I [tore] my biceps, but if you watched the fight, you will see that I was joking with my opponent, because at 205 [pounds], I felt very different," Sakara told Combat Press. "I have more energy, I have more power, and more everything, because I didn't need to cut as much weight. My second fight, I won very easy from the mount position, so now I'm coming back to a big event. I will give 100 percent on April 16."
Much like Rogers has mentioned in recent interviews, Sakara feels a thousand times better at 205 pounds than he did at 185. The fact that he is now under contract with another large promotion and his debut happens to be his first fight in his home country in seven years, well, that's just icing on the cake.
"I'm very happy that Bellator is coming to Italy, because Italian fans are fans of big events," Sakara said. "They are big fans of MMA and kickboxing, and I am very happy to fight in front of my fans. My last fight in Italy was in boxing in 2009. I'm very happy to be fighting back in Italy.
"Bellator, for me, I love it. This is history for me. One year ago, I began doing commentary on Italian television for Bellator. It was very nice. I love the fights in Bellator. This promotion is the future, because they are now doing events in kickboxing, too. I love striking, and, for me, it's the best."
Sakara is not one to fight tomato cans, and Rogers is anything but. Rogers trains at Factory X Muay Thai in Englewood, Colo., with guys like Chris Camozzi, Dustin Jacoby and Gilbert Smith. He also works at Landow Performance for his strength and conditioning. Rogers has had mixed success at middleweight. His last fight, which came against Virgil Zwicker at Bellator 147, was his light heavyweight debut, and he won by submission in the second round. The veteran Sakara, who is a heavy-handed striker that never backs down from a challenge, feels good about this opponent.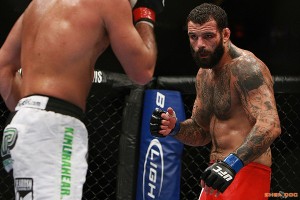 "I feel it's very good for me," said the Italian. "I am used to fighting big names, and Brian Rogers is a big name in Bellator. I need to 100 percent win this fight, and I think it's a good match-up."
Bellator 152 takes place at the Pala Alpitour in Torino, home of the 2006 Winter Olympic Games, but that's actually over 400 miles away from Sakara's hometown, so some of Sakara's followers may still have to watch on Spike TV.
"I'm from Rome," Sakara explained. "I haven't spent too much time in Torino. Italy isn't like America. It's very small, but everything is within several hours by train, so some of my friends and fans can't come watch the fight. If Bellator comes to Rome, that would be crazy. I don't know if they have a big enough arena if Bellator was to come to Rome."
Sakara is back in the saddle once again, and he is very excited about his new venture. He already has 30 fights under his belt in MMA alone, but he is relatively young and has quite a few miles left on his chassis. On Saturday night, he will be ready to begin the next chapter of his career. What better place to do so than in his Italian homeland?
"At 205, I'm a different fighter and more of a warrior. People will get the chance to see the real 'Legionarius,' a Roman soldier."
Sakara would like to thank all of the people who have supported him throughout his career. Follow Alessio on Twitter:
@SakaraLegio
---
Advertisement

---