Invicta has been home to some of the best fighters in the world, and the organization continues to house some of the best fighters in five weight classes. One of those talents is Amber Brown, a fighter who is quickly ascending the atomweight ladder.
Not long ago, Brown was an unknown fighter from New Mexico looking to make a name for herself. Opportunities in women's MMA are few and far between many times, so when a large MMA organization came calling, Brown made it her prerogative to answer the call.
"The biggest win of my career was definitely my Pancrase fight against Kikuyo Ishikawa," Brown pointed out in an exclusive interview with Combat Press. "That win skyrocketed me into the rankings from being really a nobody. I feel it also got me noticed. It was a huge win for me! Both of my Japan fights were huge. Even though the first one is a loss on my record [against Emi Fujino], I gained so much from it. I had nothing to lose."
---
Advertisement

---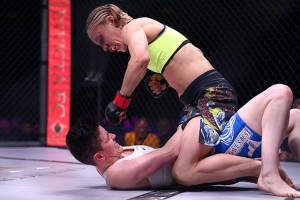 The win over Ishikawa and the fights in Pancrase undoubtedly made Brown a player at 105 pounds. However, the division is not exactly brimming with talent. However, the division is also young, meaning there are a lot of women waiting for their chance.
"I feel the talent pool at 105 is not very deep," Brown admitted. "I do feel that the strawweight division has hurt the 105 a bit, because most of those girls left [to fight at strawweight]. I think there are a lot of tough 105ers out there that just haven't gotten signed or noticed yet."
Women like Michelle Waterson and Jessica Penne, who were top atomweights, made the move to strawweight already, pulling two of the top fighters out of the division. It's not just the UFC pulling talent that's hurting the division, though, and Brown looks to another recent hot topic as to what could continue to hurt the 105-pound division. Following the death of a fighter in the ONE Championship organization, as well as a weight-cutting conference in California that made recommendations to the sport, there is much speculation that many fighters' futures could be in weight divisions above where they currently compete. Since atomweight is the lowest division in women's MMA, that could mean a mass exodus.
"I think within the next year or less, there will be lots of rule changes for weight cuts," Brown predicted. "I am a pretty big 105er. However, I have never had trouble making weight. If and when they decide to make some changes, I think I would have no choice but to go to 115, but I think I can be very strong at that weight. For now, I like 105."
Despite Brown's own belief that her biggest win was over Ishikawa in Pancrase, many fans would argue that her destruction of Catherine Costigan stands as the best win on her resume. Costigan was an undefeated Irish fighter who rode in on the popularity wave that Conor McGregor had made for Irish fighters. Costigan was favored by many to beat Brown, though many who religiously watch MMA saw it the other way around. It made for an intriguing bout on paper, but Brown quickly showed the MMA world that she was the vastly superior competitor.
"My fight with Catherine was very quick," Brown said. "I'm happy I was able to finish it that fast. I did expect it to last a little longer or be a little tougher, but that's what we train for, right? You expect the worst, and that's not always the case. I wish I wouldn't have run in and clinched with her right away, but it worked. That's all that matters now."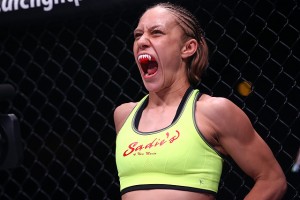 On the heels of that win, it looked like Brown would get a title shot against champion Ayaka Hamasaki. Brown had won both her Invicta bouts convincingly and climbed into the top five of the atomweight division. There appeared to be no other clear contender outside of Jodie Esquibel. However, Invicta has opted to give Brown another bout before that potential fight. This time, Brown goes up against UFC veteran Lisa Ellis. Ellis, a pioneer of women's MMA, has been fighting for over a decade, but she comes into this bout on a losing streak. She hasn't won a fight since 2012, but that is because she took time off to have a child and focus on her family for a couple years leading up to the UFC call.
"Even though Lisa is fresh out of the UFC, I expect her to be the toughest Lisa we have ever seen," said Brown. "I think she will be totally on top of her game and really hungry for a win. I train hard day in and day out, and I know if I come in on top of my game and perform at my best, I can beat anyone in the world."
That's the type of confidence that carries much weight with fans and MMA pundits. Brown and Ellis looks to be a fun fight of new school vs. old school. A victory for Brown would continue her winning streak and add a massive name to her resume.
"If this win doesn't get me a title shot, I don't know what will," Brown said. "It definitely should get me there. I have proven myself twice now, and I should be the No. 1 contender. I want Ayaka next!"
---
Advertisement

---