Fighters have to be ready for anything. In MMA, anything can happen and usually does. It's what keeps fans coming back for more. It's what most fighters love about the sport — the challenge, the need to be prepared for the ground or to be ready to capitalize on the mental mistake.
It's hard to live life ready for anything, but it's so important. Just ask Jocelyn Jones-Lybarger. Her next fight, which takes place Saturday and pits Jones-Lybarger against the unbeaten Tecia Torres, is a great example.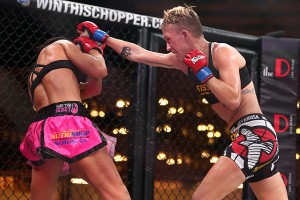 "After my win against Zoila [Frausto], my coaches and I had a feeling," Jones-Lybarger told Combat Press. "I felt like something was coming, so we got right back in the gym as soon as possible. With all these 115[-pound] fights scheduled in November and December, we felt there was a chance of someone getting an injury. No one wants anyone else to be hurt, but when I got the call I was super excited. I was crying, I was so happy.
---
Advertisement

---
"The RFA does a great job of preparing fighters for the Octagon and they are all so supportive. [RFA President] Ed Soares was the one who called me to let me know Michelle [Waterson] was hurt. I will miss them, and I've been honored to fight for them and make the jump with them. But, I am ready. I know I am going to be nervous — I am always — and this is the biggest card. I mean, the whole card is stacked."
UFC 194. You may have heard of it. José Aldo vs. Conor McGregor. Jones-Lybarger has been working her whole life to possibly become an overnight sensation. She and her twin sister Jillian have always been athletic, playing everything from roller hockey to water polo. They both played basketball in college and got into MMA together.
One day they were driving by a gym and saw a guy sledge-hammering a tire. They were looking for something to keep them in shape. They'd heard of famous UFC fighters like Chuck Liddell, but they didn't know regular people trained MMA too. So, they signed up. And they liked it. And they were good. Really good. Promoters loved to put them on the same card and bill them as "The Lybarger Twins."
The twins decided to branch out and forge their own identities after a lifetime of togetherness. Jocelyn trains in Glendale, Ariz., at the renowned MMA Lab with Benson Henderson, The Ultimate Fighter alum Chris Gruetzmacher, Efrain Escudero and fellow RFA phenom James Nakashima, along with so many others "killers."
Jocelyn tore through her first three amateur fights and then lost two — one to Ashley Cummins by submission and one to Stephanie Gonzalez by decision. Then she closed out her amateur career against Ashley Yoder.
Her professional record of six wins and only one loss is quite good. As expected, the level of competition has gotten better and better. Her last bout came against Bellator's only female champion, the aforementioned Frausto. Frausto was a groundbreaker in women's MMA and has defeated some of the best in the world, including former No. 1 strawweight Jessica Aguilar, Megumi Fujii and Jessica Penne.
A title fight against Frausto wasn't the plan, though. Originally, Jones-Lybarger was scheduled to face Brazilian phenom Kinberly Novaes. However, Novaes had to pull out of the fight due to being pregnant. (She had a lovely girl, by the way.) The RFA had just signed Frausto, likely with the plan of having her face the winner for the first title defense.
"We really didn't have to change that much," said Jones-Lybarger in a previous interview with Combat Press. "[We] re-calibrated for a five-round fight instead of three, preparing for Muay Thai. Kinberly was shorter, but also a strong striker, but it really is mostly the same thing."
Jones-Lybarger scored the win with a unanimous decision nod over the legendary Frausto. It was her biggest fight to date.
"Not much surprised me about that fight," she said. "It went according to plan. I knew I wanted to control the pace and control all five rounds. I wanted to stand and bang, and that is what we did mostly. We did a little wrestling, a few takedowns, but I really wanted to show that I could compete on that level with her.
"I thought she would throw more, actually. My jab hurt her in the first. Coming into it, I knew I had to punch more, throw three- to five-punch combos instead of just the singles, and I was able to land a lot of them."
The decisive win has set Jones-Lybarger up for her next big fight on one of the biggest cards the UFC has ever known. She goes up against the unbeaten Torres, one of the girls who was supposed to give Carla Esparza a run for her money on The Ultimate Fighter 20, but lost in the opening bout against Randa Markos. Torres was called back when another fighter suffered an injury and then scored two wins before succumbing to the eventual champ Esparza.
"I know I have got to get to work now," said Jones-Lybarger. "This is the time to showcase my skills and show everyone why [the UFC] called me. I am not trying to get the title right away. I gotta do work now. We both have a lot of decisions on our record. I know that against her I am going to need to use my feet. I don't mind going to the ground, but I really like to stand. She doesn't like to get hit. I have a lot of respect for her, but I know she doesn't like getting hit.
"My plan is the same as with Zoila. It's hard to throw bombs when you're going backwards. So I plan on using my reach advantage and controlling the pace and the space. It's not going to be easy, but I am ready."
There is a daily grind, no matter the job, and fighting is no different. Training, technique and strength and conditioning are the fun parts. However, day in and day out, even they can start to weigh on a person. Toss in eating properly, no booze, getting up early, going to bed early and all the promotional duties, like talking to reporters, and the life of a fighter is not quite so glamorous as you may think.
"Coach [John] Crouch keeps all our feet on the ground," said Jones-Lybarger. "And we see how Ben is; he shows us how we can be, how we should act. He shows us how to be a champion everyday in the gym.".
Kevin Eubanks, jazz guitarist and former leader of The Tonight Show band, once said, "Inspiration is one thing and you can't control it, but hard work is what keeps the ship moving. Good luck means, work hard."
Being prepared means having a plan, having a goal, and keeping an eye out for opportunities that line up with your goals. Knowing who to surround yourself with can go a long way toward determining your success or failures.
One major component of Jones-Lybarger's life is her family. Her sisters, parents and other members of the family give her support. And her wife, Jana Jones-Lybarger, is the glue that holds her life together.
"It's crazy. I am the only married lesbian with kids in the UFC now," Jones-Lybarger said. "I am a wife, a stepmom, training full-time and bringing up two wonderful girls.
"They are very active. Kinsey was just at a three-day swim meet in Tempe on the ASU campus. It's so exciting to watch them strive for success, even though the scheduling isn't easy. A lot of the moms carpool and take turns driving. And Jana is a survivor, a cancer survivor, who now works at the Cancer Treatment Centers of America. She makes everything happen. They've been great, in every way."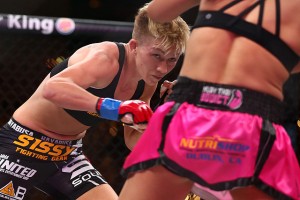 "Jana is phenomenal," said Jones-Lybarger in a previous interview with Combat Press. "She lets me do what I need to do to be successful. She… I am just so lucky; she is superwoman and somehow makes all my doctor's appointments, sends applications, cooks, everything… I wouldn't be able to do any of this without her."
In MMA, anything can happen. Black belts get subbed by much lower belts. Expert strikers get knocked out cold. Huge underdogs surprise millions of fans and all of Las Vegas, especially the bookies. A fighter has to be ready for anything. Surprises come at every turn. Injuries and other events can cause a change of opponents. Opponents might decide to attack what you think is your strength, or make serious and uncharacteristic mistakes leaving you the opening to secure the win. Any and all of it can happen in any given fight.
Denzel Washington put it quite well: "I say luck is when an opportunity comes along and you're prepared for it." Jocelyn Jones-Lybarger is ready to seize this chance by the ears and box it into submission, or choke it, or outlast it. Whichever way the win presents itself, she is ready to take it.
Jocelyn would like to thank her sponsors: Cancer Treatment Centers of America, Sissy Fight Gear, minoTOR, Yates Buick and GMC, Power to be Found, Avanti Industries and Essential Fighters. And she's got special shout-outs to her wife Jana, to whom she says, "I love you," and she gives many thanks to everyone at the MMA Lab. Follow Jones-Lybarger on Twitter:
@mmajocelyn
---
Advertisement

---