Bellator lightweight David Rickels has faced his next opponent, Michael Chandler, before. But if you ask "The Caveman," he'll tell you it was a different version of himself in the cage that night in 2013.
"I'm formerly Caveman 1.0," said Rickels, referring to his first fight with Chandler, which ended in a first-round knockout loss for Rickels. "But now I'm Caveman 2.0 — unbeatable, unbreakable and invincible."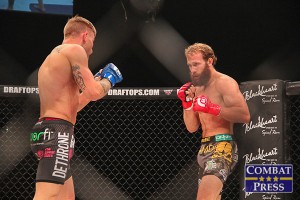 Rickels and Chandler will square off in a rematch at Bellator 145 on Nov. 6. Rickels has made changes in his training camp. He's made personal changes, too.
---
Advertisement

---
"I'm a better human being, which equals a better fighter," Rickels told Combat Press. "I'm extremely happy, and I'm excited to show all the changes I've made to my camp."
Rickels admitted he's "a little crazy," but it "comes and goes."
"I'm like a little kid. I take a lot of joy in being a goofball," Rickels said. "I don't take a lot of life seriously, except MMA. This is my job. That is part of my evolution. I see a lot of things differently, and I dedicate myself to this game."
In addition to increased happiness and a renewed focus on fighting, Rickels has also improved his conditioning. These changes all add up to what Rickels hopes is a better showing when he clashes with Chandler.
"There's no easy fight with Mike," Rickels said. "It's going to come down to who wants it more. I'm not the same guy as last time. I'm not just going to fall over. When he finds that out, it will be a long night and a nitty, gritty war."
Rickels is coming off a no-contest against John Alessio at Bellator 139 in June. Rickels was on his way to finishing Alessio, but an unfortunately-timed knee to his downed opponent resulted in the fight being waved off. That fight partly inspired Rickels to make the aforementioned changes to his training.
"It was a pivotal point in my career," Rickels said. "The way that fight ended sucked. My body got ahead of itself, so I pushed all my chips to the center of the table. I never want to work at a desk, ever."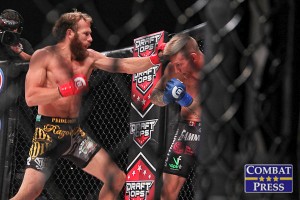 Rickels sports a 16-3 overall record and has faced some of the best Bellator has to offer, including Chandler, Saad Awad and Patricky "Pitbull" Freire. Rickels believes a victory over a former champion like Chandler puts him in the conversation for a lightweight title shot. The belt will be contested on the same card that Rickels fights on, when champion Will Brooks faces Marcin Held.
Rickels thought he would eventually square off with Brooks during the old days of Bellator's tournament format, but the fight never came to fruition. Rickels believes both Brooks and Held would present tough challenges.
"Brooks is very athletic and has improved skills and belief in himself," Rickels said.
No matter who Rickels might face after his match-up with Chandler, he is glad to have Bellator President Scott Coker and matchmaker Rich Chou helping to guide his career.
"I really like his head," Rickels said of Coker. "He's not afraid to dream big, and he is a fan of Pride, like I am. He loves the entertainment value, and Rich Chou is a great matchmaker. They treat the fighters very well."
---
Advertisement

---