There are a lot of Americans whose workdays are spent behind a desk in a cubicle. They spend eight hours staring at their computers, talking on phones and attending dreadful and possibly dreaded meetings. If this describes your work life, look around. You could be spending your workday next to a warrior.
DeAnna "The Argentine Assassin" Bennett sits at a cubicle like a lot of us. But making it in corporate America isn't her big dream. Selling security systems pays the bills, but it's not what keeps Bennett going. Being a champion MMA fighter is, though, and she is well on her way.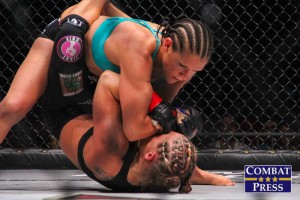 "The call center helps balance my training. They are both drastic sides of my personality," explained Bennett in an interview with Combat Press. "'Fat DeAnna' likes to sit and eat, while 'Beast DeAnna' loves to work and sweat. So both of them get to do what they want almost every day.
---
Advertisement

---
"'Fat DeAnna' wins on Sundays, though, when my boyfriend and my dog and I snuggle up and watch Netflix together — mostly 30 Rock episodes lately. She doesn't necessarily like the drop to 115 [pounds]."
It's worth noting that Bennett, who stands 5-foot-4, is no giant. However, in her pro career, she has won every fight. Her record stands at 7-0, but that's not the most impressive part. Bennett has competed at 135 and 125 pounds despite 115 being a fairly easy weight cut for her. She's also faced off against some amazing fighters, including Julianna Pena, Sharon Jacobson, Michelle Ould and Jennifer Maia. She may have been outsized by those opponents, but she still outperformed them all and managed to score two submissions and two TKO finishes.
"The biggest reason to drop was to be the best fighter I could be," said Bennett. "And once I started working with a nutritionist, I realized I was walking around at the weight I would be right before my water weight cut for 125 [pounds]. I want to be the most competitive I can be. There are some 115ers that are bigger than me, so it's not like I am the tallest. But I feel larger [and] stronger than them. I'm not used to that. Everyone I train with is larger than me — even the other girls."
Bennett's last fight, which came against Norma Rueda Center at Invicta FC 11 in February, was her first at strawweight.
"I am not really happy with my performance," Bennett admitted. "I mean, I am obviously happy I got the win over a very game opponent. But thinking back and watching the fight, I can definitely see some things. I was in a bad place mentally — more worried about getting the win, worried about everything, worried about the people watching — so I fought not to lose instead of fighting to win.
"Looking back, I know I could've finished her and should've finished her. And I am hard on myself. I almost take that as a loss. I am a huge fan of [Georges St-Pierre], and I think we are similar. From what I hear about him, I know I can be a nutcase. If I could change anything about me, I wouldn't be so much of a crazy person.
"I get in my head. Nervous, scared, excited, anxious and then super-excited and happy. It's a real roller coaster. I wish I could be more calm. I think the emotion is good, but need to learn how to master it. I am always ready to get in there and when I get nervous I talk a lot. I think my coach would like it if I had a muzzle [giggles]. When I am nervous, I also laugh uncontrollably.
"But it's also good, because I don't take myself too seriously. Sometimes it seems that the hardest part of fighting is keeping a straight face at the face-offs. After the weigh-ins, when we are supposed to square off for the cameras, it's really hard. There is my opponent trying to intimidate me and all I can think is, 'Oh, she wants to look serious,' and then I start giggling. I remember weighing in against Pena and she was over there mean-mugging and getting twitchy and I was just smiling. It was all I could do not to bust out laughing."
If you take another look around your office, there is a great chance that you'll spot some folks who played sports in high school and maybe even college. There might even be some wrestlers in the bunch, and as long as you don't live in Florida there is even a chance that some played ice hockey. However, the odds get infinitesimal when you're looking for someone who wrestled, played ice hockey and water polo. Well, unless you happen to work with Bennett. Bennett started with ice hockey, one of her loves, at age 11.
"I really really miss it," said Bennett. "I don't play now for fear of injury, but after a fight all I want to do is go skate and play."
Water polo came next in high school.
"That was fun but it's really hard," said Bennett. "Not only are you trying to throw and catch the ball in the water, but the other people are trying to drown you — I mean literally.
"The assistant water polo coach was also one of the wrestling coaches and recruited me."
The rest of her story is a familiar narrative to anyone who reads MMA interviews.
"I loved [wrestling], and after that I started training kickboxing, just to stay in shape," Bennett explained. "Then I found jiu-jitsu and took to it like crazy and then it all started coming together for MMA. Everyone thinks because I started off wrestling that that is my strongest suit, but I don't think so. I am very well rounded and think I am better on my feet."
Most folks who work a regular desk job will never understand what it takes to be an MMA fighter. The sacrifices — time, financial security, dietary limitations — are huge. Most folks work a 9-to-5, go home, make dinner, put the kids to bed and watch TV until their bedtimes. Fighters get up early to do strength and conditioning, work and then spend hours on the mat and with the mitts, honing their craft, perfecting technique and sculpting their bodies and minds to be the best they can be.
"Unless you actually get in there, I don't think you can ever fully understand what it takes. I could try to explain it a hundred times and a hundred different ways, but it's just so much. Most people will never comprehend what we do or why we do it. I know I get hit in the head a lot, so I forget how much it hurts," Bennett joked, "but I love MMA. I have totally shaped my whole life around it and I am going to do everything I can to be the best that I can.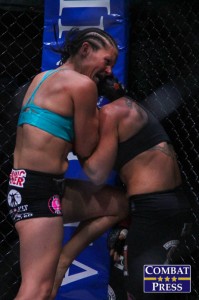 "Physically, it's hard. It's hard on your body. But mentally, that is where it's really hard. But that is the beauty, to push yourself past what you thought were your limits. To find your outermost limits — that is why we do it. That is why I do it, anyway."
Bennett will have a chance to push herself again very soon. She is scheduled to face Katja "The Killer Bunny" Kankaanpää at Invicta FC 14. Kankaanpää defeated the game and highly skilled Stephanie Eggink to win the vacant strawweight belt, but then lost the belt in her first defense to Livia Renata Souza. The Finnish fighter's record now stands at 10-2-1.
"I have faced a lot of tough opponents before, but this is a huge step-up, I think," admitted Bennett. "Honestly, my managers asked me who I would like to face and I had mentioned her. I mean, to face a former champion and to see what I can do against her, it's an honor. It is a challenge, and I love that. I want her to push me. It's my nature to push myself more when I feel this way, and she is making me work hard. Katja was on my mind and when they asked if I wanted it, I said yes. I want to see how I respond to her as a fighter facing that champion. I am excited for the challenge.
"I know it's going to be a good fight. We are both well rounded and I know she is going to throw a diverse bunch of kicks and striking. I've been watching and training for her. I have been working everywhere and I think I have the advantage standing up. So wherever the fight goes, I am ready for it."
Bennett may go to work every day like most of us, but it's clear there is a raging fire and an insatiable engine driving her to greatness.
Take another look around your workplace. Maybe you're sitting next to a warrior. Maybe you're sitting next to someone who has the drive and potential to be a future champion. Bennett's coworkers sure are.
DeAnna would like to thank her sponsors, including Warrior Fuel. She would also like to thank Austin Carter, her strength and conditioning coach from C-4 Training, adding that he "deserves a medal because not only does he have to put up with me, but he has to put up with me at 6 a.m." She would also like to thank her chiropractor, Dr. Dustin Drussel, as well as Quest Training, Le6j1s, her coach and everyone at Four7 Training, adding that they have "made a world of difference and I would follow you anywhere. And I couldn't train without all my training partners who put up with me. If they won't submit, sometimes I bite them, but they still keep training with me." Follow Bennett on Twitter:
@DeAnnaDBennett
---
Advertisement

---