What do you love to do?
The average Joe "loves" to do very little, so the answers get very generic. Whether it's recreational sports, vacations, days off of work, spending time with family, or drinking booze and hanging with friends, there are a handful of stock items that will suit most people. On the flip side, there are some people that really love what they do for work. That's why professional athletes, the ones who really put their heart into their work, are so enviable. What they love and get paid to do is a sport.
Unfortunately, there are too many paid athletes who have no heart. From the wide receiver who only cares about getting paid, the slugger who wants to be on ESPN highlight reels for nothing more than showing off, or the mixed martial artist who insults her opponent personally only to get knocked the hell out, athletes with no heart are nothing more than the black eyes of the sporting world — someone to root against for the wrong reasons.
---
Advertisement

---
Adam Stroup, the Sparta Combat League champion and the top-ranked unsigned middleweight in Colorado, is not about flash. He's not about money. He's not about personally attacking his opponents. Stroup is respectful of his craft. He only cares about putting on a show, and he is more dedicated than many guys who already have contracts in the major promotions.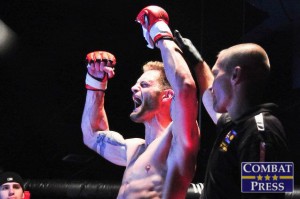 Stroup has been fighting since he was a kid. Between growing up as an ethnic minority in a tough part of Denver, boxing as a kid, earning a few belts in a traditional martial arts system in his early twenties and only suffering one defeat in a combined 14-fight pro and amateur career, other than a brief job building cabinets, he has pretty much always been in the fight game. Fighting is his profession, but it's a lot more too.
"I've got more heart than most guys," Stroup told Combat Press. "This is not just a job for me. I don't see this as something cool on TV. This is my life. This is what I love to do."
Stroup may not be the most technically proficient fighter in every aspect of MMA, but he has varying proficiencies in every modality. His heart — his will to win — is what ties it all together. His only loss was a three-round war that ended in a decision that arguably could have gone either way. He's never been stopped. His opponents, on the other hand, cannot say the same.
All but two of the guys Stroup has defeated were finished, and the others may have gone the distance, but weren't even close on the scorecards. His most recent win was over Frank Lester, a former contestant of The Ultimate Fighter and Stroup's highest-ranked opponent to date.
The fight with Lester was a strange one. Lester had been training between Jackson-Winkeljohn and a boxing gym in Albuquerque, N.M. He seemed to be focused going into the fight, but he lost his cool the day before the fight, getting into it with a commissioner over the timing of the weigh-ins. This unusual behavior carried over into the fight. Lester threw repeated groin shots and then did something that shocked everyone.
"It started out like I thought it would," explained Stroup. "I didn't think he was going to knee me in the balls three times and bite my finger. I thought we were going to be on the feet most of the time. He caught me with a sweep that really surprised me, and I'm surprised he didn't jump on me and start hitting me on the ground. We stayed on the feet for the remainder of the fight, and I figured it would be that way."
Yes, that was not a misprint. In true Mike Tyson fashion, while Stroup and Lester were locked up against the cage, Stroup's left thumb was close to his opponent's mouth, so Lester proceeded to bite down on the finger. It was a very weird event that stopped the action for several minutes. The big question for Stroup: has that ever happened before?
"Not since I was a kid," Stroup joked. "It's pretty weird when somebody clamps down really hard on you like that. It's really freaky, you know? My thumb was numb for about two weeks and then it came back."
After the fight resumed, the action started off quickly. Stroup pressed Lester, got in close with some solid strikes and locked in a standing rear-naked choke to earn the submission at the 2:19 mark of a fight that seemed to last 20 minutes.
One of the most frustrating things for somebody who has dedicated so much to their craft is not getting their fair shot. Stroup is a lot like Tim Tebow in terms of heart, but they are polar opposites when it comes to talent and performance. Tebow is a hard-working athlete, and so is Stroup. Both men will do everything in their power to earn a shot at the top of their respective games. However, Tebow is now on his second shot in the NFL, and he is a miserable quarterback at that level. Stroup has gotten no love from the big promotions, except for a shot at TUF almost two years ago where he got one of the toughest draws in the initial round to get into the house. If Tebow can keep getting shots, why can't Stroup? Not only does he have the heart, but he has the skills to back it up.
As he was patiently waiting to get a call, Stroup was lined up to defend his SCL title for a fourth time against top unsigned California middleweight David Mitchell last month. However, Mitchell bowed out on short notice. While he initially said he suffered a concussion in training, Mitchell basically said on social media that he just wasn't in the right place. Stroup was ready to go, though. Almost immediately after Mitchell bounced, Stroup was offered an even tougher opponent in former Strikeforce vet Cory Devela. The fight will go down this Saturday night at Sparta Combat League: Rumble on the Mountain in Loveland, Colo.
"I was two weeks away from my fight that I had planned back in July, and I was feeling really good — the way you should feel when you're two weeks away from a fight — and it didn't happen, so I was pretty bummed out," Stroup said. "I was able to not really rest, but take it easy for a week, because my body was a little sore. So I kind of rested a little bit and ramped it right back up. It was only a month, so it wasn't that bad. It was definitely discouraging, because you are getting your mind right for the fight and then it's off.
"That's one of the things that awesome about fighting, is that it all gets built up and then it ends. You get the satisfaction of getting in there and putting your hard work into a show and then that happens. I felt like that was going to be a really good fight for me. I feel like I would have gotten another finish out of that one, too."
As discouraging as the Mitchell situation was, Stroup got back at it and is ready to take on the 12-6 Devela this weekend.
Devela is a well-rounded opponent who has faced the likes of Luke Rockhold, Bobby Voelker, Joe Riggs and Ed Herman. His last fight was a decision win over UFC vet Nick Ring in late June. He has more experience than Stroup, and against tougher guys.
"I'd heard of him before," said Stroup. "I know that he's a tough guy, a Strikeforce vet, and I want some tough guys. So when I found out I was going to be fighting him, I was pretty excited, because some internet sites have him as the No. 1 unsigned guy out of the Pacific Northwest, and at this stage, I'm looking for dudes that are tough. He's definitely qualified, and I'm excited to get in there and get after it.
"He's tough all the way around. It looks like he has good skills. He's pretty powerful, and, from what I've seen, he's not going to back down. He's pretty well-rounded. He's got some tricks he likes to use, and I'm excited to get in there and see where I'm at with him."
Stroup wants tougher competition because he knows that's what turns the right heads. He knows he's not the most proficient fighter at every aspect of the game, but, as a truly dedicated mixed martial artist, he is always striving to perfect his craft.
"I feel like my ground game has gotten a lot better than the last time I had to use it," explained the Colorado native. "The only reason I ever had to use my ground game is because I couldn't stop guys from taking me down. I would hit them, they would shoot on me, and I didn't know how to stop them.
"Now, I'm a lot better counter-wrestler. But with that wrestling, we do a lot of ground work all of the time. I just trained with a black belt from Texas, and I just really fine-tuned some things I was doing wrong, because he was catching me in guillotines and stuff like that because I was sticking my neck out. I feel like my submission defense is really good and my offense may not be the greatest — I want to get better — but I'm a lot better."
This Saturday is a chance for Stroup to show the UFC and Bellator brass what he's all about against another highly ranked middleweight. According to the latest Fight Matrix rankings, Devela is sitting at No. 79 as a middleweight and Stroup is sitting at No. 80. Stroup is looking to change that soon.
"I hope it goes the way the previous ones have," Stroup said. "I don't think it's going to be a lot different. I definitely want to be sharper. This is the best shape I think I've ever been in my life. If anything, I'm going to push a really hard pace. I'm going to be more aggressive and try to take the fight to him and see how long he can last."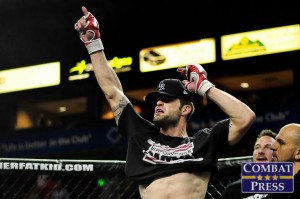 So, what's next? How many times does this guy need to win before getting a shot? There are guys that didn't hold titles as long and didn't fight near as tough of competition, but they made it into one of the big shows. Unfortunately for the fighters, their hands are tied. When the big shows want them, they will let them know. All Stroup can do is keep winning and not lose that heart.
"I definitely want to win this next weekend, and then I'm going to try and stay ready, and, hopefully, something big happens," said Stroup. "If not, I'm going to look to schedule something, hopefully, before the end of the year, because I like to fight four times a year, and this will only be my second fight this year, so I definitely have to get at least one more in."
Stroup is not just a pro fighter. He has the heart of a warrior. For him to be the best, he needs to fight the best. He hopes a win over Devela will get him the shot that he deserves. After this weekend, the future should be a little more clear. If not, he will keep beating people until the major promotions can't ignore him anymore.
"I don't feel like I've come anywhere close to my potential. I feel like I'm just growing every time I go to the gym. Every week, I get a little better. Every month, I get a little better. I'm four months better than I was when I fought last. My sparring partners haven't really changed too much. I'm always sparring with the same guys, the same monsters, and I feel like I'm getting better.
"I believe I've earned my spot and I'm going to the next level. I'm going to keep working and keep winning until I get into the top spots in the top shows in the world."
Stroup would like to thank his coaches and training partners at Factory X Muay Thai, his family, friends, fans and his sponsors: 5280 Armory, IVP Volleyball, and Tommyknocker Brewery. Follow Adam on Twitter:
@AdamStroup
---
Advertisement

---