Have you ever been on the road, come up on a traffic jam and witnessed somebody going absolutely nuts over other drivers' behavior? Maybe you've been that person?
The biggest problem with this scenario is that some people spend too much time focused on the behavior of others, instead of worrying about themselves. This happens in public all the time. People judge others, they focus on others' actions, and they take the focus off their own actions. This happens a lot in the fight game, too.
As soon as a fighter finds out that they've got a signed opponent, they make a choice. Are they going to focus on their opponent, or are they going to focus on themselves and their own training? This isn't always a conscious decision, and it can be on a one-off basis. Problems arise in a fighter's game when they get so obsessed with learning "how" to fight their opponent that they forgets what they're all about. This is exactly what happened to Terrion "The Flash" Ware when he faced Luke Sanders for the Resurrection Fighting Alliance bantamweight title in May.
---
Advertisement

---
At the AXS TV: RFA vs. Legacy Superfight event, it should have been business as usual for Ware. With a background of training in striking arts as a youth and five years of incorporating jiu-jitsu into his ground game, he had racked up a 13-3 record in just three years, finishing eight of his opponents, both on his feet and on the ground. Unfortunately, it was not business as usual.
"You know, it wasn't broke, but I tried to fix it in my last training camp, and it wasn't necessary," Ware told Combat Press.
Unlike his previous camps, he was unusually focused on his opponent. Instead of remembering what he was about and what got him wins against the bulk of his previous opponents, he spent a lot of time studying Sanders. The result was a loss, a setback on his road to the big show. However, he took away a valuable lesson from this mistake.
"Not to go into a fight overanalyzing your opponent based on his past performances," Ware admitted. "That's kind of what I did. The majority of my last training camp, I was game-planning for what he does offensively. When I went out there, it dawned on me that I didn't have a particular game plan in terms of the offense I was going to do. I was sitting there waiting for him to do certain things he didn't do. He changed up a lot of the things he did, and he was successful with that. It wasn't until later rounds when I was able to pick up on that and try to get some things going, but it was too late."
After five rounds, Sanders took the nod from the judges. It was back to the drawing board for Ware. Tonight, at RFA 29: USA vs. Brazil, live from the Sanford Pentagon in Sioux Falls, S.D., the 29-year-old Californian has a chance to get back to his winning ways when he faces Brazilian Jiu-Jitsu ace Leandro Higo in the promotion's biggest event of the year.
The 13-2 Higo is already a nine-year veteran of mixed martial arts at only 26 years old, and he has finished 10 of his opponents, eight by submission. His moniker is "Pitbull," as are all the fighters who train under Bellator vets Patricio and Patricky Freire. Ware knows what his opponent is all about, and he has watched some tape, but this camp is not all about his opponent. He will not make that mistake again.
"I just got back to what I was doing before," explained Ware. "I just went back to some of the basics and training with some different people too. I went to Black House to train with my jiu-jitsu coach, Pedro Munhoz. I went and trained a little bit more over there."
Back to the basics, Ware has been 100 percent focused on improving his own game — his own offense — instead of worrying about what Higo may or may not do. That being said, he knew he needed to work on his BJJ game to battle such a fierce ground fighter, so he put in the extra time at Black House. He's not going in blind, either. He knows what he needs to know about Higo.
"I've seen a couple of the fights he's had, and he's put together a good record," Ware added. "He throws pretty hard, and he prefers to have the fight on the ground. He likes to clinch up, do all the high-profile blows and work on his ground game. I think I match up really well with him. A lot of the guys he's competed with, they get burnt out, they gas out, and he gets to do the things that he wants to on the ground. With me, he's facing a different type of athlete who's going to move around full speed and is going to be able to go three rounds full clip."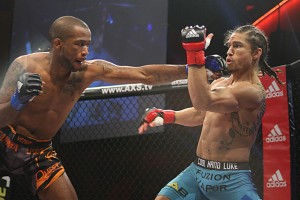 Ware has been five rounds a couple times in his career, and the one thing that can't be underestimated is his stamina. As he stated before, the best part of the Sanders fight is when he shifted his focus back to himself, which happened in the later rounds. The skill is there, the stamina is there, and now that his vision is corrected, he is in a position to get back to his winning ways. His goal is still to make it to the UFC Octagon, but he knows that it takes steps to get there. It is by no means one giant leap.
"For now, I'm just trying to focus on one fight at a time," said Ware. "I know I'm getting close to the next level, but I can't let that overshadow anything that I'm doing. I can't let that cloud anything that I'm doing. Right now, I'm just focused on one fight at a time, one day at a time in training. I'm getting better with my skills and getting different experiences. The only goal is to get into the UFC and be in the UFC a long time, competing against the best athletes until the time I retire."
Ware's next step comes tonight at RFA 29, and his focus is in all the right places. With a supportive wife, a 2-year-old son and a newborn daughter (who happened to be born only weeks before his last bout), he has a lot to fight for. Higo is a tough competitor, Ware is a championship contender, and for everyone in attendance at the Sanford Pentagon, the focus will be on the cage, because this is a fight that is sure to deliver.
"I'm a fan-favorite. First and foremost, I actually want to win. That's number one and that should be number one for every fighter. I'm a fan-favorite, because I come out there to fight. I'm not going to go out there and try to take anyone down and just lay on them. We're in the business of entertaining as well, and that's equally as important if you want future fights. You want people to want to see you fight. I put on exciting fights."
Ware would like to thank his coaches and teammates at Systems Training Center, his wife Kathy, his children, his family, his fans and all of his sponsors who make this possible. Follow Terrion on Twitter:
@FlashMMA
---
Advertisement

---