The sport of mixed martial arts can sometimes be a game of styles. Jiu-Jitsu, judo, wrestling, boxing and kickboxing are all an integral part of mixed martial arts and the reason why it's called such. Just like in football when people argue over which style of playing is better, either a 4-3 zone, man-to-man coverage or aggressively blitzing the quarterback, in MMA there is always a conversation over which martial art is the best base to have. More often than not, the answer depends on whom you ask. Often, the answer to the question is wrestling. Who could argue with the track record wrestlers have in this sport?
Even going back to the early days when guys like Don Frye, Mark Coleman and Pat Miletich were active competitors, most wrestlers seemed to find great success when they stepped inside the cage. Until fairly recently, though, wrestlers used to run into problems when they couldn't implement their game and take down their opponents. Their stand-up skills weren't up to par with their wrestling pedigree, and it showed when they faced seasoned strikers. Now, as evidenced by the likes of Chuck Liddell in his day, Chris Weidman, T.J. Dillashaw, Daniel Cormier and many others, we have seen what a wrestler with a well-rounded striking arsenal can do when they fight another man.
Luckily for the Resurrection Fighting Alliance's Devin Clark, this is the situation he currently finds himself in. He's a NJCAA wrestling national champ. He also competed in Golden Gloves, one of the premier amateur boxing competitions in the country for youngsters between the ages of 10 and 15. After taking years away from boxing to focus on his wrestling, Clark is now ready to combine his skills and make a run, like many with his background have done, inside a cage.
---
Advertisement

---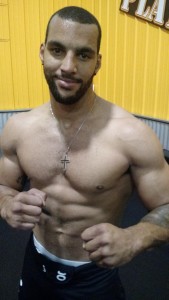 "It was something that was fun to get back into," Clark told Combat Press. "I was away from boxing for years while I was trying to be successful at wrestling. And once I decided to get into MMA, I went back to that boxing background and that boxing mindset of getting hit and hitting other people. It clicked back right away."
Watch his fights and it's easy to see why Clark is regarded as one of the prospects to keep an eye on, especially in his weight class. Add in the fact he already comes with some highly regarded accolades, and the buzz in the air surrounding him is almost justified. However, according to Clark, it is not just his past accomplishments within martial arts that will propel him toward great things in the sport.
"I'm the biggest guy for the 205[-pound] weight class," claimed Clark. "I'm probably one of the strongest guys as well. I just have to stay strong both with my body and mindset. I'm pretty good right now and I'm pretty motivated. There will be some challenges, but I'm focused and it will be hard to stop me from achieving what I want."
One of those challenges was supposed to be Brazilian native Wallyson Carvalho, a fellow undefeated 205-pound fighter who is on his way up. Unfortunately, as happens far too often in this sport, Carvalho suffered an injury that forced him out of the fight. With just a few days notice, Clark will take on late-replacement opponent Dervin Lopez.
"Doesn't matter to me," Clark admitted. "I'm still going to go in there and do what I do, which is beat someone up."
One thing that does seem to matter to Clark is the position he finds himself in with this RFA card. The RFA has put together some strong shows thus far in its short existence, and one can argue that none were as big as the event the company is currently promoting. RFA 29, which is billed as USA vs. Brazil, is set to take place Friday. Along with pitting the two of top countries when it comes to producing MMA talent, the RFA managed to secure UFC welterweight champion Robbie Lawler and former UFC light heavyweight champion Lyoto Machida as honorary coaches for their respective country.
In the crowded landscape that is MMA, this is a welcomed change of pace for an MMA event and one that can garner more attention for a promotion like the RFA and its fighters. This is especially true for someone like Clark, who not only represents the United States on its home soil, but also does so in his backyard of Sioux Falls, S.D.
"It's a huge opportunity and a huge platform for me to be in," said Clark. "There is more pressure involved, but it's good pressure. It's a perfect situation. I get a chance to represent the U.S., my home state and my hometown, all at the same time, and that definitely will be in my mindset. I'm eager to show what I can do as I advance in the sport. I'm still young in the sport and I'm still honing my skills. So far, pretty much what people have seen is my wrestling and my ground-and-pound, a little bit of striking, but not really what I can fully do."
Though Clark considers himself young as far as being an MMA fighter is concerned, he knows where he wants to be in the years ahead. Unlike other fighters, Clark would like more time between fights to round out his game and not suffer unnecessary losses because he was unprepared or did not have the proper time to fully commit to getting better.
"I do everything to be the best. I'm in this because I want to be the best. I wouldn't be doing this if I didn't think I could be the best in the world at it. My goal is to be the best, in the best promotion, and be at the top of the top. Then my end goal is to stay at the top once I'm there."
---
Advertisement

---