In December 2013, the UFC announced the formation of its strawweight division. It was an exciting time for lots of women who compete in MMA and for their fans. The bantamweights had paved the way, and it was time for the smaller ladies to earn their spots in the promotion.
Timing is everything. After Bellator released all the women on its roster earlier in 2013, Jessica "JAG" Aguilar announced a big deal with the World Series of Fighting. She was the company's first female fighter, and the WSOF had plans to showcase the strawweights. But then the UFC announced The Ultimate Fighter 20.
In January 2014, Aguilar defeated Alida Gray by arm-triangle choke in the first round. In June of the same year, she defeated Emi Fujino, a legend who has still never been finished in 24 professional fights, by unanimous decision.
---
Advertisement

---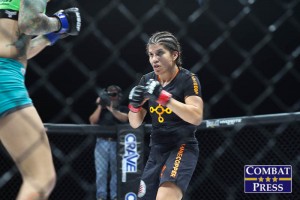 Tongues started wagging. While the other top Invicta fighters were all competing on The Ultimate Fighter or in the UFC or Invicta FC, Aguilar was in the WSOF looking for top-notch competition. The No. 1-ranked strawweight in the world, who had already beaten inaugural UFC champion Carla Esparza, was unable to compete against the new batch of contenders. The closest she could come was her most recent WSOF adversary.
"I knew that Kalindra Faria was going to be a tough opponent," Aguilar told Combat Press. "I was actually the one who found her and asked WSOF to go get her. I was glad and grateful when she took the fight, but I knew it was going to be a challenge. I love to fight the best. I knew her striking was dangerous. During the fight, I never felt in danger, though. It's MMA and we prepare for everything.
"I am proud to represent my team and my coaches every time I fight. We have the best training in the world, so I was ready to face her on the feet and was prepared for anything she could throw at me."
Aguilar defeated Faria by unanimous decision in the five-round title fight in November 2014. She completed her contractual obligations with the WSOF and then she waited to see what would happen next. Aguilar and her manager sat down with the WSOF team and decided that it was best for her to explore offers from other promotions. That opened the door for the top strawweight to land inside the Octagon.
"I am really grateful to the WSOF for everything they did for me. They gave me some of the best opportunities of my career," Aguilar said. "And I am also very excited to represent the UFC. This move gives me the opportunity to compete against the best in the world and to keep proving that I am the best strawweight in the world."
In June, it was announced that Aguilar's first chance to beat the best would happen at UFC 190 in Rio de Janeiro on Aug. 1. The card is poised to be one of the biggest, headlined by Ronda Rousey's bantamweight title defense against the brash, outspoken Bethe Correia. With names like Shogun, Bigfoot, Minotauro and Skyscraper gracing the card, UFC 190 is certainly not lacking in talent.
"I am living the dream," said Aguilar. "I never thought I'd be a pro fighter, and now I consider myself to be one of the best in the world. To fight on a card like this — it's just full of stars and amazing athletes — to fight on this card with Ronda is an honor."
"My fight against Claudia Gadelha is considered a high-level fight. It just goes to show how far women have come in this sport. We are opening the card and Ronda is headlining it, with guys we have all been watching for years on it."
And Aguilar's match-up is a fight that has huge implications for the strawweight division. Gadelha's only loss came by way of split decision against the current UFC champion, Joanna Jędrzejczyk. The Brazilian's 12 wins include Faria, Valerie Letourneau and former Invicta FC atomweight champion Herica Tiburcio.
Aguilar holds an impressive record of 19-4. Her win column reads like a who's who of MMA women and includes the Lisa Ellis and Megumi Fuji (twice), as well as the aforementioned Esparza and Fujino. She is on a 10-fight winning streak and hasn't lost since a hard-fought split decision in 2010 against Zoila Frausto.
Many expected Aguilar to make her UFC debut against Esparza, but since Aguilar has already beaten Esparza and Gadelha lost via split decision to the champ, the winner of this fight is expected to face Jędrzejczyk next.
"I never did combat sports as a child," said Aguilar. "I have been fighting since February 2006, almost 10 years, but it's not the same as starting as a child. Ronda [Rousey] was practically born doing judo. She is a different story and a very unique individual. She gets the finish in every fight because of that training and because she is so talented. Of course, I am going to go for the finish in every fight, but you have to be prepared to take the fight wherever it goes.
"Me, I am always improving, always looking to end the fight, looking to improve my position. But if the finish doesn't come, you have to be ready to go the distance. I don't know if I will get the finish against Gadelha, but I do know I will [be] the last one standing, the one standing with my arm raised.
"[Gadelha] is a striker, but she has strong jiu-jitsu, too. I respect Joanna; she is a well-deserving champ and deserves what she has. But I think Gadelha is better rounded. Joanna is still fairly new to the MMA world. She is a world-class Muay Thai fighter. Gadelha has been competing in MMA longer and I respect her jiu-jitsu, her stand-up, her wrestling. I always want to fight the best, and I think she gives me a great chance to make my statement, to prove that I am ready to fight for the championship.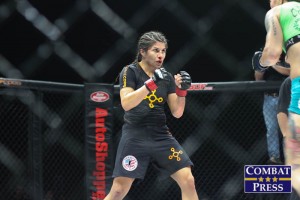 "I have better stand-up, I am better on the ground, I will be able to stop her takedowns, and I want it."
When two fighters are evenly matched, the only differentiator is the mind. Mental toughness creates physical toughness, and Aguilar has the experience of having to dig deep. She has had to defy the odds her entire life, and that has forged an iron will in the strawweight fighter.
Aguilar's father died after moving their family from Mexico, leaving his widow with young children in a strange country. Her mother took care of Aguilar and her brothers the best that she could, but she struggled to understand the new culture and Aguilar's passion for sports, especially fighting. But through all the rough times, they supported and loved each other.
"If there is anything I want people to learn from me, [it] is to be themselves," Aguilar explained. "I am just a normal girl, living my dream, and no matter the circumstances, I try to smile — smile through the tough times. People may not always agree with me and my way of life, and that is okay. I know that if you can just enjoy life and be yourself, that everything is going to work out. Smile and believe!"
Aguilar has waited patiently for her chance to prove herself in the UFC and against the best in the world. She waited with a smile on her face and faith in her heart that if she did the right things and continued to beat the opponents put in front of her, then her chance would come to shine on the biggest stage in MMA. Now, finally, on Aug. 1, that dream will come through.
Jessica would like to thank her girlfriend, her teammates and everyone at American Top Team. She is also kind enough to thank the media for supporting her and helping her reach the best fans in the world. She would also like to thank her sponsors: Tommie Copper and Garden Of Life. Finally, she would like to add that, "As Albert Einstein said, 'The world is a dangerous place, not because of evil people, but because of those who choose to do nothing about it.' Our primary focus is not on the so-called 'bullies.' It is on empowering the 'bystanders.' For more info, visit
www.sweetheartandheroes.org
." Follow Aguilar on Twitter:
@jagatt
---
Advertisement

---