Independence Day is possibly the greatest American holiday, which stands to reason, because it marks the beginning of the greatest nation of the world. School is out, grills are lit, beers are cold, and Americans love to blow crap up. Everyone gets extremely excited, and it is typically all about recreation and relaxation.
One of the last things a mixed martial artist wants to hear is, "You have a fight scheduled for July (fill in the date)." While the fireworks are something that is usually feasible, eating a ton of grilled food and drinking some ice-cold brews are not activities that can be indulged. Between cutting weight and fine-tuning the body for battle, salt, carbohydrates and alcohol are all a major no-no.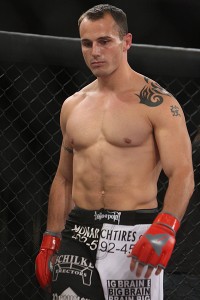 For July 4th every year, Dakota Cochrane likes to take a trip down to the Southern Missouri-Arkansas area for camping, grilling, kayaking and hanging out with family. This year, he was all set for a big weekend and then Titan Fighting Championship came a-callin'.
---
Advertisement

---
"They asked me what weight I could hit by the 18th, and I said 165 [pounds]," Cochrane told Combat Press. "They said they had a fight for me and asked me if I was available."
Well, Cochrane loves to go on that trip. Even though it was two weeks before the fight, he is a professional and fighting is his profession. So, yes, he was available.
Cochrane is only 29 years old, has 27 pro fights under his belt, and is one of those guys that rarely fights less than four times per year. He already has two fights down for 2015. Both were losses, so he's definitely chomping at the bit to get the ship righted by the end of the year. In fact, his last fight was just over a month ago.
At Victory Fighting Championship Fight Night 2 on June 2, Cochrane faced Steele McCall. Cochrane's opponent was able to lock in a rear-naked choke with three seconds left in the first round. Prior to that mark, Cochrane had the round won, but one mistake cost him the whole fight.
"It was tight right away," said the Nebraska-based fighter. "I was trying to stay calm at first and then I lasted as long as I could before I passed out."
Cochrane owns seven submission wins of his own, but that was his seventh submission loss overall and the second one in a row. He trains out of Premier Combat Center in Omaha, and they have a lot of great grapplers, so, even with a vacation on the horizon, he was right back to work.
"I've been working a lot of rear-naked choke defenses and [being] put in that bad situation, because it's frustrating when you're beating the shit out of someone and then, in the last 10 seconds, get caught in a choke," admitted Cochrane. "Obviously, I know a lot of basics, but being put in the bad situation and then going from there, it's pretty much all I've been doing — working on a lot of defenses and not getting put in that position, also."
At Titan FC 34 on Saturday night in Kansas City, Mo., Cochrane will face Mike Bruno, whose record stands at 12-7. Bruno is a fellow lightweight from Florida who has been fighting a lot longer than Cochrane, but not nearly at the same frequency or against the same level of opponents.
It's a short-notice fight, and it will be a catchweight bout, which might prove to be an exciting situation. When guys aren't completely drained from a weight cut, they typically have more stamina and more power in their striking. This one has fireworks written all over it.
"He's from American Top Team. He's 5[-foot-]10, kind of a wrestler, not a real great submission artist," explained Cochrane. "The submissions he's got are pretty much from his striking, so that part I'm not too worried about. It's basically just go in there and force my game plan. It's a good match-up stylistically. We're both very similar, and those usually make good fights."
Titan FC 34 will be the first Titan card to air on UFC Fight Pass, and that has created a lot of buzz around this particular event. It gives the event a much broader reach geographically, but the fact that it costs money is a bit of a drag for family members and casual fans. Either way, the fighters like it a lot, because it is still an association with the UFC brand.
"I think it's cool," Cochrane admitted. "It's cool being on the first Fight Pass Titan card. When you're in the cage, you don't notice a whole lot of things, so it usually doesn't affect me at all."
With a spotlight event for Titan on the line and the chance to snap a two-fight losing streak, there was no way the very busy Cochrane was about to turn down the fight, vacation plans or not. So, he did what any other pro would do. He made due.
"I still went on vacation with my family and stuff," Cochrane explained. "My uncle actually held pads for me, and I still ran and stuff, but it kind of affected the whole drinking and eating whatever I want.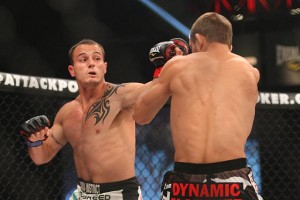 "I don't drink that often, but if I'm able to on the Fourth, I usually do with my brother and my sister. Even though I couldn't drink, we shot a shitload of fireworks off. So I had a lot of fun there."
Those fireworks were just a preview of what's about to happen Saturday night.
The Nebraska native is a very well-rounded fighter and, like most of the guys who train in Omaha, he fights his ass off and rarely goes the distance, win or lose. Bruno is going to get a first-hand view of what Midwestern fighters are all about.
Cochrane has had a fair amount of ups and downs in his career, but he never backs down from a challenge. He traveled to Finland on short notice to crush a UFC vet, he tried his hand at The Ultimate Fighter, he has a lot of finishes and has also been finished, but he still fights four times a year and never says no. On Saturday night, UFC Fight Pass viewers will be treated to this warrior's 28th career battle.
"I've made some big statements in the past, so people know that I'm capable of that. I want people to see the hard work that I've been putting into my striking. I want to get a knockout, man. I feel like I'm due, you know? I've put so much time and work into my striking, that I want to use it."
Dakota would like to thank all of his coaches, teammates, family, and friends for supporting him throughout his journey.  He would also like to thank his sponsors: Nissan of Omaha, Permier Combat Center, Schmidt's Inc., Schilke Erectors, Prism Signs, Upgrade, CageTix.com, Old Chicago, Digital Sky, Animal Instinct, Atrium Family Dental, and Big Brain Tattoo. Follow Cochrane on Twitter:
@DakotaCochrane
---
Advertisement

---