All around Australia this coming Sunday morning, mothers will be spoiled by their kids and significant others. It's the one day of the year when everybody stops to say thanks to those who do one of the most thankless jobs in the world.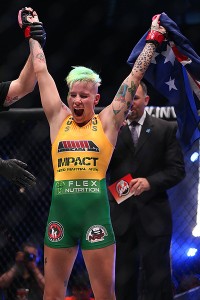 While a lot of moms will be pampered in the early hours of the morning with a traditional breakfast in bed, Bec Rawlings will be preparing for the most important fight of her life. She has spent months getting ready for it, knowing that it is a must-win affair. She will always struggle with the reality of being away from her kids for any length of time. They were pretty well a world away while Rawlings was in San Diego. It's a sacrifice she has made in order to hone her craft.
On Sunday, May 10, the gears shift once again for Rawlings. Her role as a mother is the most important job in the world for Rawlings. She feels she has been blessed. However, this year, Mother's Day also falls on fight weekend. Breakfast in bed will have wait. Being a mother never stops, but being a fighter doesn't either.
---
Advertisement

---
"It's hard to be a single mum and try and train full-time," Rawlings told Combat Press. "To try and put all of your time and effort into the one thing is just not possible. I flew out here [to San Diego] for eight weeks to train with Alliance. For these eight weeks, I've been able to solely focus on training and fighting and just getting everything on point. I think it's definitely going to make a difference, but I feel that the biggest thing is that I've had the highest quality training that I could possibly get and I feel that I have just improved so much over just eight weeks already. I'm gonna be a different fighter."
Rawlings heads into her bout sporting back-to-back losses for the first time in her career. Her last bout, which was her UFC debut, ended in a unanimous decision loss against Heather Clark. The defeat in her first foray into the Octagon taught Rawlings a valuable lesson, and it's one that she is certainly planning on taking with her into her UFC Fight Night 65 bout.
"You learn from your losses," Rawlings said. "I know what I did wrong in the last fight and I'm not gonna make the same mistakes again. I know that I start slow, and that's not gonna happen this time at all. I know that I am coming for the 50 Gs — I'm coming for that bonus."
For her first Octagon appearance on Australian soil, Rawlings was originally slated to meet South Korea's Seo Hee Ham. However, due to injury, Ham was replaced by Lisa Ellis. A change in opponent so close to the fight can change the way a fighter approaches their preparation, but in this case, it meant there was something else for Rawlings to look forward to.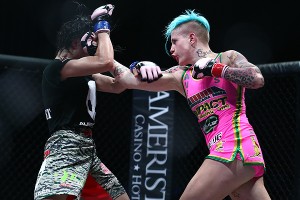 "I got a rush of excitement," Rawlings admitted. "I was excited to fight Seo, but I feel like I'm even more excited to fight Lisa [laughs]. I told Lisa in December at the [The Ultimate Fighter] finale that she was next, you know — 'After Heather, you're next!' It's just funny how things like that come together. Everything happens for a reason, and I feel like Seo was injured for a reason and I was destined to punch Lisa in the face."
It's common knowledge that there is no love lost between Rawlings and her UFC Fight Night 65 opponent. Rawlings starred alongside Ellis in the UFC's 20th season of The Ultimate Fighter. The pair may have been teammates throughout the series, but that didn't stop them from developing a mutual dislike for each other.
"I didn't know who Lisa was before TUF," Rawlings explained. "I had no idea about her until the first day that I met her and found out she was on my team. We were cool for a few weeks, but after that we had our differences. And it kinda stemmed off from there and it's escalated ever since we got booked to fight. When my manager called me to tell me I had a new fight, Lisa didn't even cross my mind. She was irrelevant. She kinda still is irrelevant. She's just an empty person in front me that I'm trying to knock out come fight night.
"All of our bad blood does not even cross my mind in the cage. I'm going out there to do my job and my job is to finish my opponent and get that money. I'm either gonna put her to sleep or I'm gonna knock her out."
Bec would like to thank her team and coaches from Alliance MMA. She would also like to thank South Coast Mitsubishi for making her camp possible, as well as MRM Supplements. She would also like to extend a huge thanks to her best friend, Nat, who has looked after her boys so she could go to San Diego to train. Follow Rawlings on Twitter:
@RowdyBec
---
Advertisement

---