Stereotypical of a Canadian, Josh Hill grew up putting pucks in nets before he put fists in faces.
Hill played rep hockey in his early teens and eventually made it to Jr. C, playing forward for the Glanbrook Rangers. He spent three years with the hockey club until his competitive career on the ice came to an end.
The 5-foot-8, 135-pound mixed martial artist would be thought of as a quick, agile goal scorer, you'd think. Perhaps he was a swift playmaker that can get out in the open and create scoring opportunities for his teammates. However, that is not the case at all, nor is it Hill's favorite aspect of the sport. It shows in his 2007-2008 season, where he gathered 92 penalty minutes in 35 regular-season games.
---
Advertisement

---
"Believe it or not, I was the enforcer," Hill told Combat Press. "I liked to go out there and lay big hits on people and be an aggressor."
While playing hockey, Hill also competed in rugby, baseball, golf and various other sports. He found the most success in rugby, even competing overseas against schools in Scotland, England and Wales, and he credits this background as playing a part in his seamless transition into grappling.
Hill began testing his mettle in grappling tournaments one month after training in wrestling and Brazilian Jiu-Jitsu. He amassed a record of 25-1 in submission wrestling and BJJ tournaments, all while learning other facets of mixed martial arts. In 2009, Hill tried his hand at professional MMA when he debuted at Warror-1 as a featherweight. He defeated Vito Attanasi via TKO in round two that night, caught the bug and competed five times in the first nine months of his career. He was victorious in each outing.
Hill eventually became a mainstay in the Score Fighting Series, an Ontario-based promotion. The SFS provided Hill with a place close to home to fight, formidable competition, live shows that drew good size crowds and television broadcast events to reach further audiences. It was the perfect place for Hill to grow his brand and skills.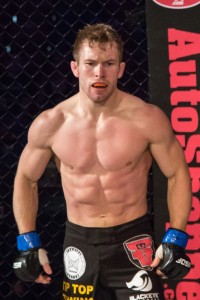 When the SFS shut down in January 2013, it left Hill and many other Ontarian combatants without a place to compete. The only other promotion he fought for during his stint with the SFS was Global Warriors, where he picked up a win over Federico Lopez. Knowing how difficult it is put on an MMA event in Ontario, the Hamilton native is happy to perform at home again for the organization in its upcoming show on May 30 in Burlington, Ontario, Canada.
"There's a lot of good guys on the card and they're from that area, so I expect the show to do well," Hill said. "But it's tough putting on fights in Ontario. It's expensive, and if the promoter is losing money on the show, there's no point in doing them. I can understand that, but it just sucks because it's so hard to get a fight. [Provincial Fighting Championship] was supposed to have a show coming up, but that got pushed back or canceled, I'm not sure. But these things seem to always happen. I hope this upcoming show does really well and we can get some more events [in Ontario]."
After multiple unsuccessful attempts to get a fight, "The Gentleman" secured a spot on The Ultimate Fighter 18. He lost in the quarterfinals of the show. Like the other male fighters on the coed season, excluding the finalists, Hill was not presented with the opportunity to compete at the finale event.
Hill signed a contract with the World Series of Fighting and scored a knockout victory over Mike Adams in June 2014. His sophomore showing — and most recent bout — in the promotion had Hill in a bantamweight title match against Marlon Moraes. Moraes won via unanimous decision at WSOF 18, but Hill put on a good show even in the losing effort.
Hill had to be granted permission from the WSOF in order to fight at Global Warriors 2. The company is lenient about letting its fighters compete elsewhere, as long as it's not the UFC, Bellator or any promotion viewed as competition. There are no issues between Hill and the WSOF. It might seem like a step back for Hill, going from a title match on NBC to headlining a regional show. However, while he is open to competing in the WSOF or WSOF Canada and hopes to get on an event in August, he is focusing on a personal goal for 2015.
"The main thing is staying busy," Hill said. "I want to stay busy. I want to fight three or four times a year, because last year I only fought once. Injuries and other stuff prevented me from competing as much as I usually do. I don't like long layoffs, and you don't get much time to do this — maybe 10 to 15 years. I feel like, I'm 28, I'm in the prime of my career right now, so I want to fight as much as possible."
Preparing for his opponent, Josh Rettinghouse, Hill trained at his usual gyms, such as Para Bellum, Tapout Training Centre and others in the GTA and Hamilton area. He also visited Team Alpha Male in California. The gym headed up by Urijah Faber is a location Hill has utilized a fair bit since his stint on TUF 18. Not only does Team Alpha Male house fighters at the top of the sport, like Chad Mendes and UFC bantamweight champion T.J. Dillashaw, but it also offers training partners in large numbers. When training in Ontario, Hill can have 10 guys in the gym one day and two the next. In California, he is always encircled by a plethora of talented martial artists.
Having spent most of his career training and competing locally, Hill has forged friendships with most of the mixed martial artists on the fight cards in Ontario. It's been nearly three years since he fought in his home province, but a lot of those people will be sharing the stage with him once again when he showcases his skills in the main event of Global Warriors 2. As comforting as it is being surrounded by recognizable faces, Hill carries a great deal of anxiety about being in the main event.
"It's bittersweet," Hill said. "I'm always fighting last, so I have to sit there and watch all my friends fight before me. I have to try not to get too emotional or worked up. When I watch them, I just want to be out there cornering them and helping them as much as possible. It's hard to sit back and watch, especially if one of my friends loses. I usually just go out there and watch the first couple of fights and then stay in the back until it's time for me to fight. It sucks in a way. Sometimes I wish I was the first fight so I could help them the rest of the night."
Unlike hockey, MMA is not a team sport. Fighters don't win as a team and lose as a team, but Hill feels for his teammates. He still plays pick-up hockey games and in a league noncompetitively, but MMA has proven to be the sport he calls an occupation. After years of competing in both sports, Hill must admit that hockey's grandest moment is incomparable to MMA's most notable highlight finish.
"I'd have to say the knockout," Hill said. "I've been part of some pretty big goals and it's really cool, but there is nothing like a knockout. I don't think anything compares."
---
Advertisement

---