A lone blue wildebeest stands across the plain. It has separated from the pack and has left itself out in the open. The air is still as it meanders through the grass, stopping every now and again to take in its surroundings.
Dricus du Plessis watches in the distance through the scope of his rifle. He watches and waits for the perfect moment.
He pulls the trigger. Then, he begins his walk towards the beast, knowing all too well that he hit the shot that he needed. All in a day's work — or play. A photo is taken, which is later posted to social media. It depicts the proud moment of a hunter standing over his prey. Naturally, not everybody is a fan, but hunting is something du Plessis enjoys. It's something that he lives.
---
Advertisement

---
Fighting, just like hunting, means everything to the self-confessed farm boy. Those two activities combine to make up a big part of his life. Hunting has been in his blood ever since he was a young boy living on the farm.
In a matter of fate, du Plessis's two favorite activities are somewhat combined on June 6 when he steps into the famed EFC Hexagon again. The former middleweight contender is staring down the barrel at a different kind of beast. This one is named Dino "The Lion" Bagattin. In the jungle, the lion is by far considered the king, so it's only fitting that du Plessis is set to face a former king of the EFC welterweight division at EFC 40.
While the hunting that takes place for du Plessis inside the Hexagon is cheered upon, the other pastime that he undertakes draws the ire of some people. He can't — and won't — just go out and hunt a lion in his spare time. Inside the Hex, though? Well, it's open season, and there's a lion in his sights. The 21-year-old is ready to take the shot as soon as the opening bell sounds.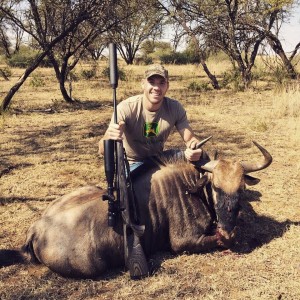 "I love hunting; I love shooting. As most people know, I'm a farm boy and I grew up with these type of hobbies around me all my life and so did most boys in this country. Hunting is a big thing, especially in Afrikaans families," du Plessis told Combat Press. "Most people and fans liked the [Facebook] photo, but there were some people who didn't like it a lot. But luckily we all have freedom to choose what we like, and if they don't like the fact that I like hunting, then that's too bad. But if anyone wants to go on a hunting trip any time soon, please let me know — I'm in.
"I don't hunt any endangered animals. And if you eat meat, you're not even allowed to give me a hard time for hunting. If there is no one hunting, do you think the meat will fall from the sky? If you feel offended in any way by my hunting photos, I'm sorry, but it's not going to change."
The EFC 40 bout with Bagattin will mark the welterweight debut of du Plessis. After an unsuccessful attempt at winning the EFC middleweight title, the Team CIT product did some reflecting and saw that a move down in weight was in his best interests.
"I feel very excited about this. It's the first time I'll weigh under 80 kilograms since ninth grade. I feel there are a lot of brilliant fighters at welter[weight], and I can test myself against the best in the organization," du Plessis explained. "As for cutting the weight, it's not fun at all. But as a pro athlete, I need to do what I have to to be the best. Other than the diet, I think I might have a huge future in the welterweight division.
"I was a small middleweight, but power was never a problem against bigger opponents. Since my teammate, Michiel Opperman, will soon have the middleweight belt and my goal is to be the youngest champ in the history of EFC, it only made sense for me to make the cut. And I do believe I can be a big and strong welterweight."
Facing a veteran like Bagattin isn't set to be an easy task by any means for du Plessis. Bagattin has been competing under the EFC banner since EFC 1, which took place in 2009. While du Plessis was still a teenager, Bagattin was fighting inside the cage. Bagattin represents a big name for du Plessis to meet for his first fight in a new weight division.
"I feel great and thankful for the great opportunity. If I can beat Dino, it means I am right up there with the top guys in the division and it can get me in line for the title as soon as possible," du Plessis said. "Fighting big fights and big names is awesome, for it gives me that extra motivation in training and on fight night and it prepares me mentally for the big fights that are yet to come in my career.
"Dino is a brilliant fighter with a lot of skill and a lot of experience in the Hex, and he is someone I've always looked up to as a young up-and-coming fighter. But, as they say, 'train till your heroes become your opponents.' I feel I've put in the hard work and effort to be in the position to fight a veteran like Dino, and now the time has come for that hard work to pay off."
In his EFC 33 middleweight title shot, du Plessis was submitted by current UFC competitor Garreth McLellan. Du Plessis had a difficult time coming to terms with the loss, but it wasn't just because it came in a title fight.
"My first loss was not only my first loss as a pro, but in my whole K-1 and MMA career, and it was absolutely devastating for me and it felt as if my career was over," du Plessis admitted. "After the first week, I returned to the gym, and I've never trained harder in my life like after that loss, and I've never enjoyed fighting as much as I currently do. My very good friend and training partner, Michiel Opperman, told me this inspiring line: 'It's not life, it is just fighting.' And I came to realize that I started this sport because I loved it not because I loved winning, and that's something every fighter should always remember — if it's not fun anymore, you are on the wrong track."
Following his first professional loss, du Plessis met Darren Daniel at EFC 37. That was his chance at redemption.
"I almost flipped my car of excitement when I got the call that they wanted me to fight Darren," du Plessis said. "I knew that it was my chance to show everyone that my loss would not define me and that I am capable of beating anyone no matter what it says on paper or what amount of experience my opponent has."
Du Plessis came away with the first-round submission victory against Daniel to bounce back in a big way.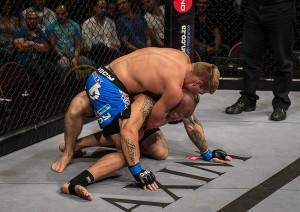 With one title race all but a distant memory du Plessis now eyes a shot at the welterweight title, which some may say is a cursed belt. In the history of the promotion, the EFC welterweight title has changed hands each time that it has been on the line. There has never been a champion who has successfully defended the strap. If du Plessis were the one to successfully defend the belt, it would put his name in the history books.
"That's why this fight is so big to me," he explained. "Not only do I want to be a champion, I want to reach the goal I set for myself to be the youngest champion in the organization. And I will do anything I have to to reach that goal, no matter how big or impossible the task ahead may seem."
Dricus would like to thank God for bringing him to where he is today. He would then like to thank his team — Team CIT, Leon Mynhardt, Michiel Opperman, Marino Cutendana and coaches Morne Visser and Attila Barna for all the hours they put in. He would also like to thank his parents and his two brothers for always being there for him, as well as his friends who support him all the way, adding, "Die Stoep dis nou julle ook." He would also like to thank his sponsors who "make his dream a reality": Andre Potgieter from ABE Midas for powering Team CIT, Badboy SA ,GNC SA, GST, Bonrec Lubrication Equipment, and a huge thanks to Dewald and Einette Kotze from Kotze Gearbox and Diff. He would also like to extend thanks to all of the Stillknocks fans, "You guys are awesome and keep on supporting, and I will keep on performing." Follow du Plessis on Twitter:
@dricusduplessis
and
Facebook
.
---
Advertisement

---